🗓️
October 12, 2023
By ✍️
Jaysukh patel
In Apple's network nowadays, every second person faces the problem as every month, new functions are added with new updates. The iPhone 15 (Pro, Max) was recently released in the market with more advanced abilities than other smartphones. Cellular data is helpful when you are out of your house or office and cannot access your Wi-Fi network.
It feels terrible when we buy a data plan, and cellular data stops working on iPhone. Let's head over to the troubleshooting guide and fix the cellular data not working on iPhone. A high-speed data plane needs to track and limit mobile data usage on the iPhone.
Have your problem with Safari Browsing is Slow only, You can clear the Safari browsing cache or Disable Block Cookies option. Go to the Settings app > Safari > Advanced > find "Block all Cookies" Turn off it, and the second option under the settings app > Safari > Clear History and Website Data.
iPhone 15 Cellular Data Won't turn on, Slow Speed & Dropping
Make your Device up-to-date with the latest version of iOS, Go to the Settings app > General > Software Update > Check for Update.
Also VoLTE settings, Turn off and turn on: Settings->Cellular->Cellular Data options->Voice & Data->LTE, VoLTE Do the toggle Off and On
Video guide on why cellular data is not working on iOS
---
Solution 1: Enable and Disable Airplane Mode
If you are facing a problem with iPhone 15 Pro Max cellular data not working then primarily you must toggle on the Airplane mode which means you are disabling all the wireless connections of your device. We have also fixed Wi-Fi not working in iPhone by a toggle on and off Airplane mode, which is also a network-related issue. So let's turn on Airplane mode and then disable it.
Step 1: Launch "Settings" app on your iPhone.
Step 2: Tap "Airplane Mode" and toggle it on.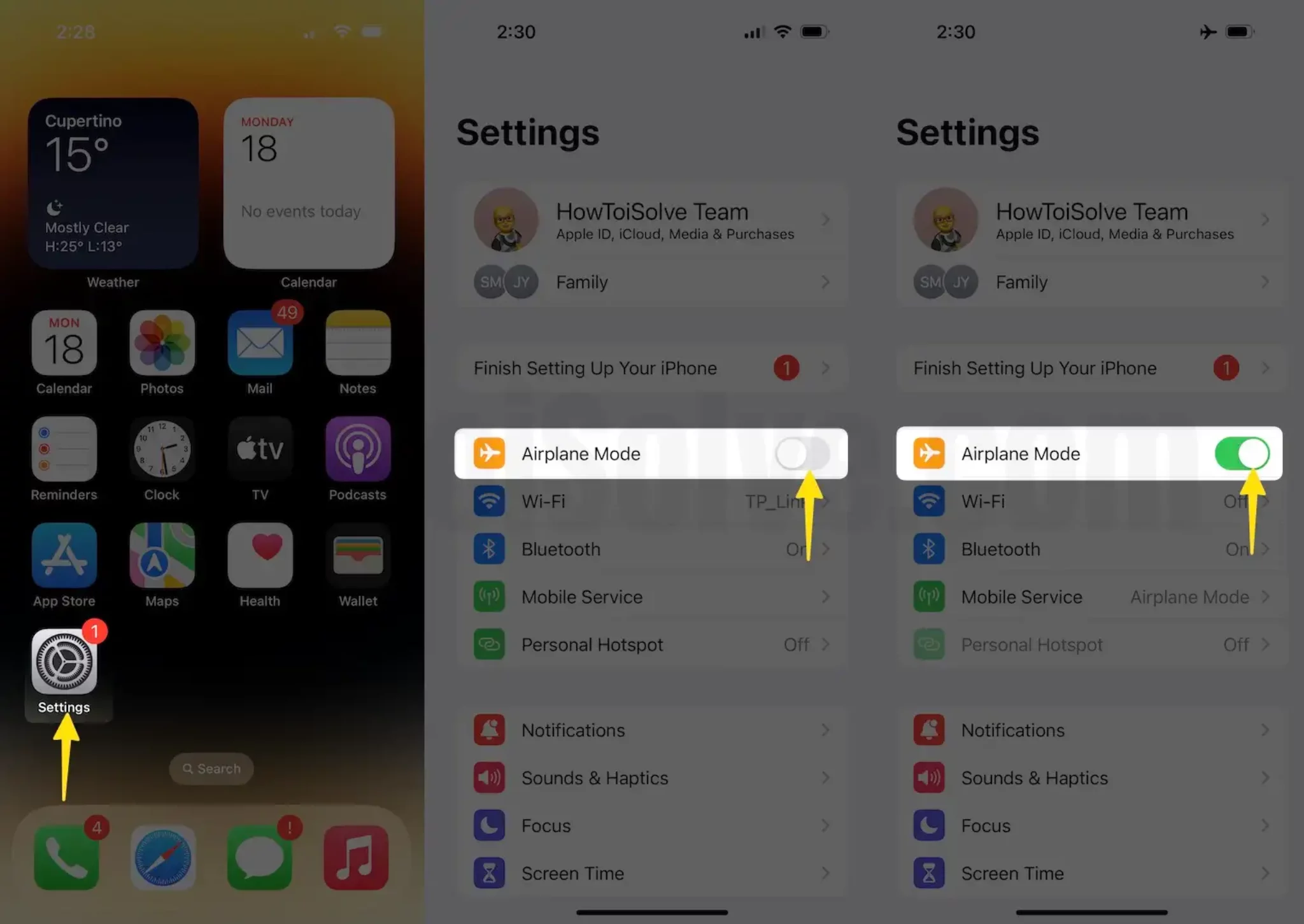 Now restart your iPhone. To disable Airplane Mode, you have to follow the same steps. You can also enable and disable Airplane Mode from the Control Centre.
---
Solution 2: Toggle the Cellular Data Off and On
Usually, when my iPhone's cellular data does not work, I prefer to disable the mobile data for a while and then enable it. Fortunately, it had often fixed iPhone Cellular data not working for me.
Step 1: Launch the "Settings" app on your iPhone.
Step 2: Tap "Cellular".
Step 3: Next, Tap Disable Cellular Data for a moment, then enable it.
---
Solution 3: Cellular Data Won't turn on, Stuck
Cellular Data toggle is disabled or stuck; You need to hard reboot your iPhone first,
Quickly press and release Volume up button
Quickly press and release Volume down button
Now, Only press and hold the Side button until your iPhone screen goes black after the Apple logo. To turn it on, press the side button only.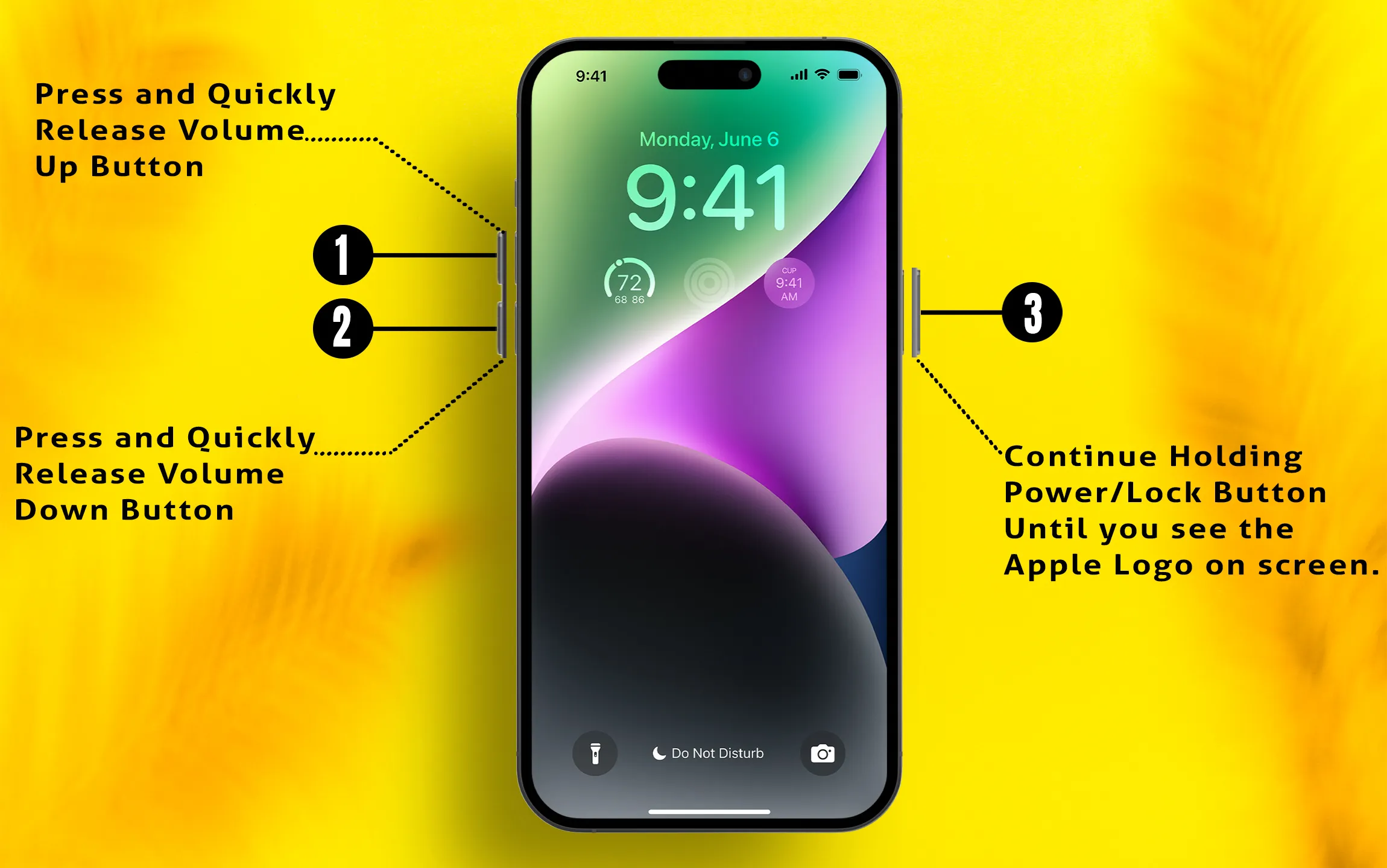 ---
Solution 4: Update Carrier Settings
Mostly we don't get to update the carrier settings until and unless we have changed the SIM or phone or the cellular company has made some huge changes. That is why few people don't know how to update iPhone carrier settings. Here's how,
Step 1: Launch "Settings" on your iPhone.
Step 2: Scroll the find "General" tap
Step 3: Select "About" option
Step 4: Next , Tap "Carrier Details".
From there, you will know whether any pending update is available for your iPhone. Here, you have to get connected with the Wi-Fi connection to update the iPhone carrier settings.
---
Solution 5: Reset Network Settings
When you reset the network settings of the iPhone, it will clear all the cellular and wireless configurations.
Step #1: Launch the "Settings" app > Scroll to "General".
Step #2: Scroll down to the Option "Transfer or Reset iPhone" > "Reset".
Step #3: Tap "Reset Network Settings" > Enter your iPhone passcode to Verify.
That's it.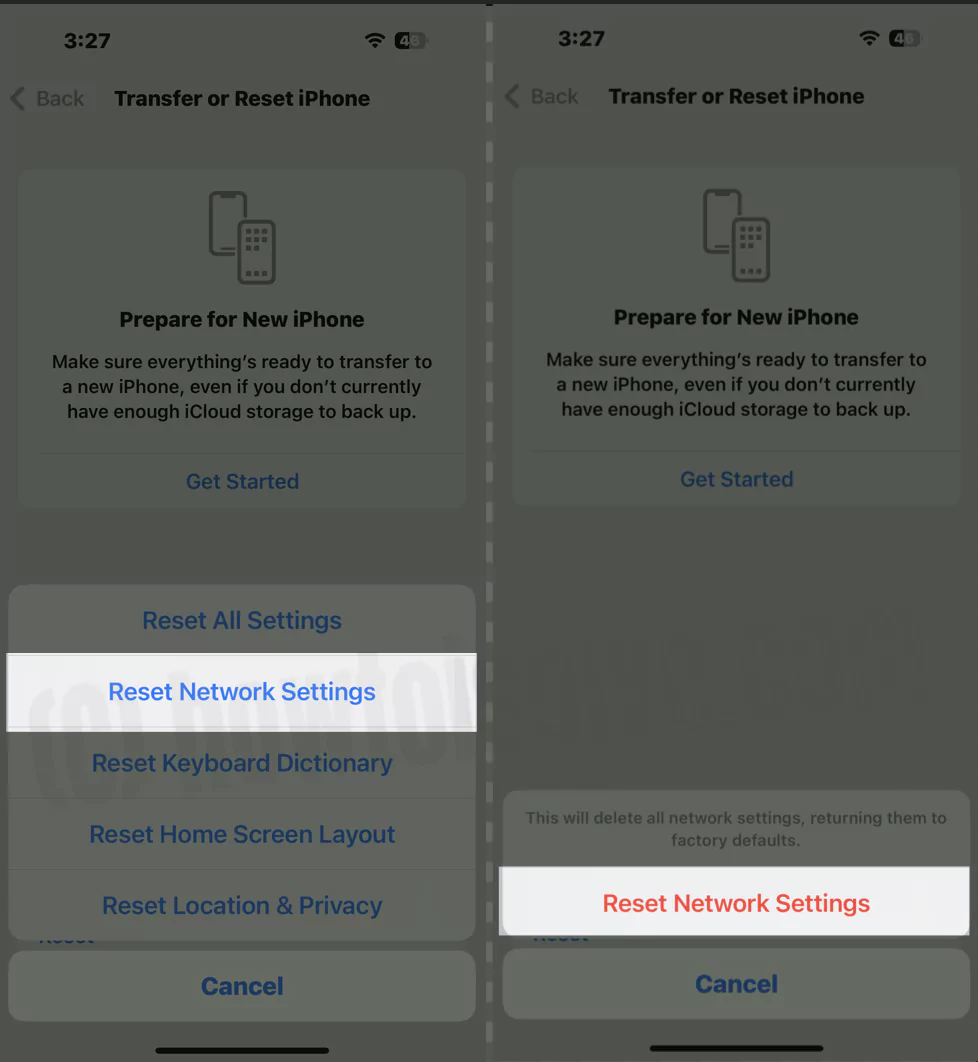 Step #4: Enter the passcode and follow the onscreen instructions.
---
Solution 6: Remove and insert SIM card (Physical SIM iPhone)
This solution is for None US Apple iPhone 15 Models…
The last option is to remove and insert the SIM card, In case your iPhone has to fall on the floor or in the water, then cellular data in the iPhone not work.
Step #1: Eject the SIM tray.
Step #2: Remove and clean the SIM card.
Step #3: Now, put the SIM card in the tray as it was placed before.
Step #4: Lastly, push the tray on the iPhone.
Ensure that the SIM tray is pushed correctly in the device.
Still, if cellular data not working on the iPhone, then you can ask for help from the internet service provider. There might be a chance that the carrier's under maintenance. Alternatively, ensure you have a cellular data plan activated on your SIM.
---
Solution 7: Ask your Carrier Helpdesk
The Internet is dropping on Cellular Data connection due to Network problems, Outdated Network devices, or no Network poll near your location.
Temporarily, you can turn on Airplane mode, which prevents Battery drain because your phone is continuously finding out.
Downgrade to the previous iOS version, or Erase all the Settings and Content afterward, and Restore from the latest Backup.
Moreover, if your carrier supports eSIM, you can activate the new service and eliminate physical nano-SIM. (None US Apple iPhone)
Stay connected with us on our social pages Facebook, and Twitter, Also, share your feedback, problems, and more in a comment.