Last Updated on Dec 24, 2021
Are you looking for the best way to control your home/ office devices? Like bulb, Power Outlets, Toys, and more thermostats. So here you have a perfect buying option for iPhone controlled thermostat with iOS/Android/Alexa Support. With this thermostat, you can set your setting remotely on the thermostat from the iPhone, iPad, or iPod Touch.
Through the iOS app, you can not turn on or turn off but also set the schedule that you want for an auto turn before to will come to your area. From the office or on the way you can start the thermostat in your home or reversible. As an alternative option, you can access the thermostat manually at your fingertip.
What is the best wireless thermostat to buy? Nest, Honeywell, Radio, Sensi
#1. Honeywell Thermostat for remotely controlled by iOS device
Honeywell TH6320WF iPhone controlled thermostat with Wi-Fi features, Easy and smart mounting horizontally, efficient energy saving, full control over iOS app, and manual control option as well.
Auto switches cool/ heat control, Do initial setup on Wi-Fi controlled smart device than any time access. The most recommended thermostat-controlled over WiFi. Programmed your thermostat for the next seven days and ran the schedule automatically.
#2. Nest Thermostat: New Upgraded features
Tech guys who are confused no not to buy iPhone controlled, Another great option as a Nest. Supported by Alexa, iOS, Android app & Homekit as well.
Great and smart technology manages itself and keeps your room at an adjustable temperature. Also an opportunity for control remotely from the device.
iPhone controlled thermostat is more convenient to the users compared to physical touch for adjusting although you are in front of the screen.
#3. Sensi Wi-Fi enabled iPhone controlled Thermostat
Care your device, if you are planning to save electricity or device performance. Sensi made perfect full features professional home/ office use thermostat for you. Reduce wasteful heating and cooling remotely by pre-scheduling up to 7 days.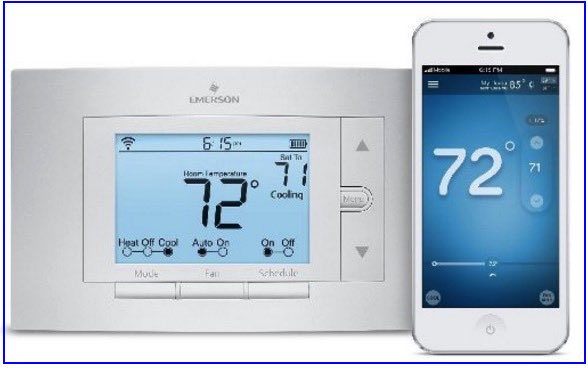 Quick and easy installation, iOS and Android compatible, ready app. longer battery(2AA) life up to 9000 hours, Auto works based on atmospheric change like turn on AC, Turn off AC.
Slim wall mount – Screen
75 years of experience on the thermostat
#4. Radio Thermostat: iPhone controlled
Trust good results on Wi-Fi thermostats from iOS and Android devices. Advance programming features Program into four different time slots. And a 7-day programming schedule. Most favorite home automation accessory of all time.
International buying option
Energy-saving program
Minute by minute report or save it for later use and comparison
auto turn off: if you're out of the coverage like 10 miles. Turn on when you re-enter in the boundary.
A recent list of the Top best-controlled thermostat for a massive blizzard in the current winter.
→ Get here- The Best iPhone controlled Home Accessories