🗓️
November 21, 2023
By ✍️
Jaysukh patel
Excessive heat isn't suitable for any electronic device; leave your iPhone alone. It can damage the internal components of your iPhone and also degrades the performance as well. Natural, you would like to avoid such a problem at all costs. For this, we've curated a list of practical solutions that will help you prevent iPhone overheating when using, charging, or playing games.
Common reasons for why iPhone overheating
Using the iPhone continuously.
Placed your iPhone nearest to a heat source, especially in hot weather.
Playing high-graphic games or running processor-straining apps.
Software bugs or glitches.
Running multiple applications in the background.
Turning on battery-consuming features like Bluetooth, Wi-Fi, Location, and more.
Using iPhone while charging.
Charging iPhone with cheap and corrupted chargers.
Solution #1. Ignore placing your iPhone in hot condition
Apple always suggests placing your iPhone in the temperature range of 32 degrees to 92 degrees. But in a region like India or any other region, the temperature will usually be more than this.
Thus, it's suggested that you won't use your iPhone in these countries. However, it's best to wait and let your cool down if you're using it in the warm condition. Besides this, don't place your phone in a parked region as it causes such issues.
Solution #2. Ignore using a corrupted charger
One of the things that you must check when your iPhone keeps overheating is to check the charger you're using. And if you're using a corrupted third-party charger, ignore it!
While multiple chargers are available in the market, very few are MFi-certified and fully support the device. Besides being incompatible, they are insecure and may end up damaging your iPhone. 
Solution #3. Don't use your phone while charging
Are you often finding yourself playing games, and you keep playing games on your iPhone while charging? If so, then you must keep this habit away. That's because it decreases the stress on the processor and prevents overheating. Thus, it is always suggested to ignore using the phone while charging.
Solution #5. Use right case
The market is flooded with a massive number of cases. However, it's essential to know that using bulky, poorly designed, and cheap cases can be a reason the iPhone keeps overheating. That's because the iPhone keeps generating heat while playing games or watching videos.
If the case lacks proper cutouts, it can trap the generated heat and prevent your iPhone from cooling. Which eventually causes the iPhone to become hot while using. To prevent such a scenario, we suggest using a suitable case.
Solution #6. Disable Bluetooth, Wi-Fi, Cellular Data, and Personal Hotspot
1. On your iPhone, head to the Settings App. Tap on Wi-Fi.
2. Enable toggle Wi-Fi on, then turn off Wi-Fi settings.
For Bluetooth settings,
1. Launch the Settings App. Tap on Bluetooth on your iPhone.
2. Enable toggle Bluetooth on, then turn Bluetooth off on the iPhone.
For Personal Hotspot,
1. Go to the Settings App. and tap on Personal Hotspot, then select turn of Allow Others to Join on iPhone.
For AirDrop,
1. Go to the Settings App and tap on the General Tab on your iPhone.
2. Click on AirDrop now next, and check on Receiving Off.
Solution #7. Low screen brightness
Is your iPhone screen overly bright? If so, this can be why the iPhone is always hot. While playing games or watching videos, many iPhone users habitually keep their device brightness overly high. It directly affects the device's battery. Besides this, keeping brightness high for a longer duration can lead to various issues like the iPhone battery draining faster. To do so, simply access the Control Center and drag the Brightness level as per your surrounding environment.
Solution #8. Disable Background Refresh
Stop all background app processes while your iPhone is locked and unlocked. Disabling this feature, you can use your iPhone normally. Follow the below steps to try…
1. Go to the Settings App. Tap on the General on your iPhone.
2. Tap on Background App Refresh. Hit on Background App Refresh. Select check Off.
Solution #9. Delete Unused app
Are there multiple unused apps installed on your iPhone? If so, simply delete them. As they could keep on running in the background for no reason. And that could be a reason for the iPhone overheating. To remove the app, press and hold the App Icon, then tap on Remove App > Remove.
Solution #10. Turn off Location Service
Various apps and system services keep on using the location in the background. However, it consumes lots of battery and causes iPhone overheating problems. Thus, we suggest turning off location services.
1. Go to the Settings App next, tap on Privacy & Security, then select Location Services on iPhone.
2. Turn on Location Services next, click Turn Off disable toggle Location Services off Privacy & Security on the iPhone.
Solution #11. Enable Low Power Mode
You might be wondering why we have mentioned using Low Power Mode as a troubleshooting tip. The feature is designed to decrease power consumption by turning off certain features like mail fetching and auto-download.
Hence, with reduced battery consumption, the battery won't have to play an extra role, which eventually helps keep your iPhone cool. To enable it, follow the steps below.
Head to the Settings.
Swipe down and tap on Battery.
3. After this, enable the toggle next to Low Power Mode. 
Solution #12. Close Background running apps
Are presently too many apps running in the background? If so, it could be a reason why the iPhone keeps overheating. Closing these applications will help you prevent such issues. To do so, swipe up from the bottom and hold in the center to open background running apps. After this, swipe up all app cards to close the background running apps.
Solution #13. Restart your iPhone
One solution that is always recommended to resolve any problem is restarting the iPhone. To restart the iPhone, follow the steps below.
Restart iPhone with Face ID: Press either the Volume Button or Side Button simultaneously until you see the Power-Off screen. Drag the Power-Off slider from the Power-Off screen. Wait for 30 seconds and re-enable the phone by pressing the Side Key.
Restart the iPhone with the Home Button: Press the Side Key until the Power-Off screen appears. Drag the Power-Off slider from the power-off screen. Wait 30 seconds and switch on the phone by pressing the Side button.
Solution #14. Update iOS
Is your iPhone updated to the latest iOS version? That's because outdated iOS version causes various issues, including iPhone overheating. To check the iOS version, follow the steps below.
Move to the Settings App on your iPhone.
Tap on General.
Select Software Update.
Now, let your device check for updates.
If available, hit Download And Install. (install latest iOS 17.0.3)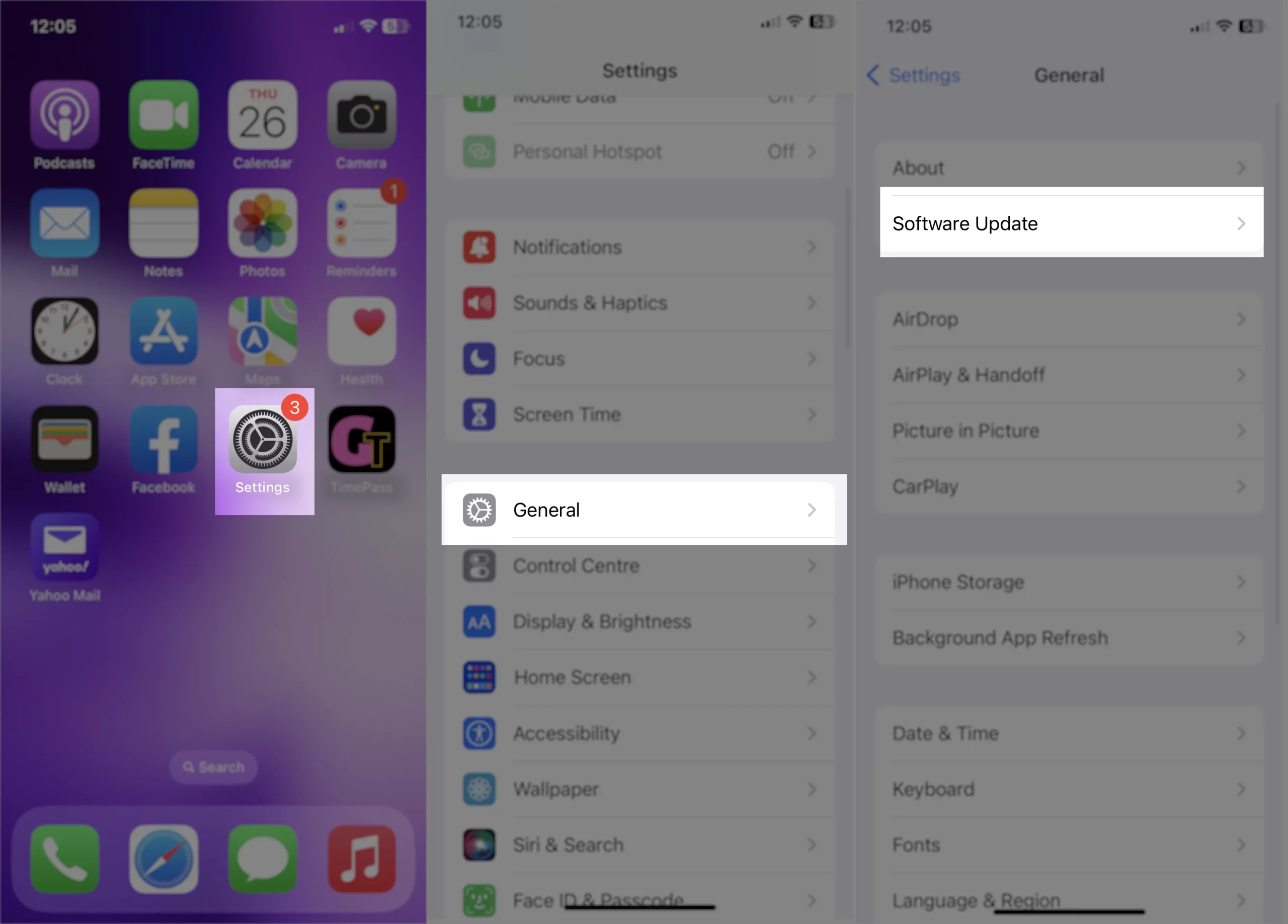 Solution #15. Reset All Settings
Misconfigured iPhone settings could be a cause of iPhone overheating issues. To set iPhone settings to default, you must reset all settings by following the steps below.
You must know, What Happens in Reset All Settings on your iPhone.
Launch the Settings App.
Select General.
Hit on Transfer & Reset iPhone.
Choose Reset.
Tap on Reset All Settings.
Enter your iPhone's lock screen password.
At last, select Reset All Settings.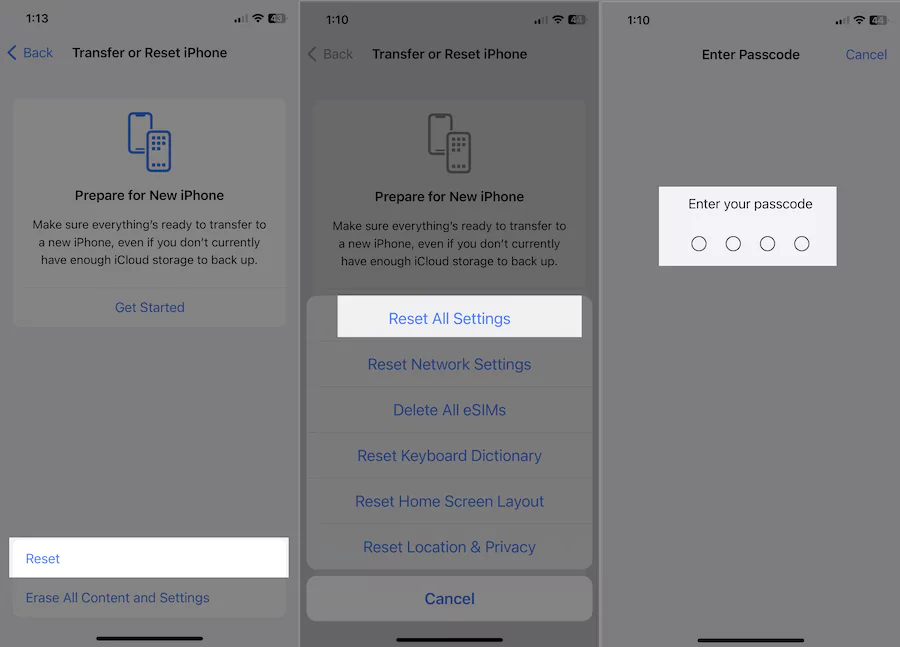 Solution #16. Check for hardware damage
If none of the above software-related solutions doesn't work for you, it could be a serious hardware issue with your iPhone. However, it can be fixed only with a technician; for this, you only need to carry your iPhone to the nearest Apple-authorized service station. Also, remember to take a warranty card if you recently bought an iPhone.
Final Thought!
After all, one of the solutions from this guide might have helped you to fix your iPhone overheating while charging. Which solution worked for you? Drop it in the comment box.