Last Updated on Jul 18, 2023
iPhone won't delete apps after iOS 16 Update, what to do now? Recently one of my colleagues faced the issue with the latest iOS or later, As usual, I have suggested to him all the workarounds, and potential solutions that are used to fix iPhone won't delete apps and how to delete apps on iPhone iOS 16.
But none of them worked for his iPhone. After trying more and more, we realized that the latest update has a new way to delete apps in iOS, and that wasn't any bug or system issue.
If you have the same issue with iOS won't delete apps on the iPhone, then continue to read this article and learn how to delete apps on iOS on the iPhone.
In addition, Apple has added one more way to remove apps from your iPhone, so if the first doesn't work for you then try another one.
How to Delete Apps on iPhone Permanently and iPad
Why iPhone Won't Delete/Remove Apps in iOS 15 or earlier?
You might not be following the correct procedure to remove apps from the iPhone.
Check for the screen time restrictions.
You cannot delete the native apps.
Issues with the syncing on iTunes and iCloud.
Network errors.
The App isn't responding, there's can be a problem from the developer's end.
Make sure the iPhone has enough storage.
Watch Video of What to do if you Can't delete apps on your iPhone or iPad
Method 1: Search and Delete App
The easiest method to delete an app on your iPhone [Updated with iOS 16], That might be hard to find the app on the home screen, or App is not available on the Home screen because it's moved into App Library. in any circumstances this method works amazingly on iPhone or iPad.
Open the control center on your iPhone or iPad [Swipe down finger from top to bottom].
and Search App Name > Long Touch and Hold on App icon > And Tap on Delete app option.
If your iPhone is running in iOS 14 or earlier version then watch the below video to Know 4 important methods to delete the app on iPhone.
how to delete an app on iPhone that you can't find
Method 2: Long Press Time On Home Screen on iPhone/iPad
Must Check: 4 Methods to Delete Apps on iPhone
Spend more time on touch and hold on to the App icon. It is the, as usual, method that we were following from the beginning. However, there's a minor change that you should know about deleting apps at the latest iOS.
Step #1: Go to the Home screen on iOS update iPhone.
Step #2: Long Press the App icon that you want to delete. Don't lift up your finger however iPhone/iPad Screen Show 3D Touch popup option. Just after that popup, you will find all the apps icons jiggle right away for delete.

Step #3: Remove the app in the popup or Tap (x) on the App icon for the Delete App, when it appears.
NOTE: In previous iOS versions, holding the app icon for 4-5 seconds the (x) appears whereas, in iOS 13, it takes around 10-12 seconds to show (x).
Method 3: How to Delete App Not on Home Screen
how to delete an app removed from the home screen But installed on your iPhone. that's the feature in Latest iOS Version. So users can hide the app from the home screen But can find using Spotlight search or From App Library.
Here are the alternate ways to delete the app in this case, the first method in this article explains the same solution,
1. Open the Settings app on iPhone > Scroll to General.
2. Next, Scroll to iPhone storage > and Tap on App name "Select app which you want to delete" > Delete app.
Method 4: From App Store, Re-designed iOS App Store
Yes, you have read perfectly, now the latest iOS allows you to delete apps in iPhone from the Update section of the App Store. See how it can be done.
Step #1: Launch App Store on your iPhone.
Step #2: Tap on your Photo icon on the top-right corner.
Step #3: Now, under the "Available Updates" section, locate the app that you would like to delete.
Step #4: Swiping left on a particular app, will bring the "Delete" option.
Step #5: Confirm "Delete".
Hence the conclusion is, there is no problem with your iPhone and iOS, it's just you were trying the wrong method to delete the apps. Share these methods with your friends and help them to delete apps on iOS 13 or later enabled iPhone.
Solution: Can't Delete Apps? Check for Screen Time Restrictions
Unable to delete apps on the iPhone? Have you checked the restrictions on Deleting Apps? Because if screen time restrictions are enabled for Deleting Apps, then pressing and holding the app won't jiggle. Here's how to Allow Deleting Apps on iPhone.
For iOS 14/13/12,
Go to the Settings app on your iPhone.
Scroll down and tap Screen Time.

Select Content & Privacy Restrictions.
Then, go to iTunes & App Store Purchases.
Tap Deleting Apps and then Allow.
For iOS 11,
Navigate to the Settings app.
Tap General.
Select Restrictions.
Enter the passcode to access Restriction, and Toggle ON Deleting Apps.
Troubleshoot Network
It sounds strange; however, there is no harm in fixing the network problems like Wi-Fi, and more. Start with the Wi-Fi.
Toggle Wi-Fi OFF/ON
It's a potential trick that can fix the iPhone won't delete apps, try to turn Off and turn on the Wi-Fi, also, restart the iPhone. Now check if you can delete the apps on your iPhone.
Use the Control Center or visit Settings app > Wi-Fi to disable and enable Wi-Fi.
Turn On and Off Airplane Mode
Try turning on and off the Airplane mode to refresh the network of the iPhone. Airplane mode is turned on, your iPhone is disconnected from all the wireless connections, which could do a good.
Open the Settings app > Airplane Mode. Alternatively, pull the Control Center and tap Airplane mode.
Reset Network Settings
Steps to Reset Network Settings in iOS 15 and later version
Step #1: Open up "Settings".
Step #2: Open "General" and then tap "Transfer or Reset iPhone".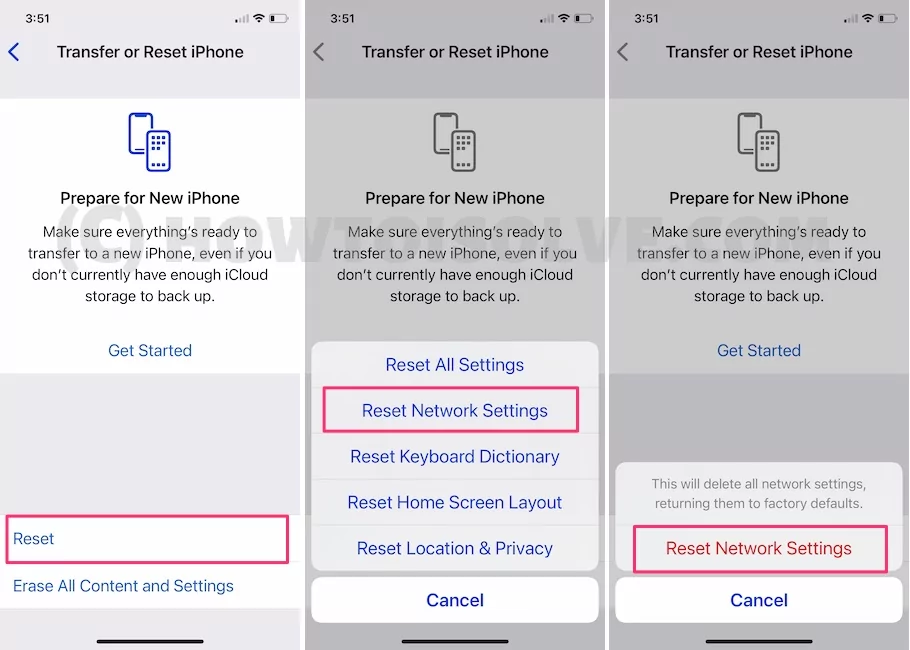 Step #3: Lastly, tap "Reset" > "Reset Network Settings" > Enter your iPhone Lock passcode and Try after rebooting once. This Process won't erase other important settings, Media, Messages, and more.
Steps to Reset Network Settings in iOS 14 and Earlier version
If the Wi-Fi or Airplane mode didn't do a trick, then reset the network settings on the iPhone. Navigate to the Settings app > General > Reset > Reset Network Settings. Enter the iPhone passcode and reset network settings.
Try Deleting Apps from Settings App
An alternate option to delete the applications from the iPhone is from the Settings app. Use the Manage Storage feature of the iPhone, to Delete App.
Go to the Settings app.
Tap General.
Choose Storage
Find and tap on the app that you wish to delete.
Tap Delete App.
If you're planning to download the app after few days, then Offload an App would be a smart choice, as it keeps all the documents and data intact in the iPhone while only removing the application. So the next time you install the app, all the data and documents restore automatically.
What are the Native Applications That Can be Deleted?
Safari, Photos, Messages, Health, and Settings app can't be deleted. Apart from these apps, you can delete any of the native apps to free up storage.
Here's the list of built-in apps that can be removed,
Weather
Watch
Activity
Apple Books
Calculator
FaceTime
Contacts
Calendar
Compass
Files
Home
Maps
Measure
Music
Files
Find My Friends
News (If Available)
Notes
Voice Memos
Podcasts
Stocks
Photo Booth
Tips
TV
Reminders
Videos
Mail
Force Reboot iPhone
If your Apple iPhone is freezing & not responding, Please you should force restarting it could eliminate the problems.
For iPhone 8 or later:
Press and quickly release the Volume Up button.
Press and quickly release the Volume Down button.
Press and hold the Side button until the Apple logo appears.
For iPhone 7/7Plus:
Press and hold the Volume Down button and Power button until the Apple logo displays.
For iPhone 6S/6SPlus or earlier:
Press and hold the Home button and Sleep/Wake button and release it when the Apple logo appears.