You have iPod touch 6th or 7th generation; then you must go with below amusement speaker docking station with charging facility. Songs on iPod speaker, consume more power compared to headphones, So we can't listen to music loudly at your home or office. Here is the best solution for play media on iPod touch docking station (Speaker) or charge continuously when connected to it. Unfortunately, we don't have iPod Touch for play. We can play music through online radio, Also set the alarm or use it as a watch on the desk or from bed tools.
Note: you have iPod Touch 5th, and 6th generation or later version then go to the below-charging station with the speaker dock, else go with 30 pin lightning connector.
we are happy to help you, submit this Form, if your solution is not covered in this article.
You might like External power bank for iPod Touch.
The Best iPod Touch Docking Station: Boss, iHome, Sony, iLuv, Philips Reviews
#1. Bose iPod Touch Speaker docking station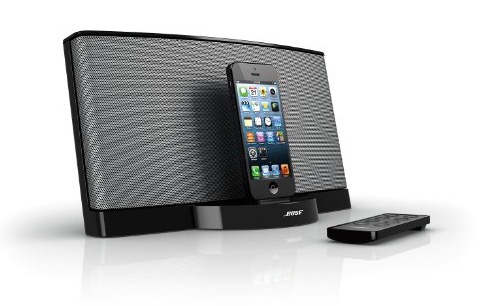 #1 sound quality and I know you will feel astonishment for the price. But yes if you want some quality on all-time then try this speaker docking station at once. Not for iPod touch 6th, 5th or later. But also play it with 8 Pin iPhone or iPad.
Seven beautiful color options, remote control, Headphone jack, Charge device parallel.
#2. iHome Lighting Speaker dock with charging station
Music lovers always happy with an iHome speaker dock, we can use it for different Outcomes. As a watch, Alarm, Radio, Custom playlist, Charge iPod Touch and iPhone, iPad. Also, use it on the 30 pin iPod touch.
#3. Sony iPod 6 Docking station
Unique Round body design, Extended music control settings, and remote access. Stunning sound throw and compact body design, Easy to set up on small space. In the features: FM and AM Radio, Display color options, Alarm and Time display.
#4. iLuv iPod Touch Lightning dock with charging station
Adjust the lighting connector horizontally, for the perfect view when in the dock. Four speaker arrangements cover a big area for spread voice. The control button on speaker body, Design for all eight-pin Apple Device.
#5. Philips iPod touch docking station
Unique body design, All time best in sound system and technology serve by Philips. Play anywhere on the AC power adapter. So now just garb and enjoy!
Perfect balanced list of iPod touch docking station for all. Money value and accurate guidance from our experts.
Premium Support is Free Now
We are happy to help you! Follow the next Step if Your Solution is not in this article, Submit this form without Sign Up, We will revert back to you via Personal Mail. In Form, Please Use the Description field to Mention our reference Webpage URL which you visited and Describe your problem in detail if possible. We covered your iPhone 11 Pro, iPhone 11 Pro Max, iPhone 11, iPhone 8(Plus), iPhone 7(Plus), iPhone 6S(Plus), iPhone 6(Plus), iPhone SE, iPhone 5S, iPhone 5, iPad All Generation, iPad Pro All Models, MacOS Catalina or Earlier MacOS for iMac, Mac Mini, MacBook Pro, WatchOS 6 & Earlier on Apple Watch 5/4/3/2/1, Apple TV. You can also mention iOS/iPadOS/MacOS. To be Continued...
Don't Miss out:
Jaysukh Patel is the founder of howtoisolve. Also self Professional Developer, Techno lover mainly for iPhone, iPad, iPod Touch and iOS, Jaysukh is one of responsible person in his family.
Contact On: [email protected] [OR] [email protected]