Last Updated on Nov 23, 2020Apple changed the way of online payment system for iOS users, and most popular among top banks, Stores, Restaurants, Hotels and Credit Unions in the USA, UK, Canada, and China, Still growing in the worlds and Business Areas. Check back soon for more update and newly participated in Existing apple pay supported banks, Payment systems, Business unions, and Public or Private Sectors. If we are new or former apple pay users, In case Apple Pay not working, then you must follow Apply pay supported Banks cards setup in your iPhone Wallet app (Apple Pay).
Here I tried to update myself and deliver to you the latest news on Apple pay supported payment system through the below-known list or official Apple source.
Also note that if you are the customer of the apple pay supported bank, which means not to confirm your credit card support to apple pay. So request to your bank for Apple Pay supported card or activate your card for use apple pay.
Get exciting Knowledge article> What Stores Accept Apple Pay?
Latest List of Banks and Credit cards that Supports Apple Pay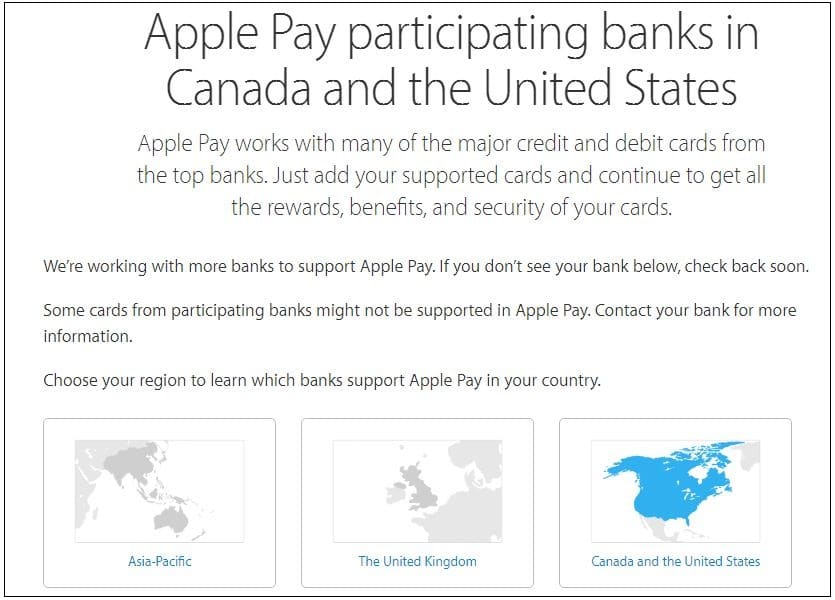 Apple pay supported banks in the United States
Apple Pay Demand in the USA and top position in the payment system, People love secure/ Easy and Personal payment system in all sectors, And expecting at more places.
Apple Elongate Apple pay now in more countries and continents including Europe and Asia.
See Full Updated List for All Banks (the USA and Canada): Apple Pay Participating Banks (Official Apple)
Asia Pacific (Australia, China, and Singapore) Banks: Asian Banks List (Official Apple)
Unite Kingdom Banks: Know List (Official Apple)
Apple Pay Supported Store and Brands/ Apps accepted and still counting: Store list (Official Apple)
Millions of Retailers and Merchants are adopting apple pay mobile payment system and located in U.S., U.K., Canada, Australia and Expanding in China, On Fortune report more than 2 million local stores open with apple pay support.
Apple Pay For Web: A more natural way to pay on Web option soon option in this fall. With Release of iOS 10 and macOS Sierra, Apple fans can make payment on web store through iPhone or Apple Watch.
Most famous fashion brands/ eCommerce platform announced apple pay web first time by names are Demnware, Shopify, and IBM.
Above all sources will revive in the future from Apple, Stay connecting with us (Facebook, Twitter or Google+) for the more new suggestion and update on Apple pay supported banks, Stores, and Brands.