🗓️
November 29, 2023
By ✍️
Jaysukh patel
Here's the trigger behind No volume or Low call volume on iPhone 7 or 7 Plus, either on Speaker or Headphones. For a specific reason, I have found an appropriate solution for each case in this tutorial. That's very easy to check and fix yourself. And now Apple Airpods making it more confusing to see where the actual problem is? Don't be panic or hesitate.
Helpful: might help on Airpods not connecting with iPhone or Airpods Disconnecting call
Fixed: Low Call Volume on iPhone 7 or iPhone 7 Plus
Solution 1. Check the incoming call volume level
During Incoming call time, check the level by press the physical iPhone volume up button (Available on side edge).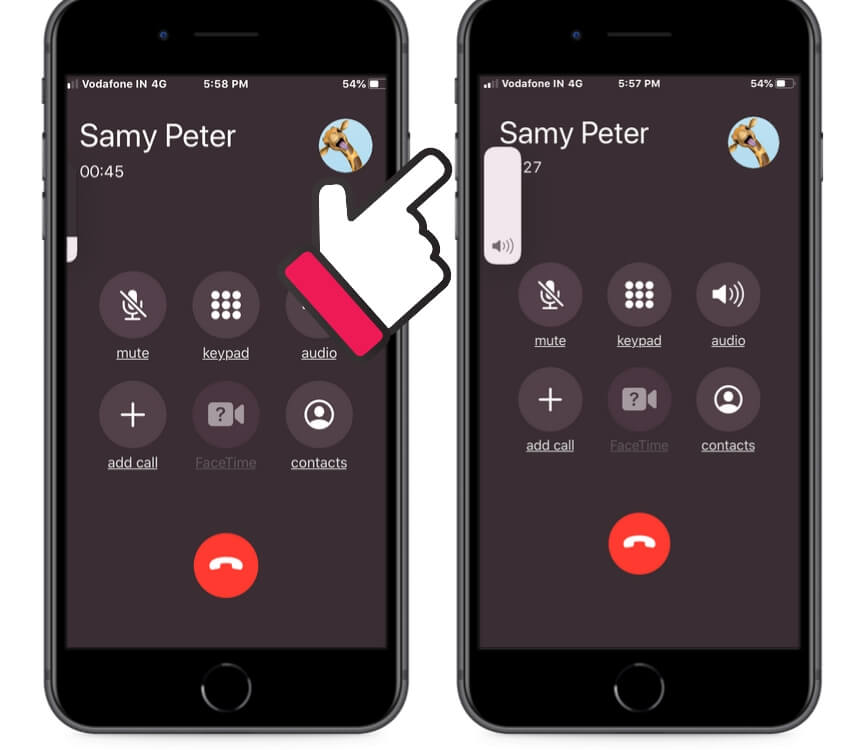 Also, check your iPhone is not in Mute or Silent mode. The physical side button is just above the volume up button. (You are looking for an incoming call ring) you found an orange mark on the button slot; change the button position to fix it.
Quick Fixes for Low Call Volume
Update iOS to Latest Version:- New Settings are available on new iOS Update, Please check that and fix the issues, Settings > General > Software Update. [latest version is iOS 14.6, and iOS 14.7 Beta for OS testing users]
Increase call volume during call time:- Use the volume up button, on-call time to increase the volume level.
Turn off Bluetooth:- Call is different from Bluetooth device if it's nearby. Settings > General > Bluetooth [Turn off]
Enable Phone noise cancellation:- Improve call quality on an iOS device by turning on the Phone noise cancellation setting.
Hearing Aid mode:- Call quality in Hearing Aid accessories for iPhone and iPad improve in this way, Settings > Accessibility > Hearing Devices > Enable Hearing Aid Compatibility.
Change with side button:- Change or adjust the volume using the side button for ringtone, Settings > Sound & Haptics > Enable Toggle Change with Buttons and that's it.
Call Audio Routing:- No Call sound for the incoming call, Because Audio routing set to speaker or Headset. So change it to automatic, Go to the Settings > Accessibility > Touch > Call Audio Routing > set to Automatic
Blow inside speaker:- Clean up the Speaker grill that packed with small debris inside the speaker slot. some moisture comes up with the speaker.
Random test:- Test sound quality with another caller, test sound quality with your friends or family mobile.
Reset all settings:- Change all iPhone settings to the default value, This way doesn't delete user data. Settings > General > Reset > Reset All Settings [Enter passcode].
are looking for your iPhone Music Volume low: Settings > Music > EQ > Late Night
Apple Support: Get free support from apple. Share your problem with the apple support team. They have multiple solutions to your problem. Get free replacement under the warranty device and Terms 7 Conditions by apple.
Solution 2. No incoming call volume without headphone or airpods
You can't hear voice means entirely off, then
Restart (Press & hold the Sleep/ Wake button until you show the slide to turn off) or Force restart iPhone (Press & Hold Volume down and home button).
Check the iOS update. (Settings > General > Software Update)
Next, Go to the Settings > Accessibility > Touch > Call Audio Routing > set to Automatic
Test again for an incoming call.
New features for experience clear sound quality, Filter all ambient noise on phone calls. Sensor auto-detects and removes all interrupting sound when you place the iPhone on the ear.
---
in iOS 13 & later iPhone 7& 7 plus Users: Open the Settings App- Tap Accessibility – Tap Audio/Visual – Phone Noise Cancellation > Turn Phone Noise Cancellation ON/Green.
Solution 3. Clear Your iPhone 7 (Plus) Receiver
Double-check, anything is blocking receiver slots such as plastic film or case
The clean slot from dust or other material with a brush
Put iPhone on speaker mode, for the temp. Solutions.
Solution 5: Remove Volume limit/ Disable Reduce Loud Sounds
iOS 14 or later iOS version users get the Reduce loud sounds option for Headphone, and This feature allows you to set the Volume limit of your Headphone volume during Call or Media Volume. Follow the Below steps and Turn off Reduce Loud Sounds for Headphone mode Low Volume.
Open Settings app on iPhone > Sounds & Haptics.
Now, Tap on Reduce Loud Sounds > Disable the toggle reduce loud Sounds or Increase the Output volume level using the Slider up to 100 Decibels.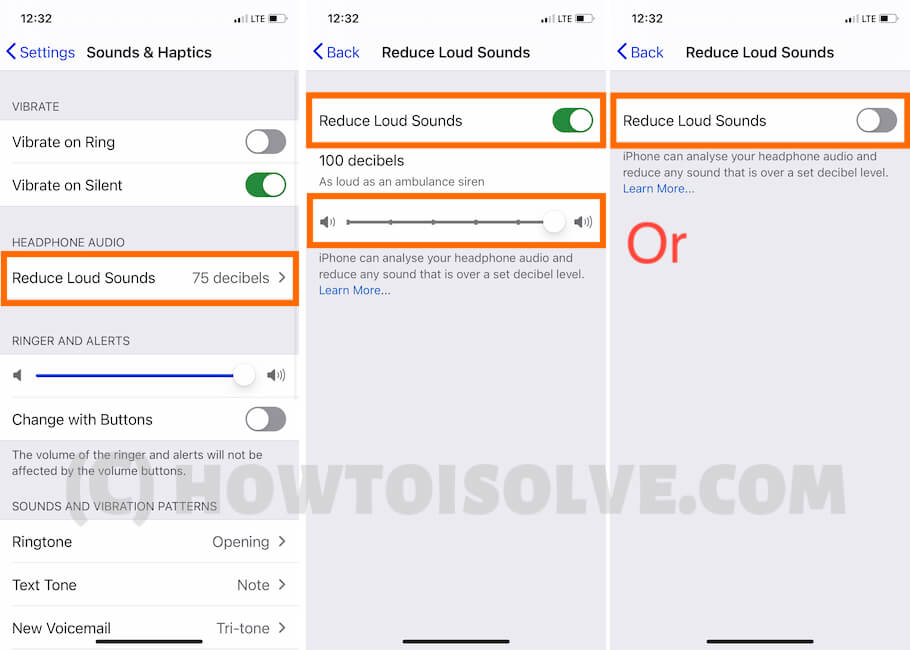 Hope this will help in a massive boost for Headphone volume with your iPhone.
Solution 6: Clean Re-install iOS on iPhone
Repair the software issues from the root of your iPhone. After a long time to use, Your iPhone cannot fix the problem with the software updates. So I recommend Clean restore. In this process, your iPhone will erase all the data like a new phone. So before erasing the device, you have to take a Full backup of your iPhone on your Mac or PC via Finder/iTunes. Once you back up your iPhone, Erase All Content and Settings. and Restore the Latest backup after test the call sound issue fixed.
Backup iPhone on Mac/PC. Read the instructions that prepared for Taking a full backup of the iPhone [Option 6 in Below Finder window].
Erase the device, Settings app on iPhone > General > Reset > Reset All Content and Settings > Enter Passcode and Your iPhone will take time depends on the data saved on your iPhone.
Wait for the welcome screen, Setup like a new iPhone. Insert the SIM and check the phone call test. If everything is Find then Go with the Restore Backup option. Connect your iPhone to iTunes/Finder on Mac/PC. Unlock the Phone and From Device summary page on Finder/iTunes, Find the option for Restore Backup [Option 7 in Below Finder window] > Select the latest Backup and Follow the on-screen instructions to Make your iPhone like Earlier.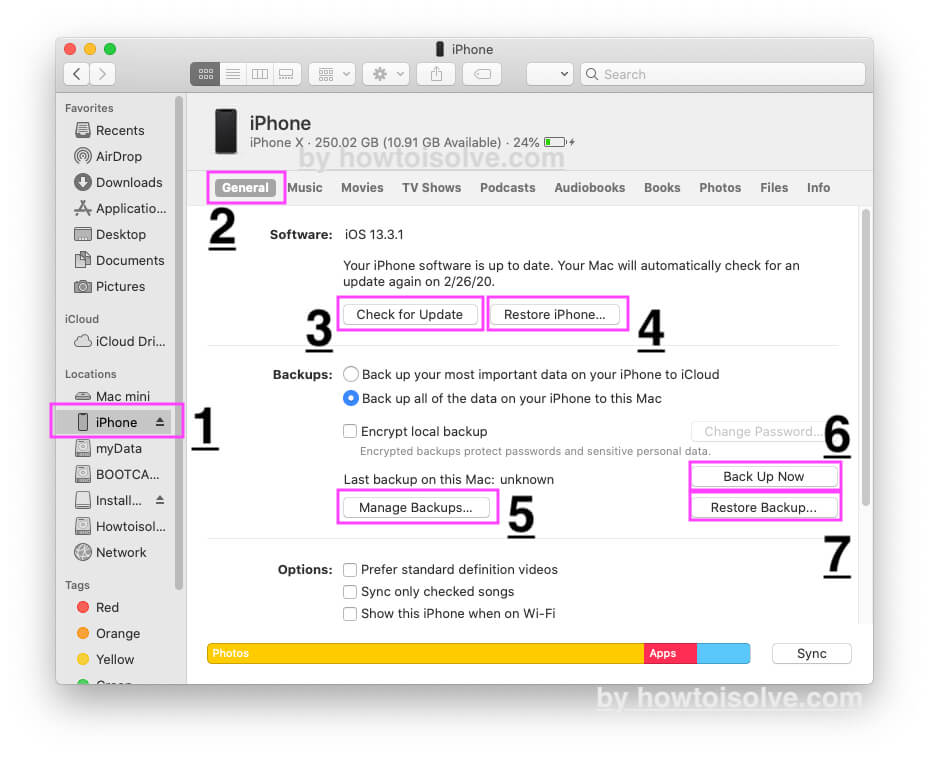 That's it.
Solution 4. Facetime audio, Disturb call on the carrier: Carrier Signal, Check internet connectivity
You are on public WiFi or Travelling, Wait for a few minutes. Poor internet connection or carrier signals make disturbing on call.
Solution 5. Contact App support or Speaker damage issue
Contact apple via online helpdesk; Before that, read the instructions carefully for Schedule Appointment at Apple Genius bar. try to fix your problem with an expert at the nearest apple store. Maybe the hardware problem is there. (Don't forget to check the apple warranty).