🗓️
November 22, 2023
By ✍️
Jaysukh patel
New iPhone 7 and 7 Plus users reported volume problems on incoming calls, low call volume doesn't stick anytime but wrong settings and volume level may arise problems for you. That's we didn't know. So many iPhone users are using Bluetooth Headphone or Airpod/ Airpod Alternatives available in the market. That delivers the best quality sound on Call, Music without hassled of speaker mode or Worry about carrying iPhone in hand. But some users are not happy to spend more money on precious today's smart-gadget by Apple.
As we know apple improved hardware performance and software in the new iPhone 7/ 7 Plus. So also in sound quality with unique purified incoming sound when the caller is on call.
Troubleshooting: Low call volume on iPhone 7, iPhone 7 Plus
Adjust volume level on-call time: Fix iPhone 7 receiver volume low
When you are on call, we can adjust it during call time only. Otherwise or on Other screen volume button worked for iPhone's system sound or ringtone. See my iPhone screen, that we can adjust caller volume during an incoming/ outgoing call. Inside iPhone settings, there is not an option for a specific call like ringtone/ Text/ Notification, Music sound level.
12 Quick Fixes to Increase Low Call Volume on iPhone 7/7 Plus
Update iOS to Latest Version, Because new Software upgrade comes with new features and internal software bugs. [Settings > General > Software Update]
Increase call volume during call time [Use Side volume up button during call time only, So this button function works for increase call volume, not a system volume]
Change with side button: [This Option is Removed in iOS 14 or later iOS Version – Check Similar option below "

Reduce Loud Sounds

"]Manage Your iPhone volume using the side button, if you are unable to change or use the Volume button then check out this setting. Settings > Sound & Haptics > Enable Toggle Change with Buttons and that's it.
Turn off Bluetooth: On iOS, device bluetooth is too much smart, So the nearby used device will automatically connect when it found. Settings > Bluetooth > Turn off
Enable Phone noise cancellation: Noise cancellation purify all the background unwanted sound in traffic or public place. But sometime it can't so we can check with the both enable/Disable option. Settings > Accessibility > Audio/Visual > Enable/disable Phone noise cancellation.
Hearing Air mode: Hearing Aid settings improves the audio quality with some hearing aids that is compatible with Apple iPhone and iPad. Go to the Settings > Accessibility > Hearing Devices > Enable Hearing Aid Compatibility.
Call Audio Routing: No Sound on Earpeace speaker during the call, Check this setting – Settings > Touch > Call Audio Routing > Set to Automatic. The other two options here fixes the call always comes on headphones or speakers.
Blow inside speaker: remove Dust or Chemical debris from the top ear speaker using your mouth air blow. Or use Soft Toothbrush to clean the speaker hole.
Random test: Problem with another phone during call time. so I recommend trying with your friend or Family phone.
Reset all settings: Reset settings to default, Settings > General > Reset > Reset All Settings.
Music Volume low: Settings > Music > EQ > Late Night
Restore your iPhone to Factory Settings: Before going to Apple Support I recommend to Restore your iPhone Factory Reset, Means clean install new iOS fix the issues on behalf of my personal experiences. Backup iPhone | Restore iPhone [This operation will erase all the data like a new iPhone and Fix the Old Software glitch for you]
Apple Support: Apple Genious bar is ready to help you. if the device is under warranty and the problem is related to hardware then get free iPhone replacement from apple under apple's terms and conditions.
Restart or Reboot iPhone
Simply restart or Force Restart your iPhone 7, 7 Plus. To restart it, Press Sleep/ Wake button until you show Slide to power off on the Screen,
iPhone 7 Plus Force restart/ Reboot: Volume down + Home button until your screen becomes black. Restart iPhone 7 Plus changed compared to iPhone 7.
Reboot or Restart operation reconfigure all the functions, iPhone volume button stuck, Miss matched control, and more.
Some users can't believe the weird sound problem on iPhone 7 because the experience was good till today.
Paired Headphone Volume Low: Disable Reduce Loud sounds
Are you experiencing low Call and music volume on your Headphone that is paired/Connected with your iPhone 7/7 Plus? So, iOS 14 or later iPhone models update with new Reduce Loud sound features that are really useful for Limit output volume in smart ways. That's Prevent from hearing loss, here in this way you can check your Headphone Audio level in Real-time and Control it using Reduce Loud Sounds Feature for Headphones on your iPhone/iPad and Apple Watch as well. Follow the Below steps for Your iPhone,
Open the Settings app on the iPhone/iPad.
Scroll to Sounds & Haptics options > Tap on Reduce Loud Sounds Option.
Disable the toggle Reduce Loud Sounds to Get Maximum Output Volume for Call or Media Volume. Otherwise, you can increase the volume level under the Reduce Loud Sounds Option.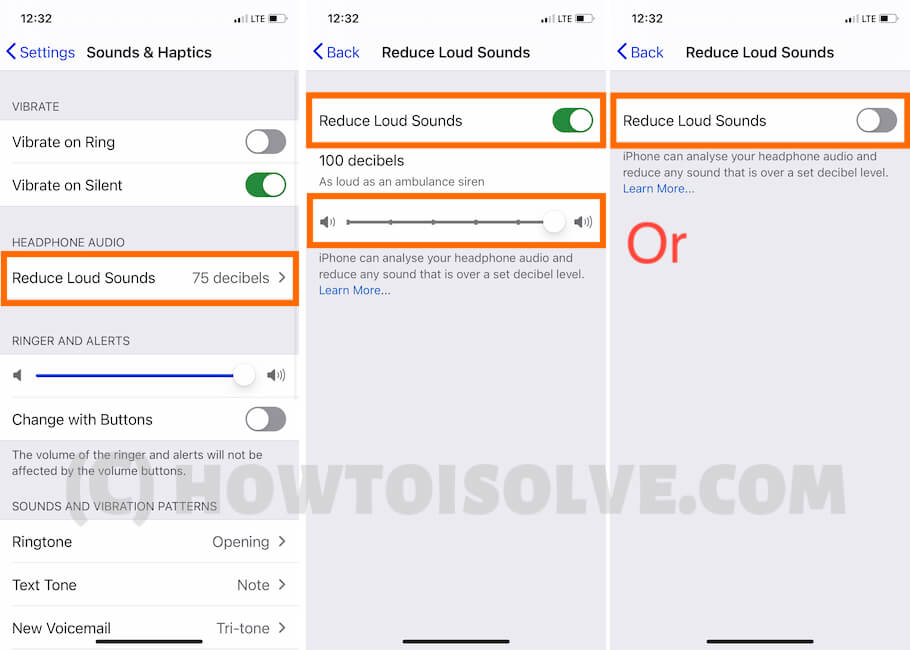 That's it.
Also Mark
Make sure and tell them if you feel an Incoming caller sounds talking from a distance.
Share your experience and believes. From that, you fixed your problem with Low call volume on iPhone 7, iPhone 7 Plus.