🗓️
July 28, 2023
By ✍️
Jaysukh patel
macOS Sonoma—the latest iteration of macOS 14—is packed with an array of cool yet functional features. You probably are aware of most MacOS Sonoma features and updates, as highlighted by the Apple preview of the operating system (OS).
Besides the amazing customization, security, gaming, and accessibility features, macOS Sonoma boasts numerous hidden features. If you are looking forward to installing this OS, here are some of the macOS Sonoma hidden features that will come in handy:
Did you Download it? – Official macOS Sonoma Wallpapers
42 Best MacOS 14 Features
1. Private Browsing Lock
The Safari browser on macOS Sonoma also received multiple privacy and security updates. One such update is the ability to lock inactive private browsing windows automatically. By so doing, the stock browser prevents known trackers from loading on the open pages. Get a full guide to using Lock Safari Private Tabs on Mac.
Additionally, the browser automatically clears all tracking IDs and URLs that were added while you were browsing.
2. New Game Mode in macOS Sonoma
Enhance your Gaming with Game Mode
When you start the Game, the Game Mode on your Mac automatically comes into action. It puts the games on the top priority list for CPU and GPU, preventing other tasks from running in the background. Besides this, it also lowers the latency with wireless accessories such as controllers and AirPods.
3. Siri is Easier to Activate
You must know of Siri—Apple's virtual assistant that uses voice recognition—right? Although the feature is available in earlier macOS versions, it is much easier to activate on the macOS Sonoma. To activate Siri on earlier macOS versions, you need to click the Siri icon from the menu bar and then say "Hey Siri".
With macOS Sonoma, you only need to say "Siri" to activate the virtual assistant. Many users find this to be much more seamless and intuitive.
4. Personalized Safari Profiles
Being one of the fastest browsers in the world, Safari is a preferred option among most Mac users. Apple strives to keep the browser up-to-date with regular updates in an effort to enhance user experience.
In this regard, personalized Safari profiles are some of the macOS Sonoma hidden features you'll come to appreciate. This feature allows you to create multiple profiles, effectively separating your browsing between topics, such as Work and Personal.
By creating different profiles, Safari allows you to separate your extensions, history, Tab Groups, cookies, and Favorites. What's more, it features an Instant switching option that allows you to switch between your various Safari profiles.
5. Large Clock on Lock Screen
The macOS Sonoma login screen was re-designed by adding a large clock on the lock screen. We can customize it by disabling or enabling Big Clock on the lock screen & Screen Saver window, No more changes in effects, Style, and Size (have to wait for more…). Go to the System settings > Login Screen > Clock > Off or Enable for Lock or Screen Saver screen. Get a detailed guide on the Clock on the Mac lock screen.
6. Screen Sharing App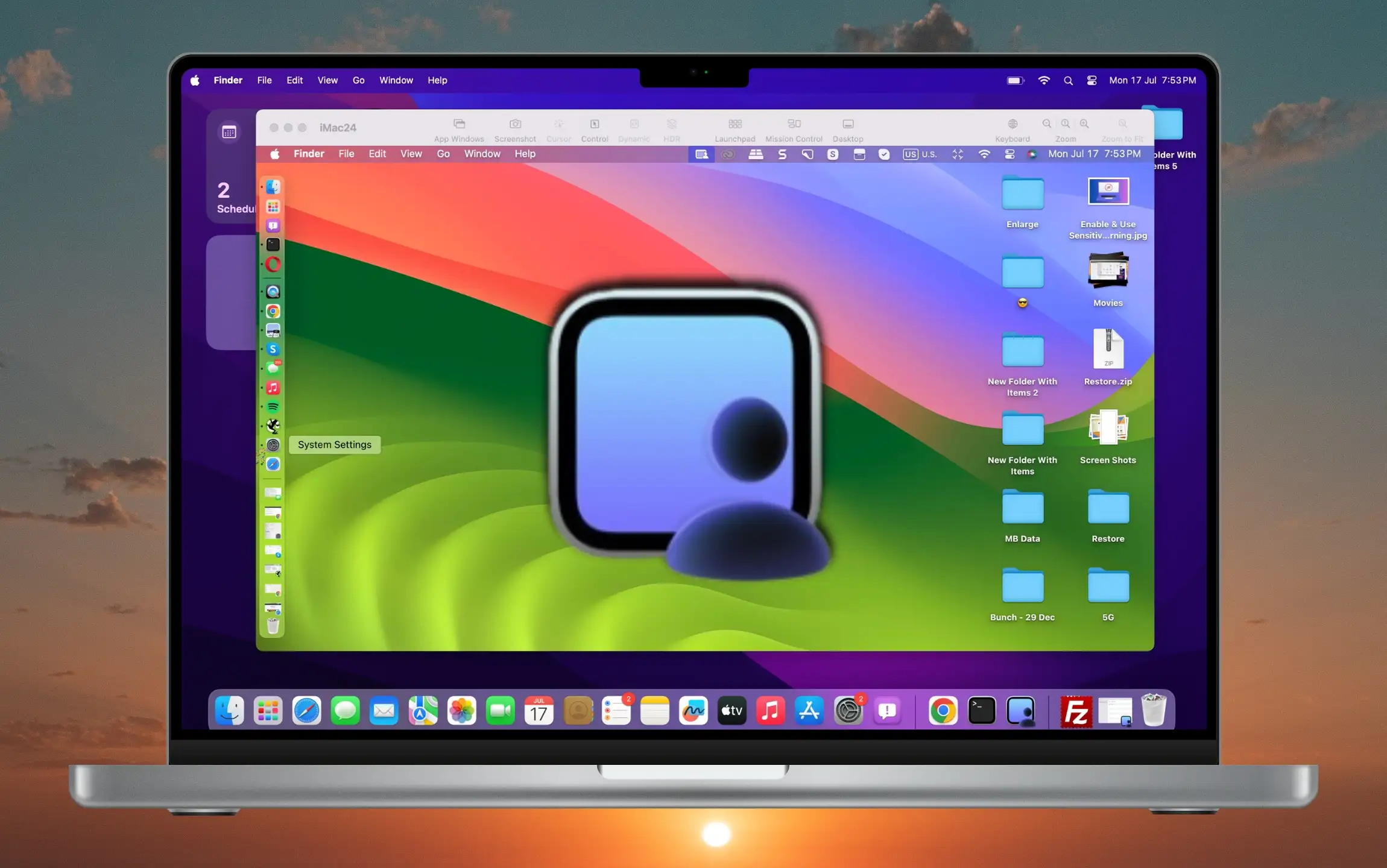 Screen Sharing App now easy to Work with remote access. Own Mac or MacBook connected to the same Mac using Apple ID Or Network ID. Easy & Secure setup to work remotely using the Screen Sharing app with All Customized Access tools, and high-bandwidth connection settings from the Top App window. Here's Setup and Use Sharing Sharing on Mac in macOS Sonoma.
7. Change Text Size for Pacific Apps on Mac
Set your Preferred reading size for supported apps and system features. Follow the steps below, to Use the slider to set the preferred reading size for the apps listed below, or customize each app separately.
1→ Go to the Apple Logo from the top menu > System Settings.
2→ Select Accessibility from left size > Text Size > to use Slider to change the default text size for all supported apps.
3→ Or Choose Text Size for Selected App and Done Save and apply the changes.
8. Personalized Voice
Personalized Voice is an accessibility feature offered by Apple on iPadOS 17, iOS 17, and now macOS—including the macOS 14 Sonoma. It applies machine learning to create a synthetic voice that sounds just like your natural voice.
This feature is particularly beneficial to users with speech impairments. Personalized Voice leverages voice banking technology to record and store your voice. By integrating this feature with Live Speech, you can use your personalized voice during in-person conversations as well as on FaceTime calls.
9. Ability to Use the Keyboard and Dictation Concurrently 
With the macOS 14 Sonoma, you can now use the Dictation and Keyboard modes at the same time. To do this, you first need to activate this functionality as follows:
From the Menu bar, click the Apple logo then navigate to System Settings.
Scroll down the left pane and select Keyboard
Under the Dictation field, click on the toggle button—located adjacent to the Mic icon
With both modes activates, you can move seamlessly between typing and dictation without having to stop either one.
10. Activity History
The Home App on macOS Sonoma has also been updated to include more intelligent functionality. The app now can record operations carried out on the connected Smart devices in your home. For instance, you can access the Activity History on your Home App to see who unlocked or locked your Smart door and when.
The Activity History also displays recent activity for such things as garage doors, contact sensors, and security systems.
Note: You can only use this feature if you have the new Home architecture in your home.
11. Collaborative Playlists on Apple Music 
Just as is the case with iPadOS 17, iOS 17, and TvOS 17, Apple Music on the macOS Sonoma comes loaded with new features. Thanks to the new Collaborative Playlist feature, you can now have your friends help you create an Apple Music playlist.
To do this, simply create a playlist on Apple Music then invite your friends to join the playlist. Once they accept the invitation, you can collaborate to create a playlist together. Everyone on the playlist can reorder, add, or remove songs.
The app even allowed you to use Emoji reactions to song choices on the playlist.
12. Pet Recognition on the Photos App 
Apple has enhanced the image recognition capabilities of the Photos App on macOS Sonoma; the app is now able to recognize pets as well as people. As a result, the People album in earlier macOS versions has been renamed People and Pets in macOS Sonoma.
It can detect the animals that mean something to you, depending on the number of photos you have of the animals. If you have multiple images of your pet on your Mac, the pet will be automatically listed in the People and Pets album.
The pet recognition feature on macOS Sonoma is rather accurate—it can tell pets of the same color apart. The app also tries to determine a specific species for each pet and denotes them using accurate icons.
13. Zoom and Pan Controls
This macOS Sonoma hidden feature only works when you are using Studio Display or an iPhone as your camera. To fine-tune the composition of your videos, Sonoma allows you to alter the frame using the pan and zoom controls.
You could also position yourself at the center of the frame, which comes in handy when you are video-conferencing.
14. New Screen Sharing Picker
MacOS 14 Sonoma makes it possible for you to share one or even multiple applications (apps) on a video call or during a presentation. You'll find this functionality to be more convenient as you get to share apps from the window you are currently in.
15. Automatic Sorting of Grocery Lists 
With Sonoma, Apple has upgraded pretty much every aspect of the operating system. One of the updates you'll come to live about the Apple Reminders app is its ability to sort your lists. The Grocery Lists within this app have been designed to automatically sort items into categories.
This will, in turn, simplify your shopping. The new Column View on this app will organize sections into multiple columns across the display. By so doing, it allows you to visualize your tasks in a better way.
16. Presenter Overlays 
Presenter Overlays is a new Video Conferencing feature that comes with the macOS Sonoma. In its working, Presenter Overlays removes your background and places your floating image ahead of the content.
You can choose from multiple overlays during a video conference to help position yourself on top of the presentation. With this feature, you can now customize the presenter's view when sharing your screen during a video conference.
In this case, you get to choose between two man overlays:
Small Overlay – ideal for when you present a window containing images or statistics
Large Overlay – best used when you want the spotlight on yourself, such as when you are pitching an investment idea.
Follow this tutorial on How to use Presenter Overlay on Mac.
In addition to Apple's FaceTime, Presenter Overlay supports multiple third-party apps, such as Zoom.
17. Sensitive Content Blurring 
Communication Safety on the Sonoma now covers protection for sensitive photos and videos. The new macOS comes with a new feature that is meant to secure your private data. To begin with, triggers a sensitive content warning.
Sonoma also gives you the option to blur sensitive images and videos until you choose to view them. This feature works in Apple Messages as well as on third-party apps.
18. Sync Apple Notes and Apple Pages 
Here is another macOS Sonoma hidden feature that you may not be aware of, the ability to sync the Pages and Notes apps. By syncing the two apps, you can conveniently share your progress on either of the apps by tapping on the Share button.
You could transfer your work from Notes to Pages and then tailor it to your liking. For example, you can transfer your project to Pages to customize the fonts, incorporate images or videos, or resize graphics.
This means that you can now start your project on Apple Notes, but finish it on Apple pages.
19. Enhanced Autofill 
Rather than having to fill every subsequent document manually, this feature leverages your stored information in a protected and efficient manner. Instead, documents will be filled automatically using relevant information from the data stored on your Mac.
Thanks to this feature, you can easily complete a scanned document or PDF using the data saved in your Contacts. It is also designed to offer utmost security while populating the various fields.
20. Share AirTag/Find My Accessories for up to 5 other people
With macOS Sonoma, you can share the AirTag/Find My Accessories with five others. Hence, everyone in the group can locate the item on the map and also play a sound to pinpoint the location of the lost item.
1→ Launch Find My on Mac > Select Items Tab. and Select AirTag or Other accessories from the list.
2→ Click on (i) Button next to the AirTag on Maps.
3→ Now, Click on Add Person under the Share This AirTag > Continue.
Others can locate this AirTag
Everyone who shares this AirTag can locate it in Find My.
Tracking notifications will be muted
when Everyone who shares this AirTag won't get notified it's near them.
4→ Add People from the contacts app, click on (+) Button to Find and Add into the list. Click on Share to Start sharing.
That's it.
22. Screen Sharing App
The new Screen Sharing App is a highly responsive remote connection with a High bandwidth Connection. Quick Connect and Do the taste as much as fast. Enable screen sharing on your Mac and start sharing the screen on another Mac-installed macOS Sonoma.
22. Look Up Information on an Object in a Video Frame
Visual look-up has vastly improved in macOS Sonoma. Using this aspect, you will get information about the paused object in the video frame. So, if you want to find information about the object that appears while watching the video, don't forget to access it.
23. People Album can now recognize Cats and Dogs
If you ever wish that your album can now recognize Cats and Dogs? If yes, this feature is for you. The People album can now recognize cats and dogs as part of your family.
24. Apple Mail Shows Travel-Related Emails at the Top of the Search Results
With macOS Sonoma, Apple Mail will now show travel-related emails at the top of the search result so that you can keep your plan well-organized. In addition, you even add big emoji to your message in order to express your feelings.
25. Adjust the Video Frame with Zoom and Pan Controls
macOS Sonoma lets you customize your video when using iPhone or Studio Display as your Camera. And the best part is that you can change the frame with zoom and pan controls. In addition, you have the ability to put yourself in the center of the frame, which is beneficial to enhance your video conferencing game.
26. Share Multiple Apps When on Video Call
Another feature that will enhance your ability is allowing you to handily share an app or multiple apps while attaining a video call.
27. Quickly Finish Words or Entire Sentences by Using a Nifty Shortcut
In macOS Sonoma, you can finish the sentence or word by tapping the space bar. This will play a vital role in enhancing your typing speed. & Show inline predictive text.
28. Automatically Underline the Autocorrected Words
Unlike iOS 17, macOS Sonoma also includes a neat feature that keeps typos at a fair distance. The feature underlines the autocorrect words to let you know what changes you can make. Go to the Apple Logo > System Settings > Keyboard > Edit > All Input Sources > Show inline predictive text.
29. View Full-Width PDF Right in the Notes App
Apple Notes now offers a view full-width PDF and lets you flip the pages. In addition, it also allows you to store multiple PDF files in the same notes for handy access.
30. Pretty Cool "Catch-Up and Swipe to Reply"
For convenience, Apple Message now allows the Catch-Up arrow to directly jump into the first message you failed to reply to or haven't yet replied to. In addition, you can swipe right to directly reply to it.
31. Access Stickers and Memoji in one place
All your commonly used Memoji and Stickers are stored in the same place in macOS Sonoma. Allows you to easily access the stickers and memojis and share them without any delay. In addition, macOS Sonoma also syncs your stickers with iCloud so that they are available across all your Apple Peripherals.
32. Instantly Share and View Location
It's a new way to share and view the location right from the + Button in the message. So in case any of your family members or friends share their location, you can directly see from the chats.
33. Combine Search Filters to Narrow Down Your Search
Searching for specific messages has always been nerve-racking. You can use search filters to narrow down the searching process to spot the message you are looking for.
34. Launch Web Apps Right from your Mac Dock
To make it more like a standard app, you can use web apps directly from the Mac Dock. However, the only drawback is you can't set a notification for the web apps.
35. View More Relevant Suggestions in Safari
In macOS Sonoma, Safari searching has become faster and way more responsive. Safari browser will now show relevant suggestions so you can navigate to the right ones and get into your Task quickly.
36. Access iPhone Widgets from Mac Desktop
To offer a handy way to access the information at a glance, the latest macOS lets you add the widgets to your desktop. And the best part is that, besides letting you add a Mac Widget, you can now also add iPhone Widget to your Mac desktop. If you want to know the complete procedure for that, read our article on how to add iPhone Widgets to your Mac desktop.
37. Colors of the Widgets Instantly Adapt and Fade for Better Focus
Feeling distracted after adding widgets to your Mac desktop? Fuss not, hindering widgets settings to monochrome instead of full-colored can fade the widgets in the background. If you want to imply the same settings, read our article on how to fade widgets on your Mac.
38. Recover Accidentally Deleted Password
Now no need to worry about losing the password. Yes, with macOS Sonoma, you will get a built-in password recovery feature that automatically stores the password for up to 30 days from the date it was deleted. Do refer to our article on how to recover deleted passwords on Mac.
39. Automatically Delete Verification Codes from Apple Messages and Mail
If your Messages app has filled the queue of OTP? Fuss not. You can automatically clean them up once you use them using AutoFill Functionality.
40. Link your Apple Notes
In macOS Sonoma, you can now link the Apple Notes with each other to connect your ideas and navigate in-between them to easily access them.
For this, head to the text on which you want to imply the hyperlink. Up next, right-click on the text and then search for the notes you are willing to interlink. After this, click on OK to finish the procedure.
41. Control Communication Preferences
In macOS Sonoma, you can customize communication preferences. For this, head to the System Settings > select your Profile > Personal Information. Now, select the Info Button right next to the Communication Preferences and select the notifications for latest announcements and releases or willing to block them. Finally, select Done to give further confirmation.
42. Manage Passkeys Access for Web Browsers 
MacOS Sonoma has offered ease to control passkey access for web browsers. Here's how you can do it. 
On your Mac computer, navigate to the System Settings App > Privacy & Security.
Choose Passkey Keys Access for Web Browser.
From the next screen, you will see the list of apps that have access to view which password and apps you have saved passkey for will appear. As per your desire, allow & disallow the apps to access the passkey.
43. Smart App Management
Another most admired feature is Smart App management in macOS Sonoma. Unlike before, you can permit specific apps to not only frequently update but also delete others that are useless.
Head to the System Settings.
Select Privacy & Security > App Management.
Click on + Button to add the app you are willing to authorize to update and delete others apps. And in case you want to remove the app from the list, click on "–" Button.
Passwords are generally private, but there are instances where you want to share them with some accounts, such as with friends, family, or co-workers. The all-new Password and Passkey sharing feature allows you to share your passwords with others. You can create a group and select which passwords need to be shared. The best part is that the password changes are updated, and the participants in the group get updated via their iCloud Keychain.
44. Automatically Delete Safari History 
If you are willing to delete Safari history automatically, you will be glad to know that macOS Sonoma offers a feature to delete Safari History. For that, go to the System Settings App > Click on Safari Menu > Settings. After this, click on the drop-down beside the Remove History Items and select several options like After one day, After one week, After one month, and After.
45. Enable or Disable Auto-Punctuation
Go to the Apple Menu.
Select System Settings…
Choose Keyboard from the left pane.
In the Dictation menu, enable or disable toggle next to the Auto-Punctuation.
46. Change the Microphone Source of Dictation
If you often use dictation on your Mac, you would be glad to know that now you can change the microphone source. However, your Mac's microphone is used by default, and you can now switch to the connected iOS device. But before that, ensure your iOS device is connected to your Mac.
Head to the Apple Menu.
Select System Settings…
Click on the Keyboard from the left pane.
In the dictation section, click on Microphone Source drop-down.
Choose your device as desired.
47. Enable Voice Isolation when using dictation on your Mac
Another feature you must take advantage of is Voice Isolation. It clears background noise when turned on to ensure the audio is clearer.
Click on the Yellow Microphone Icon in the Mac menu bar, and from the menu, select Voice Isolation.
48. Apple Mail shows Travel-related mail at the top of the list
As your trip days come closer, Apple Mail will now highlight travel-related mail at the top of the search result so that you can smartly keep a Tab at your eternity and plan your trip. That's It!
49. More enhanced Display Contrast
With the latest macOS, you can now also change your Mac display contrast. Here's how you can do so.
Click on the Apple Logo in the upper left corner of the screen.
Select System Settings…
Choose Accessibility from the left side pane.
From the right side, search and click Display.
Now drag the Display Contrast Slider as per your need.
50. Caps Lock Indicator
When you press the Caps Lock button on any Mac running macOS Sonoma and later versions, in the text field, you will see a new blue indicator next to the cursor to show you that Caps Lock is enabled. However, a caps lock light comes built-in in many Mac computers. It is also useful when you accidentally press the caps lock key.
Final Verdict
Unlock a world of endless possibilities with the numerous features and capabilities offered by the macOS Sonoma. Right from the diverse customization options and security updates to a multitude of macOS Sonoma hidden features and shortcuts, this OS has a lot to offer Mac users.
You really need to download and install the macOS 14 Sonoma and get to experience the above-described features firsthand.