Sponsored Links
Variety of Apps is available for suggesting movies and theatres and many other things about the movies. With the help of this type of Apps you can enjoy the movie reviews sitting at your home and also enjoy the movies online. Among them one of the best Movie App is Marquee Movie App is the best one.
In the world of technologies if you are having the smartphone (iOS app available for iPhone/ iPad/ iPod Touch) then you must use this kind of app because it will give the best experience to you. Watch movies, HD Trailer, Videos etc online using this type of apps. On some movie App you can download the free movies and songs of the movie.
Top best App for Find Movies, Video Reviews on iPhone/ iPad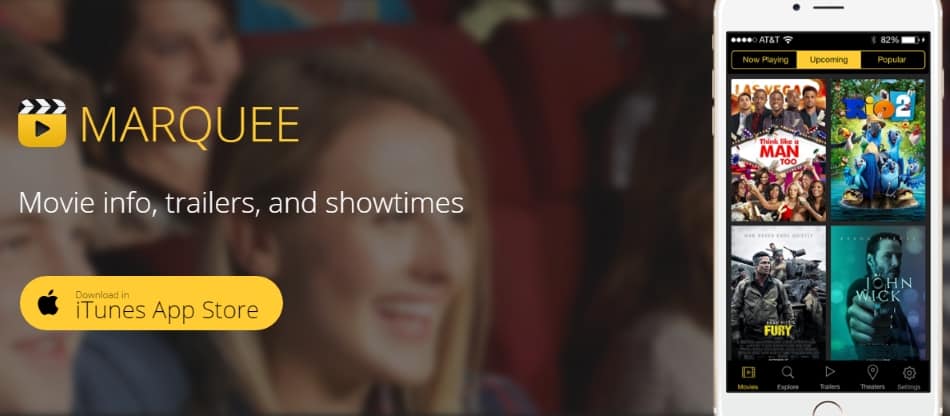 OVERVIEW
Movies, according to today's trend everyone is fond of it. Movie provides lots of entertainment to the peoples and also they can get the best experience and lesson from some of the movies. Each movie is categorized in different categories like action movies, drama movies, thriller movies, romantic movies and also the cartoon movies.
Get App – Free
Marquee Movies App is the better way to find your favorite movies easily and also you can get other information of your favorite movie. Marquee Movie App helps you in finding nearby theatres and also the movies which are running in the theatres.
Marquee Movie App will let you know about the movies information, if you are not sure to watch the movie than you can get reviews on this App. It is available free in the App store.
BENIFITS
There are so many advantages of using this app. You can book your movie tickets on this app. If you are not sure about the movie, can easily watch the reviews so that you can decide to watch movie or not. By this your much time will be saved and you can also enjoy the movies.
Compatibility
Compatibility of this App is you require the iOS 8.0 or later version of it. It will run on the iPhone, iPad and iPod touch devices. You can also use this app in Apple TV. There are so many different languages in this App for your convenience so that you can enjoy in your language.
Movie App is the entertainment for you so that you can enjoy without any problems just by opening the app.