Last Updated on Jul 26, 2023
Using voice search we can by text in our mail, send a message, sent to Chat, and to use to prepare a document in pages, numbers, keynote, and Google products like Google doc and more. Are you not getting a microphone icon or missing microphone option on the iOS keyboard. Let's enable and fix it.
Using the iPhone setting, we can enable or fix the missing microphone keyboard icon or button on the iPhone/iPad keyboard.
Fix: iPhone: Microphone iCon Missing or Not Showing on Keyboard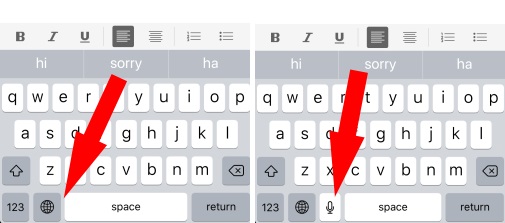 There are few changes in settings to enable dictation in iOS/iPadOS.
No Home Button iPhone users Get Microphone icon on Keyboard
Go to the Settings App on iPhone Next to the General
Scroll and Tap on a Keyboard. For all settings relates to a keyboard.
Under the speech → Enable Dictation [This option allows a user to type from Voice input].
Also, Select Language For precious writing from your test. here you can select different languages according to your Requirement.
That's it.
This allows all the app for using your Microphone on iPhone. We can start dictation on any iPhone model from settings that help in talking to text iPhone x/8/8 plus/iPhone 7/iPhone 7 Plus/iPhone 6/6 Plus and iPhone 5s.
That's it.
Restart or Force Restart iPhone
Here is the force restart iPhone 7/7 plus. or Force Restart iPhone x.
For quick type, we can use apple headphones on the iPhone/iPad that works amazingly just like Siri.
On your keyboard pane, tap on the microphone icon.
This enables Siri features on your iPhone, go with natural sound or speech, and quickly type what you speak. That works with external headphones or no headphones/Microphones.
Back to keyboard pane, tap on the keyboard icon.
Restore the Device
restore to clean install iOS make your iPhone/iPad errorless. here's how to Backup my iPhone/iPad then clean install the new iOS and restore back all the data.
this process removes all the data temporarily and copy old data on fresh iOS and set all the Settings, Documents, and Data as it is.
Wrap Up
You are also looking for the solution on the Globe icon missing on your iPhone/iPad keyboard.
iPhone X users might be getting trouble to find a microphone icon on the keyboard. Because sometimes it comes at the bottom right corner of the screen or near to space key.
There are too many third-party apps and software for PC/Mac for voice recognition, but for my case, it's perfect for the iOS users.