Last Updated on
Without a Microphone, you can't make calls or record anything on your iPhone. It is really frustrating when your opponent on call can't hear your voice, and important talks remain unfinished. Microphone not working on iPhone XR, was a major bug a few days back, a lot of peoples were facing this issue on iPhone. And later it got fixed with new updates. As of now the problem with the new iPhone is in the picture, and now people are yelling because the mic is not working on iOS device.
we are happy to help you, submit this Form, if your solution is not covered in this article.
What do you think about this issue? Will Apple address it? We don't know what steps would be taken by Apple, so I would suggest you prefer this tutorial and fix the microphone not working on iPhone.
Troubleshooting tips To fix Microphone not working on iPhone
Solution 1: Test the Microphone using other apps
To make sure the microphone has completely stopped working in iPhone XS Max/XS/XR and it is a hardware issue, Voice memos is the best option.
Step #1: Unlock the iPhone and locate the "Voice Memos" app, which will probably be stored in the Extras folder.
Step #2: Tap on the "Record" button and record your voice for microphone testing.
Step #3: Stop the recording and play.
If you can hear the recording then the microphone is working fine, the problem is with that particular app. Head over to fix Microphone not working in iPhone XS Max, iPhone XS, and iPhone XR.
---
Solution 2: Force Restart iPhone
The reason behind the microphone not working in iOS 13 can be a small glitch or malware which can be removed from your iPhone by force restart.
Step #1: Quickly press and release the Volume Up button.
Step #2: Quickly press and release the Volume Down button.
Step #3: Now only, Hold down the Power button until you see the Apple logo on the screen. and your iPhone will shut down. to turn it on, press side button.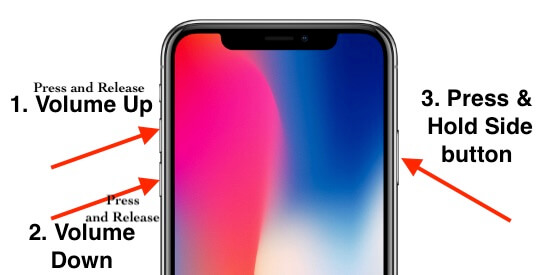 ---
Solution 3: Check Audio permissions for Apps
The microphone will not record if you haven't given access to the microphone in that particular app. Sometimes App Permissions are very helpful to save us from unwanted functions and to save battery too. So please make sure you have given access to the Microphone for that app.
Step #1: Navigate to the "Settings" app.
Step #2: Tap "Privacy".
Step #3: Locate and open the "Microphone".
Step #4: Toggle on the Switch next to the application.
That's restricted.
---
Solution 4: Remove External Devices
iOS 13 Microphone not working in iPhone XR, can be possible because you have plugged the external device in the port. Try to unplug the device from the port and check if the microphone started working.
---
Solution 5: Clean the Microphone
Before you go for cleaning the microphone port, you must know where is the microphone on iPhone XS Max, iPhone XS or iPhone XR.
Didn't clean up the microphone yet? Then it's time to clean the dirt and dust stuck in the microphone due to which microphone is not recording sound in iPhone XR. Bring thin and smooth material through which you can clean up the microphone of the iPhone.
---
Solution 6: Reset All Settings
Did you make any changes most of the time in the settings of the iPhone and forget what were the changes made by you? Then Reset All Settings will clear all the settings to factory settings. To Reset All Settings in iPhone,
Step #1: Launch the "Settings" app.
Step #2: Tap "General".
Step #3: Scroll down and open "Reset".
Step #4: Select the "Reset All Settings".
Step #5: If asked, enter the passcode and let the iPhone complete the reset.
---
Solution 7: Update the iPhone
If you haven't updated the iPhone to the latest iOS version, then you might update the iPhone as soon as possible. It might be possible that several iPhone users are facing the same problem and Apple has released the update with this bug fix. So put your iPhone in strong Wi-Fi range and update the iPhone XR to Fix Microphone Not Working.
---
Solution 8: Having An issue on Hardware Related
Not all the time, But in case you are unlucky and affected with hardware problems on iPhone. Contact the apple support team, Chat online and Book appointment to get a quick fix. or Old iPhone users can repair with nearby iPhone repair service.
Premium Support is Free Now
We are happy to help you! Follow the next Step if Your Solution is not in this article, Submit this form without Sign Up, We will revert back to you via Personal Mail. In Form, Please Use the Description field to Mention our reference Webpage URL which you visited and Describe your problem in detail if possible. We covered your iPhone 11 Pro, iPhone 11 Pro Max, iPhone 11, iPhone 8(Plus), iPhone 7(Plus), iPhone 6S(Plus), iPhone 6(Plus), iPhone SE, SE 2(2020), iPhone 5S, iPhone 5, iPad All Generation, iPad Pro All Models, MacOS Catalina or Earlier MacOS for iMac, Mac Mini, MacBook Pro, WatchOS 6 & Earlier on Apple Watch 5/4/3/2/1, Apple TV. You can also mention iOS/iPadOS/MacOS. To be Continued...
Write a note to us!
Share your Personal feedback to us How we are helpful to you? Via Below Feedback button or comment on us. We also accept suggestions and tips from you that worked for you and missing here. Thank you!
Jaysukh Patel is the founder of howtoisolve. Also self Professional Developer, Techno lover mainly for iPhone, iPad, iPod Touch and iOS, Jaysukh is one of responsible person in his family.
Contact On: [email protected] [OR] [email protected]