Most of the popular apps in app store apps running on iPhone, iPad now compatible with Apple watch Apps as a support. To see live data, Updates and Notification now you can delete through apple watch and take action on any time without open Application in iOS device. Here I list out of apps that should be expected from your side when watch will launch on 24th April (Watch preorder start from 10th April never miss). Here I defined about some most popular apps features on apple watch.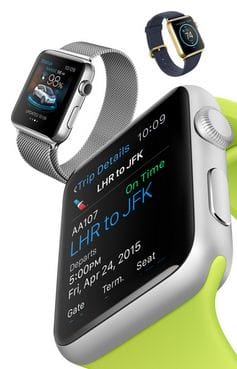 Top best Apple watch Apps now supporting Apple watch
Most try these awesome apps on your iPhone, iPad that's compatible with your Watch. In this bundle recently added in Social app, News App, Sports App, Messaging apps, GPS & Location finder app, AirWays apps, shopping apps, and Business apps as a third party apps but not miss official pre install apps.
Social
Now most of the social apps ready for apple watch users Because Watch market in apple boost users creativity all time in a day. Now users can never void to share other activity you know about that very well compare to big screen device.
Line, Twitter, WeChat, Evernote, WhatsApp and Facebook coming soon
News App in Best Apple Watch Apps
Get daily news updates in your watch notification daily; Find you interesting news in your category from Apple's wearable device. In Recent update below two new app accessible on Apple watch and other are coming in short time.
Sport
Best for all about sport in most popular apps, Most of the people eager to get and expect from this.
MLB.com at bat, ECB Cricket, OnefootBall
Airlines
Book your Ticket online through apple watch, Get perfect discount and more new updates on your flight in quickest way by Airways's apps on apple watch. Below apps you can use for Air travel.
British Airways
Qantas Airways
Transit Apps
Air Canada
Yahoo Tourney
And other is Peak Brain Training, 2Do, Citymapper, SCMP, Tangerine Mobile Banking, Hailo and Many more you will get here. We will update this list as of store apps updated that will compatible with apple watch app updates.
Useful: How Apple Smart Watch Health App – it will take your care.
Most of the Apple watch Apps covered in above list that you will use at first when watch in your hand. Also share your think and experience about this watch apps 2015.