🗓️
November 23, 2023
By ✍️
Jaysukh patel
Have an issue with your Airpods connected but no sound coming from a device (Mac speakers, Windows 10, Chromebook, Samsung TV, Apple TV)? Follow my solutions to get sound back on your AirPods.
AirPods is one of the remarkable inventions by Apple. With the launch of AirPods, most Apple fans are giving priority to this wireless device compared to other costly headphones. AirPods let you make and receive calls, allow you to listen to music, and, most importantly you can access Siri from AirPods. However, if you are using AirPods with Android or any non-Apple product, then you might not be able to access these features.
Recently AirPods users have reported the AirPods connected but no sound on iPhone. In short, AirPods stopped playing music on iPhones; now, what should be done to fix the sound issues of AirPods? If you are having the same AirPods connected but no sound issue on your iPhone, then continue to read the article and fix it.
Guide- Why are my AirPods connected but with no sound?
Quick Tips, Hands-on Video
Fix AirPods say connected, but the sound coming from the phone (Set AirPods as Output Audio instead of iPhone's speaker)
Fix No Sound Issues Even if AirPods are Connected
Did you check the battery level of AirPods? Because the smooth functioning of AirPods requires the AirPods to be charged. Ensure AirPods are correctly placed in the charging case and leave them in to charge for an hour or two.
Which device are you using with AirPods, iPhone, iPad, Mac, or any Android phone? I hope you know the procedure to force restart the phone on which AirPods are connected, but there is no sound.
Solution #1: Restart the Paired device and turn off the Automatic Ear Detection
My AirPods are connected, but the sound is coming from speakers. Let's Restart your Paired device, for example, Apple iPhone, iPad, Mac, Apple Watch, Google Android, Windows 10 device, etc., and then try again to pair. I hope this will fix your Airpods sound issues.
Turn off the Automatic Ear Detection option on your iPhone or iPad. See if that works to fix AirPods connected but no sound. This trick sounds weird to fix Airpods audio cutting out, but try it once; it might fix the problem.
Step 1: Launch the Settings app on your iPhone and Click on the Bluetooth setting.
Step 2: Enable Bluetooth > Choose AirPods > Turn the Toggle Automatic Ear Detection OFF/white.
Make Sure, Your AirPods are set as Output Audio Device from iPhone,
Step 1: Open Control Center, For Notch iPhone, Swipe down the Finger From the top right corner of the screen, and For the Home button iPhone, Swipe up, and Tap on the Music Player Widget.
Step 2: Again, Tap on the Mirror icon Next to player control > Select AirPods Pro as the Output audio device, Not the iPhone speaker.
Solution #2: Reset AirPods & Reconnect AirPods
When AirPods connect but no sound on Spotify, it becomes a particular app issue, so you should reconnect AirPods. Just like we reset settings on the iPhone, this time, we will reset AirPods and connect to the iPhone.
Here's how to reset AirPods,
Put the AirPods in the case.
Close the lid of the Charging case.
Now, open the lid.
Press and hold the backside button of the charging case until the light flashes amber and white.
iPhone isn't connected to any other headphones? Still, AirPods are connected but no sound. It's time to reconnect the AirPods to the iPhone. It can be done through the following steps.
Step 1: Launch the Settings app on your iPhone > Choose Bluetooth.
Step 2: Enable Bluetooth > Connect Airpods > Tap on info next to AirPods and then Click on Forget This Device.
This will un-pair the AirPods from the iPhone. Now you have to pair them like before. This is the complete guide on How to Pair AirPods to iPhone/iPad.
If your AirPods are not correctly reset, then try after cleaning them. Explained in the next solution.
Solution #3: Clean the AirPods [Sound Blocked]
After using AirPods for quite a time, they are usually covered up with dirt and debris. However, it won't happen if you keep them clean and maintain them regularly. Even a small piece of dirt can prevent AirPods from charging, and you will face the same error that AirPods are randomly cutting out.
How do you clean AirPods, or what is the correct way to clean AirPods? First of all, you need to be very careful while cleaning the AirPods, as any hard or wrong movement could damage the AirPods. It is advisable to use a soft object to clean the AirPods safely. You may prefer our video tutorial on How to Clean AirPods.
Solution #4: Remove Music Volume Level Limit & Audio Balance
Another thing to be covered when your AirPods are connected but with no sound then the disconnect is to make sure the AirPods volume is not too low to be heard. iOS devices have an option that lets you control the volume limit on the Music app. By default, the Volume Limit feature is off. In case anyone has mistakenly turned it on, then disable it.
Step 1: Launch the Settings app > Scroll Down and select Sound & Haptics.
Step 2: Again, Scroll Down and tap on Headphone Safety > Turn off Reduce Loud Audio Toggle [That means Put the volume limit on a slider to Maximum]
The very next set to be checked is the Audio Balance of AirPods.
Step 1: Launch the Settings App on your iPhone > Choose Accessibility.
Step 2: Swipe Down and Select Audio/Visual > Balance Left or Right. [Keep Slide position on center to pass equal sound on both left and right Airpod]
Solution #5: Update the Devices
Also, it is necessary to keep your devices updated, especially when you are using Apple devices. Generally, if Apple releases any update for AirPods, then it automatically gets updated when the paired iPhone or iPad is connected to Wi-Fi. So, now you have to check the iPhone for updates if any pending update is available for the iPhone, then make sure to update it.
Step 1: Launch the Settings app on your iPhone > Select General.
Step 2: Select Software Update > Tap on Update Now.
Solution #6: Make sure iDevice is connected to AirPods
Many users tend to pair their phones with an external speaker, Bluetooth headphones, etc. Later these connections bring issues when you try to connect AirPods to iPhone.
I would suggest you disconnect the iPhone from any other headphones or external speakers and only pair the AirPods to the iPhone. Go to the Bluetooth menu in the Settings app and make sure the iPhone is connected to AirPods.
Solution #7: Hard Reboot Your Device
Something is stuck, and Runtime Software Glitch creates the problem of increasing Volume on Airpod Either Left or Right. And Unable to increase or Change from your Paired iPhone/iPad/Apple Watch or Mac. A hard reboot of your Paired device is a formal solution. And Feel expected to work after a hard reboot.
iPhone [No Home button]: Quickly Press and Release the Volume Up and Volume Down buttons; then press and hold the side button only. Until your iPhone sees the Apple logo on a black screen. Wait for 15 seconds and turn it on by holding the side button only. Home button iPhone 7/7+, 6S/6S Plus users can use the Volume Up or Down and Side buttons only. iPhone 6/6+ users can use the Side button and Home button.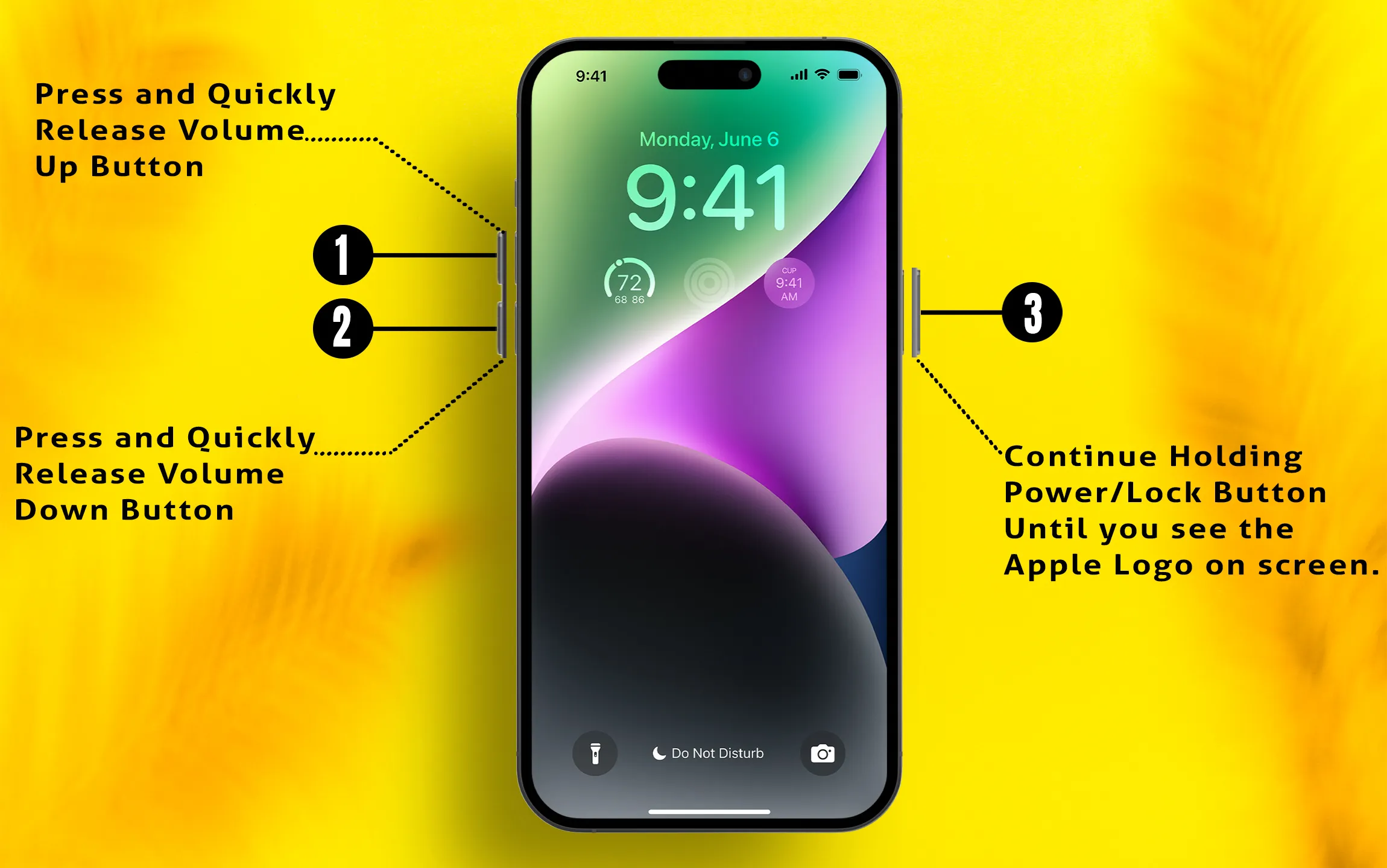 Mac Users can: Apple Logo > Shut Down.
Apple Watch: Press and Hold the Digital Crown button and Side button until the Apple logo appears on the Apple watch screen. Now Turn on the back using the side button of the Apple watch only.
Solution #8: Update Your Airpods Firmware to Fix Airpods low volume issues
To keep your AirPods sound tip-top, your AirPods run with the latest highly required software. Kindly watch my bottom video tutorial to make your Apple wireless earbuds firmware version updated.
Fix AirPods Connected But No Sound on MacBook Pro -macOS Ventura, Monterey or earlier
Sometimes AirPods connection is bugged by temporary cache files or the latest firmware updates. However, a minor issue can be eliminated by performing normal troubleshooting. Here's AirPods Settings on Mac
So if your AirPods are connected but no sound on the MacBook Pro, let us try to fix it by disconnecting and reconnecting to the MacBook Pro and other alternatives.
Step 1: Go to Apple Logo from the top Menu on Mac > System Settings/System Preferences of MacBook Pro.
Step 2: Click on Bluetooth > Turn Off Bluetooth.
Step 3: Next, Turn On Bluetooth and Connect the AirPods.
Now, AirPods is connected…
Step 4: If Airpods are not connected.
Step 5: Then, Forget Airpods. Right-click on AirPods name (Control + Click) and Select Forget.
Step 6: Select Forget from the confirmation popup.
Reset airpods and Try again to pair airpods to Mac…
Now, put the AirPods in the charging case and open the lid; next, press and hold the back button until an amber light flashes white.
Step 7: Again check AirPods in the list of Nearby bluetooth devices. Hover the cursor on AirPods name and Click on Connect.
Step 8: Now, Airpods is connected.
The very next set to be checked is the audio balance of AirPods. If the Left AirPod volume is Low or the Right AirPod is louder than another, then the audio balance is necessary.
Step 1: Go to Apple Logo > Open the System Settings.
Step 2: Sound > Output tab > Select AirPods > Make sure the Output volume is set to high > Adjust the Balance slider.
Fix AirPods Connected But No Sound Windows 11 or Windows 10
When AirPods Pro or AirPods are connected but have no sound on Windows 10, you may need to configure and tweak a few settings of your Windows 11 PC. Follow the steps in the sequence.
Set AirPods as default playback for Windows 10, Search Sound located in Settings. Click on the Output tab and select AirPods that are currently connected to Windows PC. Set AirPods as the default player for your PC. Another way to choose AirPods as a playback device is to click on the Sound icon and select AirPods.
Alternatively, click on the Sound icon at the taskbar and make sure the volume is high.
Make sure Bluetooth Support in Windows 10 is ON, Go to Services (search for Services) and find Bluetooth Support Services. Set the Startup type to Automatic and click Start.
Still, if AirPods are connected but no sound on a Windows 10 PC, then update the Bluetooth Driver manually. Visit the official website of your PC/Laptop and enter the model number to download the Bluetooth Driver, or search for Device Manager and Right-click on Bluetooth and Update it.
Fix AirPods Connected But No Sound Chromebook
If AirPods are not working with Chromebook or no sound AirPods on Chromebook, you might be making some mistakes while connecting AirPods to Chromebook.
Did you update the Chromebook to the latest firmware? If no, Then open Settings > Check for updates and update the ChromeOS to the latest version. I've written these steps for the Samsung Chromebook as an example.
Check the Sound Levels on your Chromebook from the taskbar.
Next to the Sound icon, select your AirPods as Output Sound.
Disconnect and reconnect AirPods.
Airpods Pro Connected But No Sound Android
My friend asked me about the issue "My airpods are connected, but the sound is coming from Speaker". So trigger the potential solution with him, and that works like a charm. Follow the below steps one by one. Because there is a problem either on AirPods or on your Android mobile or Tablet.
Make sure your AirPods Both the Left and Right airpods are charged enough. Keep both the Left and Right AirPods in the charging case; keep them on charge for at least 15 to 30 minutes on the direct wall plug.
Hard Reset your AirPods, then try to pair them with your Android mobile: Too Hard Reset your AirPods Pro, Keep both the AirPods in the Charging case and Press and hold on the Back button of the charging case until the amber light flashes out. Now, Open Bluetooth on Android mobile, Go to Bluetooth settings and Tap on AirPods name to Pair. You will get a Connected message. And also enable, Airpods for Audio calls.
Restart your Android Mobile/Tablet. and Try again.
That's it.