Last Updated on Mar 14, 2020
in this article, I shares play multiple youtube videos in a loop. YouTube has own function that will make any video for play YouTube video in a loop continuously, don't go manually and click on the relay icon shown in YouTube video player. YouTube channel has many learning, funny and reviews videos that we need to watch more than twice or continuously on your Desktop Windows, macOS or Linux.
we are happy to help you, submit this Form, if your solution is not covered in this article.
Once we set this option in the YouTube setting we don't make the change or use a keyboard or mouse to replay any type of video it doesn't depend on how long video, Video type (Kid video, Songs or Advertisement video on the projector or personal Device).
Nowadays YouTube also supports screen mirroring options (mirror on Apple TV from iOS devices – iPhone/ iPad, Android TV from the Android mobile app).
Steps for Put AutoPlay YouTube video in a loop from Windows, macOS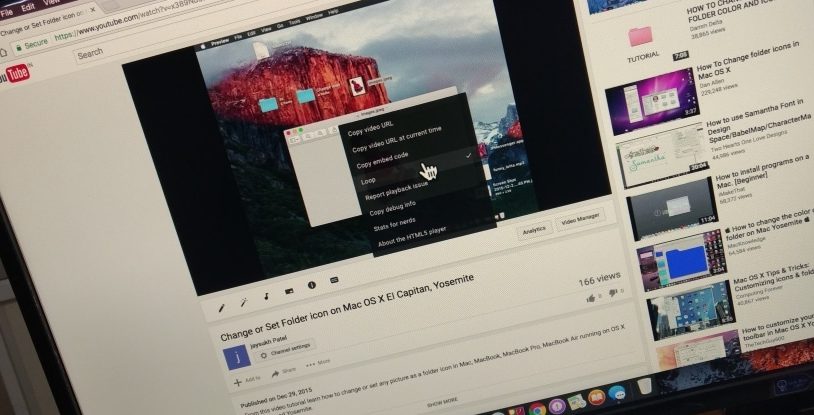 Open YouTube.com on your Mac/PC any browser. It doesn't matter on which browser you are on Safari, Google Chrome, and Mozilla.
Play video that you want to play in loop.
On Windows: Right-click on the video (choose loop from hidden options)
On Mac: Double-tap finger on the trackpad from the video section. Or right-click on video using mouse > Select loop.
That's it.
Now you are done, the video automatically plays without stop automatically after completion.
This autoplay or Loop video setting is for single video-specific. It's not for an upcoming video that you will be playing in the same browser and at the same time. This setting not like the other Video settings like Subtitles, Video Quality.
Note: This setting will not highlight your YouTube iOS app (iPhone/ iPad) and YouTube in a mobile browser as well.
You might like: Play Recently played YouTube video on iPhone/ iPad.
Premium Support is Free Now
We are happy to help you! Follow the next Step if Your Solution is not in this article, Submit this form without Sign Up, We will revert back to you via Personal Mail. In Form, Please Use the Description field to Mention our reference Webpage URL which you visited and Describe your problem in detail if possible. We covered your iPhone 12, iPhone 12 Pro, iPhone 12 Mini, iPhone 12 Pro Max, iPhone 11 Pro, iPhone 11 Pro Max, iPhone 11, iPhone 8(Plus), iPhone 7(Plus), iPhone 6S(Plus), iPhone 6(Plus), iPhone SE, SE 2(2020), iPhone 5S, iPhone 5, iPad All Generation, iPad Pro All Models, MacOS Catalina or Earlier MacOS for iMac, Mac Mini, MacBook Pro, WatchOS 6 & Earlier on Apple Watch 6/5/4/3/2/1, Apple TV. You can also mention iOS/iPadOS/MacOS. To be Continued...
All right hope you learn what are the possibilities of play YouTube video in a loop on the different device? As I expect don't miss sharing such very useful tips with your friends, family that will enjoy and set for the kids or personal use.