🗓️
July 7, 2023
By ✍️
Jaysukh patel
The iOS keyboard comes with many hidden features, one of them is predictive emoji. Many of you have heard and used the Predictive Text on the iPhone and iPad, but this predictive Emoji sounds something new and unique. Based on our input, the iPhone's keyboard suggests the Emojis available in the library. The predictive text algorithm determines and records all the writing patterns and provides recommendations, similarly, the predictive emoji features work too. Based on past texts and conversations, the Predictive Emoji suggestions show up on the top of the keyboard.
The article is getting complicated? Don't worry, we will show you how to use predictive emojis on iPhone and iPad practically. From the images, you would understand better how it looks and works.
Tips: Enable/Disable Emojis Keyboard on iPhone.
How to Use Predictive Emoji on Keyboard on iPhone/ iPad
To use this feature on your iOS & iPadOS device, you have enabled the Emoji keyboard and Predictive text on your iPhone Keyboard. Let's see how to enable and use it.
Is Emoji Keyboard missing on iPhone, iPad? Add now,
iPhone Emoji Keyboard missing? Technically, the Emoji Keyboard is present on your device, it's just you haven't added in your current keyboard. Here's how to add Emoji Keyboard on iPhone and iPad.
Open the Settings app on your iOS device.
Tap General > Keyboard.
Again tap Keyboards. Select Add New Keyboard.
Lastly, locate and tap Emoji.
That's it, Tap on EMoji button next to the Space bar on iOS Keyboard. and Browser memoji and emojis [User search field to quickly find emoji] also Preictive text enabled in iPhone keyboard settings. Follow the below steps.
Steps to Enable Predictive Text on iPhone
The predictive text and emoji algorithm is very smart on iOS and iPadOS. so, as we type in send box, we can see the extra suggestion that really helps in typing for relevant words. For that we have to enabled it from the Keyboard settings,
Open the Settings app on iPhone > General > Keyboard.
Now, Find the Keyboard Option > See all the Settings and Enable Predictive toggle.
That's it.
Or Directly move to Keyboard settings By touch and Hold on Globe icon > Keyboard Settings > Enable Predictive toggle. That's it.
Start typing and See the Emojis come as Predictive.
Tips: Remove Memojis from Emoji Keyboard on iPhone.
iOS 13 & Earlier:- user can search emoji by highlighted words in typing box,
The way to use predictive emoji on the iPhone is a bit different then to use predictive text. Let's see how it works.
Open iMessage or any messages app.
Next, type anything. See the screenshot below, I've written: "what about party?"
Once you are done with typing messages, bring up the Emoji keyboard.
Now, the words which are likely to match with the Emoji will turn into Orange.
When you tap on Orange word, it will get replaced with the suitable Emoji.
Sometimes, if there are more than one Emojis, it will ask you to select the one you want, as shown in the screenshot below.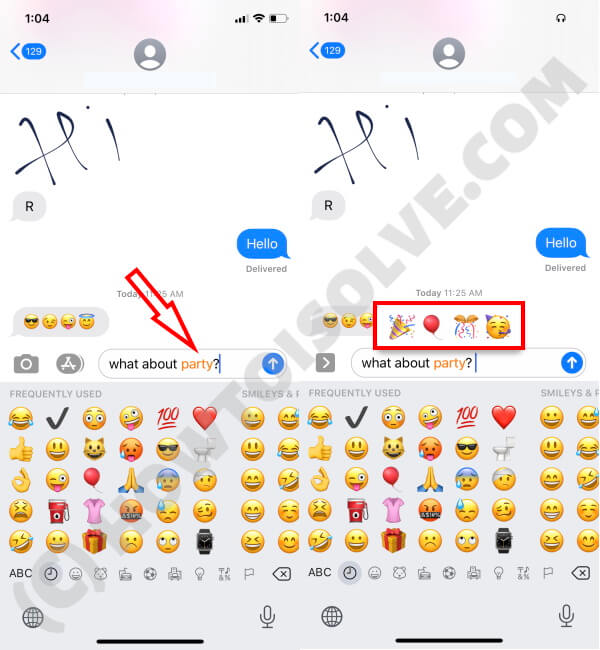 However, to replace the Emoji with the word, tap on the Emoji.
Why Predictive Emoji Not Working on my iPhone, iPad?
As I said, the predictive emoji feature entirely depends upon your past conversations. If you haven't used any emoji while texting someone, then the keyboard will not show any predictive emojis, assuming that you are not Emoji type person. This can be a true reason why predictive emoji not working on your iPhone.
Therefore, I would advise you to use the Emojis more frequently for a day or two, the iPhone will automatically start to show the predictive emojis.
Share your opinion about this Beautiful feature Predictive emoji on Keyboard from iPhone/ iPad.