🗓️ December 3, 2020 By ✍️ Jaysukh patelPrisma is a real art app, Millions of people like an app to use own photo and apply different effect look like Picasso, Fresco, Michelangelo and much precious real art. A not perfect but true modification that feels really well. But right now Prisma user flustering slow process or Getting Message Prisma is over Capacity in iPhone/ iPad. Prisma breaks all the record in Photos app categories just like Pokémon Go. Also, Prisma is online photo transition app, that depends on too many factors, maybe you are in trouble for that. Please read carefully and try to make out from that as soon as possible.
Prisma Server base game will modify your original copy at server not on your iPhone/iPad locally. Millions of users are trying from Different platforms like iOS, Android, Windows PC/ Laptop or Mac (Using Bluestacks).
You might also like: Remove Prisma logo watermark on the iPhone.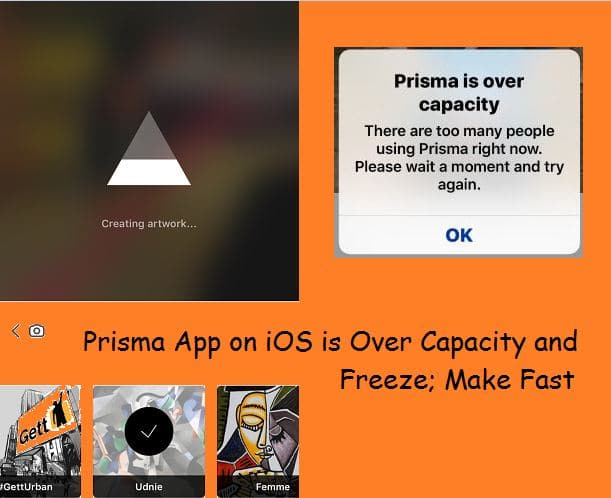 Ways to fix Prisma is over capacity or Running slow on iPhone/ iPad
On users request app furs upload your photos to the server and Apply to differ photo editing tools as of artist command, after prepared picture art it will send to your device for download on a device through the app. A process is too lengthy but the result is amazing.
Optimum (Medium Time to required process) speed: 10 Sec to 30 Sec, First Effect take a long time to compare to than others Prisma effect.
Some Times Server problem on the server end, showing message Prisma is over capacity on large users request.
Recover and Fix out Problem:
Upgrade to high-speed Data plan or Update Cellular Data iOS settings for LTE or 4G (Go to the Settings App > Cellular > Cellular Data Options > Voice > LTE). Also, check Wi-Fi signal or Test intent speed when you are using an open or public network.
Wait for more, Don't close an app
Every first attempt you feel same, Takes more time to load or Convert photo into art. Also, close other background apps or running applications forcefully through the multi-app screen. It's may happen your iOS device freeze, no problem on internet connection.
Disable save Artwork automatically
Also, check one more settings option, Launch app > Tap on Gear setting icon > Disable Save Artworks Automatically.
All is perfect, Just wait for more when you show the message like Prisma is over capacity, Tool long wait for show process on Prism. Any helping suggestions, keep shared with us.