🗓️ November 10, 2020 By ✍️ Jaysukh patelIn a single MacKeeper setup have many components released to security, cleaning, backup and Data protection automatically installed in Your Mac (iMac, MacMini, MacBook Pro, MacBook Air). According to forbs report 13 millions mac users affected about security, are you one of them? and not happy with this types of negligence. Going for Delete/ Uninstall or Remove MacKeeper from Mac Completely straight forward. So, here is the useful recommended steps for completely remove all types of component on MacKeeper from the System, Safari Extension.
But sure, you can use MacKeeper on your Mac OS X, with improved stability, Performance and Your data protection safety. Still you want guide on remove MacKeeper completely, follow the below steps.
You might like this: Try alternate Mac Cleaner software.
Steps for Remove Mackeeper from Mac completely: Alternate ways
Not the security reason, Folks are also remove software because of Multiple times scan in a day, Backup and disk usage, Background process or any another annoying reason.
Pretty easy steps for remove this software just like the other applications,
Step 1: Launch MacKeeper app on your Mac using Spotlight search or Application folder.
Step 2: From top application menu, choose Quite. For verify MacKeeper running successfully on your Mac, before.
Step 3: In this process, uninstall required administration password.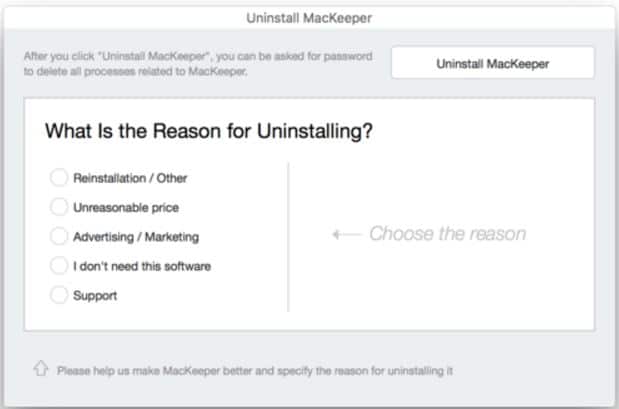 Remove remaining MacKeeper components
Cache and Application folder will be stored some components for License verification or security purpose. You must remove that if you want.
Launch Finder, from top menu Go > Go To Folder. And enter below folder path to find the folder directory more easily. Move all the files/ Folder in to Trash.
~/Library/Caches/com.mackeeper.MacKeeper
~/Library/Application Support/MacKeeper Helper
~/Library/Caches/com.mackeeper.MacKeeper.Helper
~/Library/LaunchDaemons/com.mackeeper.MacKeeper.plugin.AntiTheft.daemon.plist
~/Library/LaunchAgents/com.mackeeper.MacKeeper.Helper.plist
Remove MacKeeper Extension in Safari
If you installed MacKeeper setup from third-party downloader, then you must be suffering from fraudulent ads in popup within safari browser. And worried about overlaying ads on text, or makes browsing slower/ Freeze.
Launch Safari, from the top menu go to the Safari > Preferences > Extension > Privacy. Select MacKeeper and Press Remove button.
Above steps are common for all the Mac Users running on OS X Yosemite, EI Capitan. Needs additional help on Remove MacKeeper from Mac completely, Comment me.