🗓️
September 12, 2022
By ✍️
Jaysukh patel
Some location-based background services and applications on Apple Devices (Fix Why is My Navigation Arrow on iPhone/iPad/iPod Status Bar or Mac/ MacBook Menu Bar) automatically turn location service itself. But in favor of the user's acknowledgment, they will see an arrow icon at the top of the device status bar (iOS device) and Mac's Menu bar. But this is open privacy in favor of the device's user. You can manage that manually by Disable for removing the Triangle arrow on the iPhone status bar or Enable for Show if you want.
A Common Questions: Why is there an arrow on my iPhone 13 (Pro Max) Mini, iPhone 12 (Pro Max), 11 pro max, XS Max, Xr, X, iPhone 8/8 Plus, iPhone 7/7 Plus, iPhone 6/6 Plus, Turn off & Remove Arrow from iPhone Status bar and Get rid of an arrow on my iPhone [Top Left Corner].
Generally, iDevice users keep it turned off or Allow only for the selected app, Due to battery drain problems on continuously tracking device location. This option also helps if we have installed un-trusted apps on the iOS device, which is constantly tracking your way and not secure for us.
What does the triangle Arrow mean on my iPhone?
The triangle arrow is a kind of geofencing location tracking symbol. Location services are enabled on your iPhone if an arrow appears on the screen's top bar.
Steps for Turnoff/ Remove Triangle Arrow on iPhone Status Bar, Status Bar icon on Mac
First, We will see How to hide the Status Bar icon on the iPhone without turning off Location Service on iPhone/iPad. Next, Hide the Location Services icon on your iPhone and Mac.
Also, You will find the Different Customizations option to make changes for iPhone/iPad/Mac Location Services.
Step 1: Go to the Setting App on iPhone/ iPad/ iPod Touch.
Step 2: Next, Tap on Privacy (Privacy & Security in iOS 16) Next to the General option (See below screen)
Step 3: Go for Location Services > Scroll to System Services.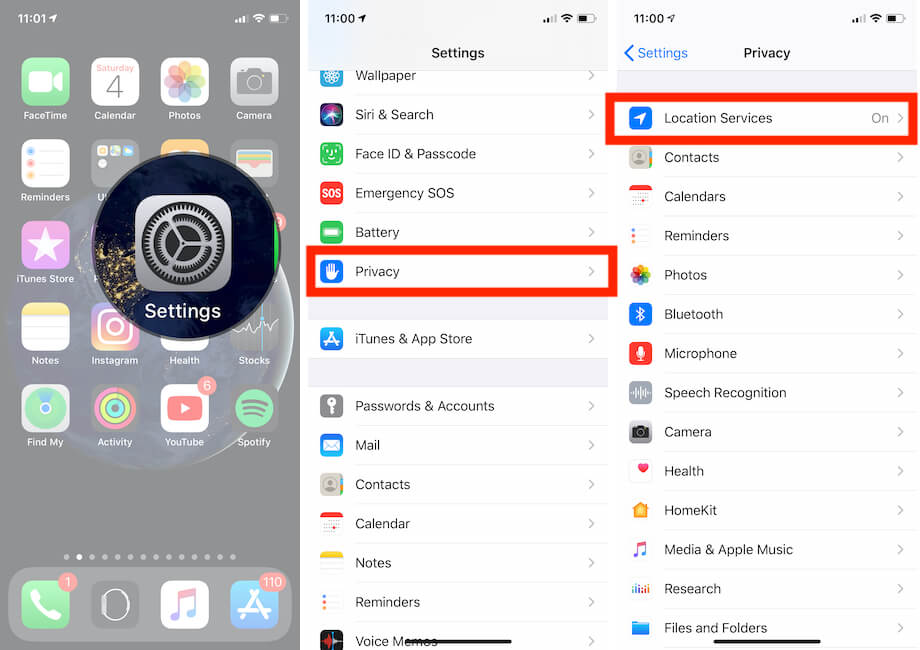 Step 4: Under System Services, Again Scroll to the Bottom of the iPhone screen and Find the toggle option for the "Status Bar icon", Make this toggle Disable [Gray] to hide the Location Pointer on iPhone' Status bar.

That's it.
Moreover, the Location service is running in the background; we can turn off it or Manage the Apps individually. and Set this While Using App only.
After turning off the location service, Find My iPhone will stay turned on. so don't worry about device loss prevention.
To Completely Turn off Location Service on iPhone and iPad: Settings app on iPhone > Privacy (Privacy & Security) > Location Services > Disable toggle for Location Services > Toggle off/Gray.

Otherwise, Set for all apps installed on devices will also be listed under this option once you enable it.
If you feel something going wrong, then try to reset Location settings only,
Open the Settings app > General > Reset > Reset Location & Privacy. This setting we can reset without any data loss. So, Don't worry. in this process, your device will reboot once.
Steps to Reset Location & Privacy in iOS 15, iOS 16, and later Version
Head To Settings App
Scroll the screen tap General
Now Click Transfer Or Reset iPhone
Choose Reset
Click on Reset Location & Privacy and Follow on-screen instructions. That's it. Now check your phone status bar. I hope this found helpful.
Purple Arrow, Grey Arrow, and Hollow Arrow Means on iPhone
Different Colors with the Same Arrow showing on iPhone sending a different signal to users that you have to know.
A Purple Arrow

indicated that an item has recently users your Location.

A Grey Arrow

indicates that an item has used your location in the last 24 Hours.

A Hollow Arrow

indicates that an item may receive your location under certain conditions.
Remove Navigation Arrow icon from Mac or MacBook Menu bar

Some System tracking and Mac apps required your Mac's location, when you turn your Device's Wi-Fi anywhere first it tracks the location, So it's also easy to "Find My Mac" if Mac Stolen.
For macOS Ventura, Big Monterey, Big Sur, macOS Catalina, macOS Mojave,  Mac OS X EI Capitan, OS X Yosemite, or macOS Sierra, the macOS High Sierra option is available under the system preference.
Steps for macOS Ventura and Up users
Go to the Apple Logo from the top menu > System Settings.
Select Privacy & Security > Location Services.
Scroll to the last option, Details.
Disable "Show location icon in the menu bar when System Services request your location".
That's it.
On macOS Monterey & Earlier
Click on Apple Logo from the top mac menu.
Next, click on the System Preferences option.
Now, Click on Security & Privacy > Unlock the Screen to make changes.
Next, Scroll to System Services and Click on the Details option.
Now, Uncheck the checkbox "Show Location icon in the menu bar when System Services Request your Location".
That's it.
Blue Triangle Top Left Corner iPhone YouTube
While streaming videos on YouTube you may have encountered the Blue Triangle on the top left corner of the iPhone, what's the Blue Triangle on the status bar indicate on iPhone?
Well, to be clear, it's a part of the AirPlay Icon, like a corner of the AirPlay Icon is cut due to a glitch, so there is nothing to worry about if you've seen the Blue Triangle on the top corner iPhone status bar. The quick solution to this issue is to restart the iPhone.
Blue symbol top left corner iPhone discord
There is nothing to worry about the Blue Symbol on the iPhone status bar. It's a random glitch or the screen is pixelated, in such cases, verify the damage by restarting the iPhone. If the blue icon disappears from the screen, consider it as a bug and if it doesn't then it might be a hardware issue.
In both cases, updating the iPhone and Applications is the right choice. Before taking any decisions make sure to update the iOS and Apps to the latest version.
Note: Some apps like Maps, Buying, or selling products app, require your location so you must enable them to use it. Yes, we can do that manually.
Above are the real reasons and tips on turning off/removing the Triangle arrow on the iPhone status bar or Mac Devices. Share and Like us for more updates and easy ways.