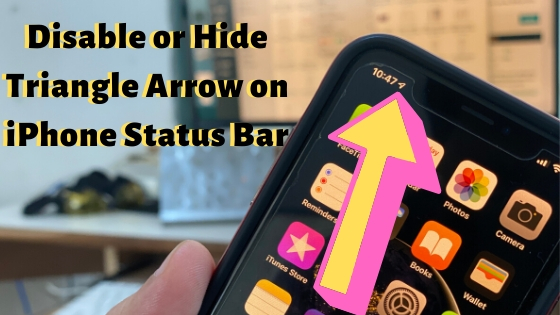 Last Updated on Nov 10, 2020
Some location-based background services and applications on Apple Devices (iPhone/iPad/iPod or Mac/ MacBook) automatically turn location service itself. But in the favor of the user's acknowledgment, he/ she will see an arrow icon at top of the device status bar (iOS device) and Mac's Menu bar. But this is open privacy in favor of the device's user. That's you can manage it manually by Disable for remove Triangle arrow on iPhone status bar or Enable for Show if we want. Common Questions: Why is there an arrow on my iPhone 11 pro max, XS Max, Xr, X, iPhone 8/8 Plus, iPhone 7/7 Plus, iPhone 6/6 Plus, Turn off & Remove Arrow from iPhone Status bar and Get rid of an arrow on my iPhone [Top Left Corner].
we are happy to help you, submit this Form, if your solution is not covered in this article.
Generally, iDevice users keep it turn off or Allow only for the selected app, Due to battery drain problem on continuously track device location. This option also helps if we installed un-trusted apps on the iOS device, that's continuously tracking your way and not secure for us.
Steps for Turnoff/ Remove Triangle Arrow on iPhone Status Bar, Status Bar icon on Mac
First, We will see How to hide the Status Bar icon on the iPhone without turn off Location Service on iPhone/iPad. Next, Turn off Location Services of your iPhone.
Also, You will find the Different Customizations option to make changes for iPhone/iPad/Mac Location Services.
Step 1: Go to the Setting App on iPhone/ iPad/ iPod Touch.
Step 2: Next, Tap on Privacy Near to General option (See below screen)
Step 3: Then, Go for Location Services > Scroll to System Services.
Step 4: Under System Services, Again Scroll to Bottom of the iPhone screen and Find the toggle option for "Statu Bar icon", Make this toggle Disable [Gray] to hide Location Pointer on iPhone' Status bar.
That's it.
Moreover, Location service is running in the background, then we can turn off it or Manage for the Apps individually. and Set this While Using App only.
To Completely Turn off Location Service on iPhone and iPad: Settings app on iPhone > Privacy > Location Services > Disable toggle for Location Services > Toggle off/Gray.
Otherwise, Set for all apps installed in devices will also be listed under this option once you enable.
Remove Triangle icon from Mac or MacBook Menu bar
Some System tracking and Mac App required your Mac's location, when you turn your Device Wi-Fi anywhere first it tracks the location, So it's also easy for "Find My Mac" if Stolen.
For macOS Big Sur, macOS Catalina, macOS Mojave,  Mac OS X EI Capitan, OS X Yosemite or macOS Sierra, MacOS High Sierra option available under the system preference.
Click on Apple Logo from the top mac menu.
Next, click on the System Preferences option.
Now, Click on Security & Privacy > Unlock the Screen to make changes.
Next, Scroll to System Services and Click on Details option.
Now, Uncheck the checkbox "Show Location icon in the menu bar when System Services Request your Location".
That's it.
Note: Some apps like Maps, Buying, or selling products app, required your location so you must enable them to use it. Yes, we can do that manually.
Above are the real reasons and tips on turn off/ remove Triangle arrow on iPhone status bar or Mac Devices. Share and Like us for more updates and easy ways.