🗓️ November 29, 2023 By ✍️ Jaysukh patel
The Last tutorial is on find last all backups taken in Mac or PC via iTunes/Finder On Mac or Save directly to iCloud. Now here I explained about the alternate options for using old backup for restore iPhone or iPad. Note: iTunes officially removed by apple, Now iTunes Replaced with Finder on Mac. The process is equally the same for Backup & Restore iPhone using Finder on Mac running macOS Catalina or Later. Check out my Video and Stricle to explain more in detail.
All Old Backup Saved in Windows System and Mac System File on PC and Mac accordingly. But it is hard to understand which backup is old and latest. Also, we can check all old and recent backup on iTunes for PC and Finder on Mac.
You need to check at two places, First is find on Mac or PC system and Second is finding on iCloud.
Find Old backups and restore iPhone from old backup in alternate methods
Vidoe Guide on Taking and Manage Backups, Restore Latest Backup
Quickly get snap-on find old iPhone backups in iCloud on Mac Before Restore
Latest macOS Catalina: Apple logo > System Preferences > Apple ID > iCloud > Manage. [Check Above Video in the Article]
macOS High Sierra or Earlier See iCloud backups On Mac, Go to the Apple Menu > System Preferences > iCloud > Manage
Offline Backup on Mac Using iTunes and Finder
On Finder: Open Finder on Mac, Connect iPhone to Mac > Click on an iOS device name from sidebar > Click on Manage Backup. [Check Above Video in the Article]
On iTunes, Open iTunes on Mac > iTunes Preferences > Devices > List of All devices backups>
Restore iPhone from old backups, From iCloud or iTunes
Restore iPhone from Previous backup iCloud
Without the use of iTunes or Mac, You have only one option that is iCloud.
Restore options; you will get only while you set up the new device on clean install iOS, Setup on the new device, or completely erase all the settings and content from settings.
Step 1: Follow the welcome Hello screen, Insert new SIM, Connect your WiFi network and other on-screen instructions.
Step 2: Enter your Apple ID Login details, Apple ID & Password.
Step 3: Apps & Data screen, choose Restore from iCloud Backup
Step 4: Now, Screen will fetch all old saved backups from iCloud. Choose what you want to restore.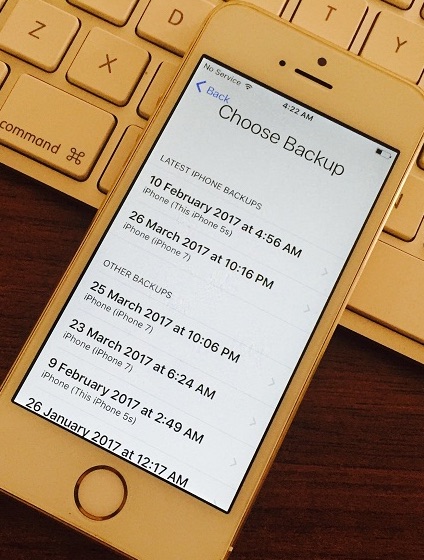 Restore Backup from iTunes/Finder
iOS users can use Apple Software to Backup and Restore the data to the iPhone and iPad. Till now iTunes is used for all types of activity, But iTunes is dropped by apple, Use Finder to restore and Backup process same like iTunes. Watch the video that explains how to Sync, Backup and Restore iPhone/iPad using Finder on Mac.
Connect your iPhone to iTunes via lightning cable,
iTunes Methods: two options for restoring past backups from iCloud or Saved backup on Mac or PC.
Restore or import backup on New iPhone
Your First screen like in below, the Welcome screen with "Restore from this backup: iPhone," Click on continue.
Wait for restore, Don't unplug your iPhone or iPad from iTunes until the whole process completed.
Restore previous Date or Days backup to iPhone via iTunes
Step 1: Connect iPhone/ iPad to iTunes via lightning cable.
Step 2: Go to the summary page, Under the Backups section.
Step 3: Click on Restore Backup.. button.
Find your latest backup and Old days backup from drop down. Here you can see two backups taken by me. You have more than you can see a list of all in this screen.
Start, Restore old backup by a single click on "Restore."
Wait for restore process, until complete process.
Put comment to us for more help on "restore your iPhone from Old Backup" or "How can I restore my iPhone to an earlier date" in alternative techniques?