🗓️
August 11, 2023
By ✍️
Jaysukh patel
Private Relay ensures your original IP Address isn't exposed to any random browser or service provider; instead, Apple will show them one of Apple's IP Address rather than revealing the original IP Address. When iCloud Private Relay is enabled, Apple doesn't show trackers your exact geolocations. After enabling iCloud Private Relay, some Mac users have recently reported that Safari Error "Safari can't open the page. The error is: "The operation couldn't be completed. No such file or directory" (NSPOSIXErrorDomain:2)".
Technically, it shouldn't be happening with you; after all, iCloud Private Relay is our ultimate security program and works in harmony rather than showing weird errors. Though, we've got some potential workarounds to deal with Safari can't connect to iCloud Private Relay and resume Safari.
Error "Safari can't open the page. The error is: "The operation couldn't be completed. No such file or directory" (NSPOSIXErrorDomain:2)"
1. Turn Off Private Relay For Network
Private Relay prevents your original IP Address from revealing to the Safari browser or any page you visit. Since you're having trouble using Safari and can't open the page, the operation couldn't be completed, no such file or directory error, try disabling the Private Relay for Network and check again.
On MacOS Ventura
Step 1: On your Mac, Open Safari on Mac > From the top left corner Settings….
Step 2: Next, Click on General from the top tabs, and Uncheck the Hide IP Address. to turn off Private relay for the safari browser.
Step 3: Now, Private Relay is off. Force quit(Command+Q) safari, Re-open safari, and try again to browse without any error.
That's it.
Turn off Private Relay for specific Websites or Domains
Yes, We can turn off Private Relay for specific Websites or Domains from Safari settings.
Step 1: Launch the Safari browser on your Mac, and Keep an open webpage to bypass private relay for that domain. From the top menu View > Reload and Show IP Address. This option temporarily allows the user to see your IP address to visit the website.
Step 2: Continue > and Allow Website to see your IP address temporarily.
That's it.
Turn off IP Address Tracking for Specific Network
Note: To Bypass the Affected service due to Apple Service being down for the Private Relay, We can turn off the Private relay for the connected WiFi network from Network settings. Go to the Apple Logo from the top menu on your Mac > System Settings > Wi-Fi > Details > Disable the Limit IP address tracking > OK. That's it.
On MacOS Monterey & Earlier
Click on the Apple Logo menu. Select System Preferences.
Find and click on Network.
Click Wi-Fi > Disable Use iCloud Private Relay.
That's it.
Refresh Webpage or Force close safari Bowser, and Try again.
2. Check Apple Server Status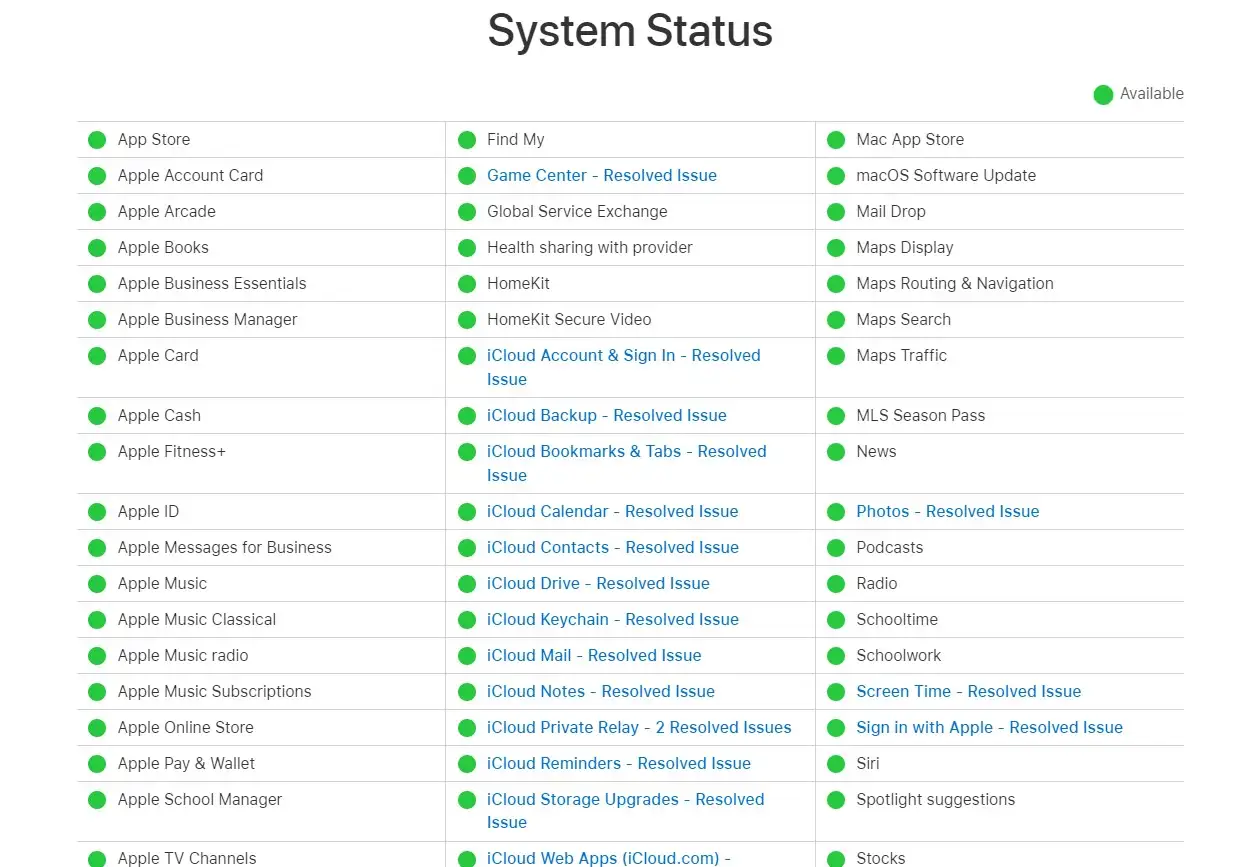 Apple Private Relay service uses apple's Proxy server that bypasses the Tracking activity because Encrypted data send to the User for the device when iCloud Private Relay is turned on.
Apple Server Status Page is where you get to know the real-time status of active and inactive Apple Services. Since Safari is not opening or working for you at all, visit the Apple Server Status to view the status of Apple Service in Other countries. The green-colored dot indicates the service is working, and if it is unavailable, the color should be red, yellow, or orange next to the Apple Service. if any server issues are ongoing then Turn off Private Relay explained in solution 1.
3. Disable VPN
Another thing that you shouldn't be missing when Safari won't load or show random errors is to disable or enable VPN. Some web pages won't respond without a VPN if banned in your region, while some won't work with an active VPN. In this case, if you're using VPN, then disable VPN or if you aren't using VPN, enable VPN and try loading the Safari.
Also Read: Can I use VPN and iCloud Private Relay together.
4. Force Quit Safari
Once you've disabled the VPN, force quit the Safari. Mac comes with a quick Task Manager that lets you kill any app if it is not responding or crashing, or not working at all. I'm highly recommending you to force quit Safari.
Press Option + Command + ESC keys and select Safari.
Click Force Quit.
Safari will immediately close. Later, wait for few minutes, make sure the Mac is connected to stable internet and relaunch Safari. Finally, check if the error is gone or still there.
5. Check-in Safe Mode
Safe Mode helps us diagnose the issue that is happening due to startup programs. While in Safe Mode, the Mac works correctly, especially Safari; you should look at recently installed applications and programs and, if possible, remove them from Mac. It seems like they are not fit for your Mac, or you could simply uninstall and reinstall the apps. But first, let's see how to enable Safe Mode in Mac.
For Apple M1 Mac:
Click on the Apple menu.
Select Shut Down.
Now, press and hold the Power button until you see the startup options window with all startup disks and Options.
Choose a startup disk.
Next, hold the Shift button and click Continue in Safe Mode. Leave the shift key.
For Intel Mac:
Shut Down the Mac. Click on the Apple menu and select Shut Down.
Let the Mac shut down completely. Give it at least 10 seconds.
Now press the power button and immediately hold the Shift Key.
When the login screen appears, release the Shift button.
6. Update or Reinstall MacOS
Now it's time to take a hard step to fix the Safari Can't Connect to iCloud Private Relay. Have you checked the macOS Firmware? If not, then make sure to update the macOS to the latest software available. Another workaround is to reinstall macOS, which helps recovers Mac System from critical issues. Unfortunately, no other solution is more prominent than reinstalling the macOS because it wipes out the macOS, and you'll have to reinstall it.
To Update Mac: Click on the Apple menu > System Preferences > Software Update. Wait for few seconds; if there's any pending update available, you'll be asked to download and install.
To Reinstall MacOS: We've prepared a detailed guide on how to reinstall macOS without erasing data, reinstall data without erasing data, as well as repair the macOS. You can visit and go through the steps to reinstall the MacOS.
7. Contact Website or Apple Support
Still, Safari can't connect to iCloud Private Relay; it is time to communicate with the website admin, which is showing an error, and if that doesn't work, simply contact Apple Support. Since it is Safari, Apple will keep this on priority and get the issue resolved.