Last Updated on Nov 10, 2020Now you can download your Instagram live broadcast on your own iOS device. On March 20, The Photo & live Video (Stories) sharing platform Instagram rolling out another new feature that cum with Live streaming for the App users. In this update, you will get a button to save Live Video at the end of a broadcast on your iPhone. let's check our complete guide on everything about, how do I save the Instagram live video on my iPhone and iPad? The useful tip for iPhone XS Max, iPhone XS, iPhone XR, x, 8 Plus, and earlier Phone users.
By the way now, Instagrammers will have on-hand option to save its Live stories for all time on his/her Smartphone. Don't worry. The Saved live streaming will no longer available on Instagram App (mean as always still disappears after 24 hours from the app), it just only to re-watch later and share with your friends and besties.
Guide How to Download Instagram Live Video on iPhone and iPad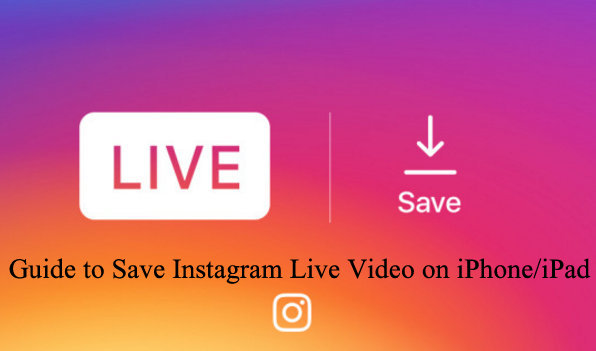 Before getting started, make sure that you have the latest updated Instagram app on your iPhone on your Apple iPhone. You have already latest, then you can go to the following guide.
1. Launch Instagram App and tap on the Home icon on the bottom navigation bar on your iPhone.
2. Tap on Your Storey, you will view upper-left side on the Screen.
3. Now, tap on Live to start to take a live Instagram Video as you are doing usually, and at the end of a broadcast, you will see Save option in the upper right corner on the screen.
Tap on Save. and then tap on Done to share live Video to your followers, with your friends.
That's it.
Very very simple. You can turn off live video notifications on Instagram iPhone without worrying.
Get More: Save Instagram Photos to iPhone Camera Roll
Where Instagram Live Video will be saved on iPhone?
If you are saving your Instagram Live broadcast on Apple iPhone, then it will see into your iPhone camera roll. To see it, open up Photos App and check out the most recent video.
Whenever you save Instagram live Video on my iPhone. Generally, having a question, Does it also saves comments, likes, and the number of live video viewers or any other interactions, which are associated with Live Video?
No, you'll be able to Save only Instagram Live Video on your iPhone. Another important answer is, it is helpful even any exciting happens during the live video streaming that you want to share on Facebook, Whatsapp, Snapchat and or watch later.
The advantage of Saving Live Instagram Video
In the previous version, we all just right shoot a live video directly into Instagram app and then share. There was not an option to save on your iOS device.
Luckily, latest update through an Instagram Live Video feature is becoming flexible. For the all latest iPhone including iPhone XS Max, XS, XR, iPhone 7 (Plus), iPhone 6S (Plus), iPhone 6 (Plus), iPhone SE/5S/5.
If you can't start a live video on Instagram on iPhone? Then make sure you have a good internet connection. Because if you often got checking connection screen, then you'll have to try another Wi-Fi and or switch on Cellular data. I recommend you should use Wi-Fi rather than Cellarer data. Because of cellular almost expensive than Wi-Fi.
Source: Instagram