Last Updated on Jan 10, 2022Are you a Google Chrome browser iPhone user? Here is good news for you. An iOS chrome has been recently updated with latest reading scan QR code with 3D touch and redesigned tab switcher on the iPad version for Google Chrome. Now iOS chrome users scan QR code without unique QR code scanning apps. To access built-in QR code scan feature on iOS chrome, you must have a 3D touch supported Apple phone (iPhone XS Max, XS, XR, X, 8 Plus, iPhone 7 Plus, iPhone 7, iPhone 6S Plus or iPhone 6S) and latest Chrome browser.
If both things you've yet, though you can turn on to scan QR code without any third-party barcode/ QR code scanner applications. Let know in this post, how to Scan QR Code With Chrome on iPhone.
There are two ways to access QR code on iPhone chrome browser. Let's see at below. Note: the first time you use, chrome will ask you, access your camera.
Steps to Use or Scan QR Code With Chrome on iPhone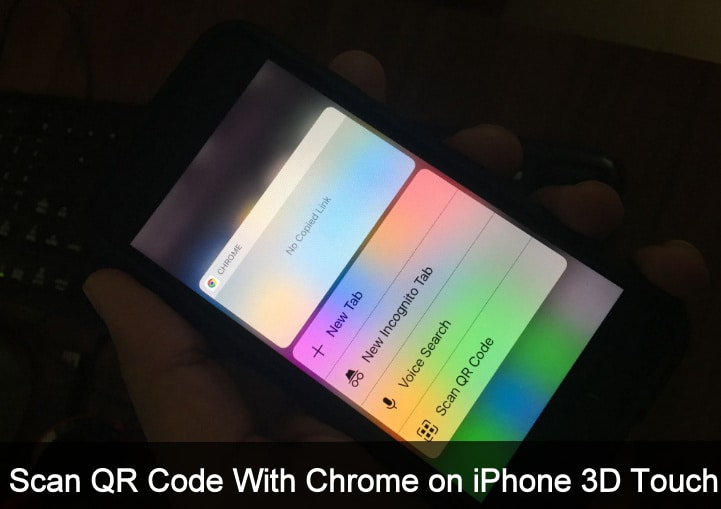 Step 1. Wake up your iPhone and download latest Google Chrome browser, if you're not.
Step 2. Deeply forces touch (tap and hold) on Google Chrome logo to launch actions.
Step 3. You can appear there are five options including new tab, New Incognito tab, Voice search, Scan QR code, and Share Chrome.
Step 4. Choose Scan QR code to open up barcode scanning camera screen on iPhone.
After that, carry your iPhone in front QR/ barcode code to scan it.
That's it.
Alternatively, you can also access the QR codes on the iPhone Spotlight search. To do that, swipe down from the half of the iPhone screen and enter ''QR'' into the Spotlight search bar.
You will appear ''Scan QR Code'', so that will switch you directly on the Google chrome browser QR code scanner screen. It also provides the flash feature to scan a barcode in a dark room, too. So at all this is such a great update for iOS 3D touch users.
Possible Fix if scan QR code on Google chrome won't appear or not working on your iPhone, please make sure following information is ready in your case.
You should be 3D touch-enabled on your iPhone.
Spotlight Search needed Turning On if you want to use through spotlight search.
Above both things are okay, then restart your device one time and start it again.
Do you like this feature? How many votes do you give to Scan QR Code With Chrome on iPhone?