🗓️ November 10, 2020 By ✍️ Jaysukh patelUse iPhone as a desktop from your Mac. Most of the folks are trying to send text from the desktop as a top priority, not from iPhone or other Smartphone. Tiny keypad and slow typing speed should be hesitating when you are trying to send numbers of SMS/ Text from iPhone in short duration. Here is the very unique solution for Send iPhone text from Mac desktop or Keyboard. This time keyboard dock for iOS device now available in few dollars alternatively.
MyPhoneDesktop is the best solution for your query; Let's see how it works and useful features.
How to send iPhone text from Mac or Desktop: Call and more  
MyPhoneDekstop is available free for Mac, Windows, and Linux system. But for your iPhone, you have to download and install an official app in just $4.99
And also Download a WebClient app for Mac, Windows or Linux
Features of the MyPhoneDesktop app
An easy way to send mail, Text and Call directly from your Mac
An easy way to copy and paste text or send long SMS to other iPhone.
More comfort access URL or type URL in text.
Virtual iPhone access your iPhone functions from the desktop
Select and drag functionality
Compatible with iPhone, iPad and iPod touch
Able to send call using google voice
Compatible with all client OS: Mac OS X, Windows or Linux
Most of the app has been integrated already: Map, Google search, Skype, Stanza, Google reader and more.
Push notification alert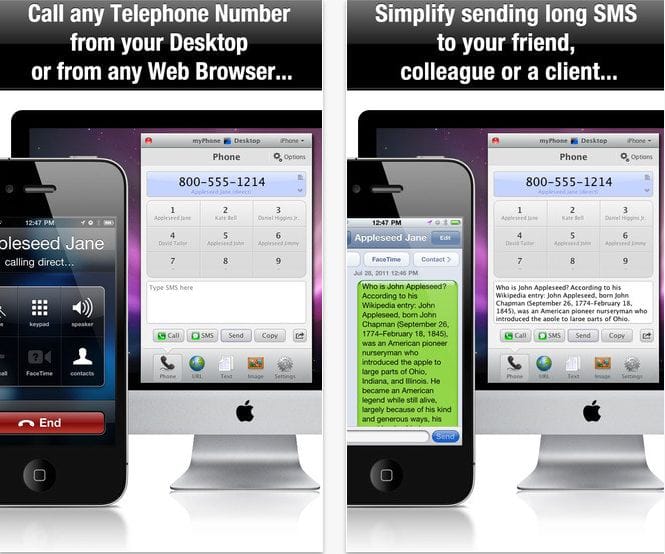 Don't miss you might like this: How to Record iPhone calls on Mac: Yosemite – 10.10.
In short, this is the shortest way to access your iPhone, iPad and iPod touch running on iOS on a large screen and desktop keyboard and mouse.
This app is best in reviews and trusted by users who want to send iPhone text from Mac desktop, Windows or Linux OS.