🗓️
June 23, 2023
By ✍️
Jaysukh patel
After they added all possible stuff in macOS, apple macOS brought Siri integration. Since Siri is now a new multitasking feature for Mac users, and it's a flagship one among all new features of the latest macOS. So obviously, all Mac users are not familiar with how to Enable Siri on Mac, and why Siri does not work after the update? I mean, if you're the one having an issue talking to Siri not working on macOS Ventura, Monterey, Big Sur, macOS Catalina & Earlier macOS? So we have a list of troubleshooting that will guide you on how to fix speak to Siri issue on Mac easily.
Please Note: To Activate Siri on Mac – It requires a broadband Internet connection and microphone (built-in or external).
Solution Siri Not Working on macOS
By default, the Siri icon ships on Dock after the Finder icon and top Menu bar of your Mac laptop (MacBook Air, MacBook Pro, and MacBook) and iMac desktop. You can also create a shortcut key to talk to Siri on Mac. Before getting started with provided steps, you must check out the internet connection on your Mac device.
#1:
Siri & Hey Siri Required Internet Connection
Check your Mac network connections. Siri is not an offline tool, So we need a good internet connection via WAN or WiFi network. Check the Internet is turned on from the browser.
Check by: On the Top Menubar,> Click on Wi-Fi > Once you do, Turn off and turn On Wi-Fi again. It does resolve the problem in case of Wi-Fi network conflict issues. You can also test the internet by searching on the web browser, for example, on Safari and open Google.
On Your Mac, Wi-Fi is working in a good manner. However, if your Mac Siri not responding, then jump on the following workaround in sequence.
#1. Is your Mac System has the latest macOS?
Know Current Installed macOS: Click on the Apple logo on the top menu bar – select About This Mac [Overview Tab see full details about your Mac].
Available update, If any. You must update it. After the update is completed, try again to wake up Siri, if Siri issue persists on Mac, though, continue following the steps. I hope that will be clear about your disappointing problem.
Check for new Software updates on your Mac
Apple Seed's new MacOS update with new, improved features and bug fixes at a particular time interval. New Updates always optimize your Mac performance that quickly opens Siri.
For MacOS Ventura
1→ Go to the Apple Logo from the top Menu > System Settings.
2→ Select General > Software Update > Download and Install Update.
For Earlier macOS
Step #1: Go to Apple Logo from the Top menu bar on Mac.
Step #2: Select System Preferences…
Step #3: Next, click on the Software Update option.
Restart Required before starting the update, please save your work or
use handoff continuity
features.
#2: is Siri Enabled on your Mac?
On MacOS Ventura or Later
1→ Go to the Apple Logo from the top Mac menu > System Settings.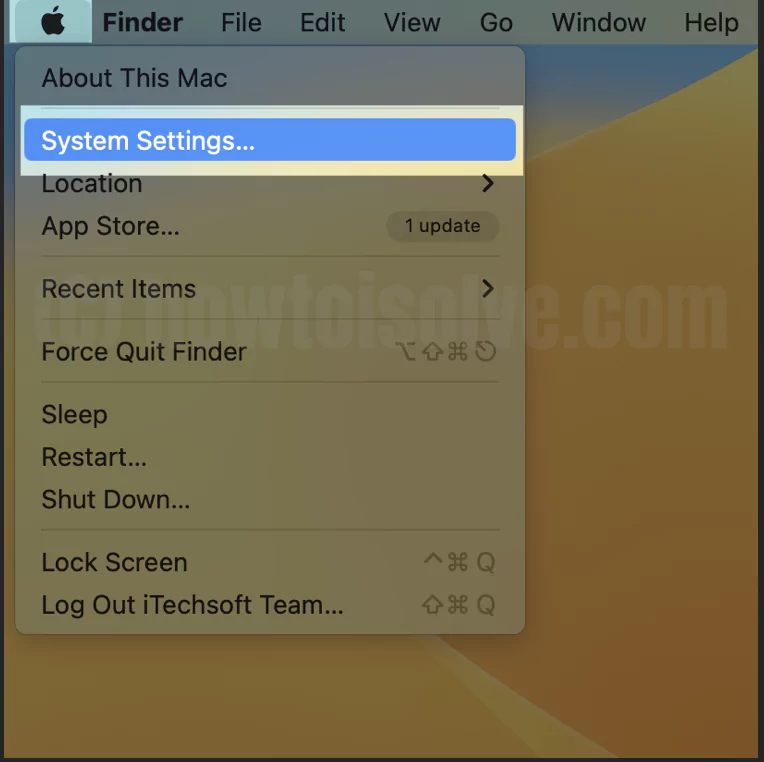 2→ Next, Click on Siri & Spotlight > Enable Ask Siri toggle.. if it's enabled, Then Disable and Re-enable again. and Allow permission to Use Siri on Mac.
3→ That's it. Now we can activate Siri using the Keyboard and From top Menu (Siri icon).
4→ If you wish to use the Hey Siri command, Enable the toggle "Hey Siri" or "Siri" only.
For macOS Sonoma,
For macOS Ventura,
If the toggle is enabled, then Disable and Enable it again. and set it up with your Voice. Might be stuck and unable to Activate using your Voice.
Siri keyboard Shortcut:- Select the Key for "Keyboard Shortcut".
To Enable Siri from the top menu: Go to the Apple Logo > System Settings > Control Center > Siri "Show in Menu Bar."
That's it.
On macOS Monterey & Earlier macOS
Go to Apple () menu > Choose System Preferences,
click Siri, then make sure that Enable Ask Siri is selected.
Also, you can also see in Siri Pane like Language, Siri Voice, Mic Input, etc. please set all options in the correct manner. (in the below picture you can see enable/ disable Siri on Macbook)
Siri is fully turned on. Try to uncheck and check Siri's settings. Luckily, it will wake up on your next talk. Siri is already In the position, but she is not ready to communicate with you. Then there are possible solutions mentioned below.
Turn on Hey Siri: Keep selecting Listen for "Hey Siri" on the Headphones
Keyboard Shortcut: Hold Command-Space from Keyboard, or change the Keyboard shortcut for Activate Siri on Mac.
Show Siri in Menu Bar: See the Siri icon on the top Menu Bar and click on to activate and type Siri command to use.
Check Apple System Status online Country wise.
#3. Siri is not available in Settings preferences
You guys, on your Mac, there is no Siri option. You should check that personal assistance Siri is available in your country or region. Here are which countries and regions are on iOS and Mac.
#4. Check out that restrictions aren't Set On position for Siri
Now, We can enable the restrictions for Siri on macOS on MacBook, Mac. Follow the below steps for Turn off the Restrictions for macOS on MacBook, Mac.
On MacOS Ventura
1→ Go to the Apple Logo from the top menu > System Settings.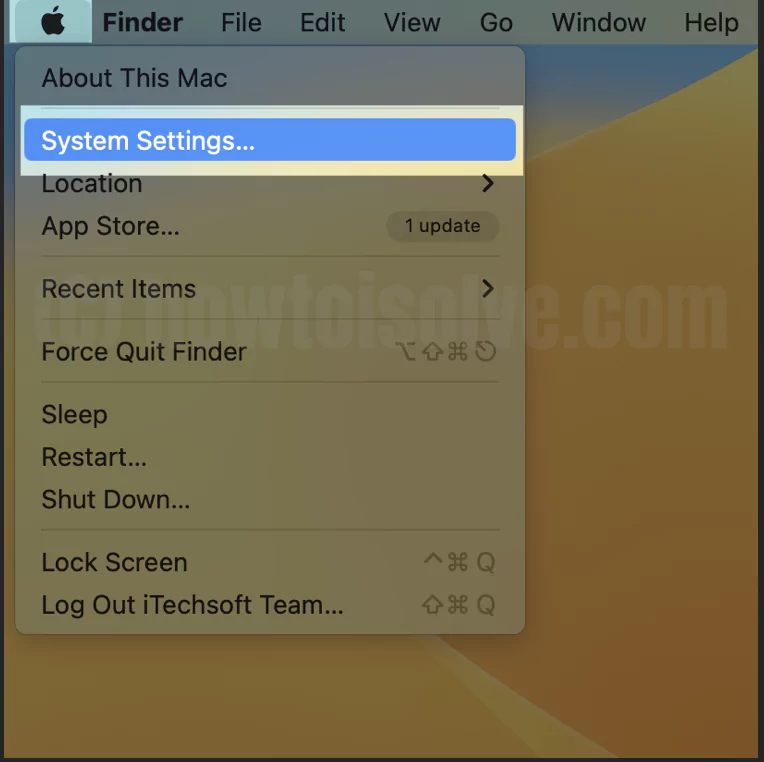 2→ Select Screen Time > Content & Privacy.
3→ Select "App Restrictions".
4→ Allow "Allow Siri & Dictation". Tap on Done to Save the changes. That's it.
On MacOS Monterey & Earlier
Click on Apple Logo from the top Mac Menu. And Click on the System Preferences option.
Next, Click on Screen Time,
Select the Content & Privacy settings. Enable Siri & Dictation checkbox.
That's it. if Restriction is enabled for Siri & Dictation under the Content & Privacy Restrictions, you will see the below screen,
On macOS Sierra or later,
Go to Apple (Logo) menu
Select System Preferences
Click on Parental Controls
Other and make sure that Turn off Siri & Dictation isn't selected.
If the restriction is on for Siri, then you can't turn on Siri on your Mac.
#5: If Mac Siri doesn't hear you correctly or doesn't respond when you ask a question, make sure the microphones of your Mac are working:
To Check your Apple Mac microphones follow the bottom steps"
On your Mac, go to Apple (Logo) menu
Select System Settings/Preferences
Choose Sound
Click on Input and select a Mic and check the input levels.
And test your Apple Mac Mic. if Mic is broken then Siri Will not work until you fix your Apple laptop or Mac Mic.
Read more: Our free guide will help you to resolve Common microphone issues on Apple Mac.
#6: If Siri doesn't speak responses on Your Mac
Sometimes Siri might not respond verbally if your Mac sound is muted or Voice Feedback is disabled.
While you're on the Siri screen on Mac, then try to increase the volume level of your Mac. Then check your Voice Feedback settings:
On your Mac, go to Apple (Logo) on Top menubar
Select System Settings/Preferences.
Click on Siri & Spotlight/Siri.
On the screen, make sure that Voice Feedback is on. or Select Voice.
#7: Delete the Notification Center Plist File and Restart your Mac
Apparently, maybe your notification center process is disabled for some reason, I've enabled it via terminal by typing:
launchctl load -w /System/Library/LaunchAgents/com.apple.notificationcenterui.plist

killall NotificationCenter
After that, I disabled and enabled Siri via the settings menu, and it seems to be working now.
None of the above ways worked in your case, though please restart your Mac and try again to Activate Siri. I hope now talking to Siri helps you get things done just by asking, Finding files on your Mac, checking the weather, Detecting a note, and more.
#8: Clean Install macOS
None of the above solutions work for your Mac. There is two last option. First is Resintall macOS/Clean install macOS, and second is you should take the help of Apple Support. Thanks for reading to us!!
Reinstall macOS, and install the macOS System file without Deleting any of the data from the Mac. Clean the install process, clean the Data and MacOS. And Install the latest macOS. You must take Time Machine Backup.
Get more Here: How to Clean Install macOS
Found helpful? Please reply to the comment below.
Are you looking for using Siri on Mac? Below Reasons
Enable Hey Siri on Mac

– Activate Siri using voice commands on Mac

Enable Type to Siri on Mac

– Siri not answering correctly or is unable to understand your voice speaking tone or language, then use Type to Siri inlace for the

voice feature.