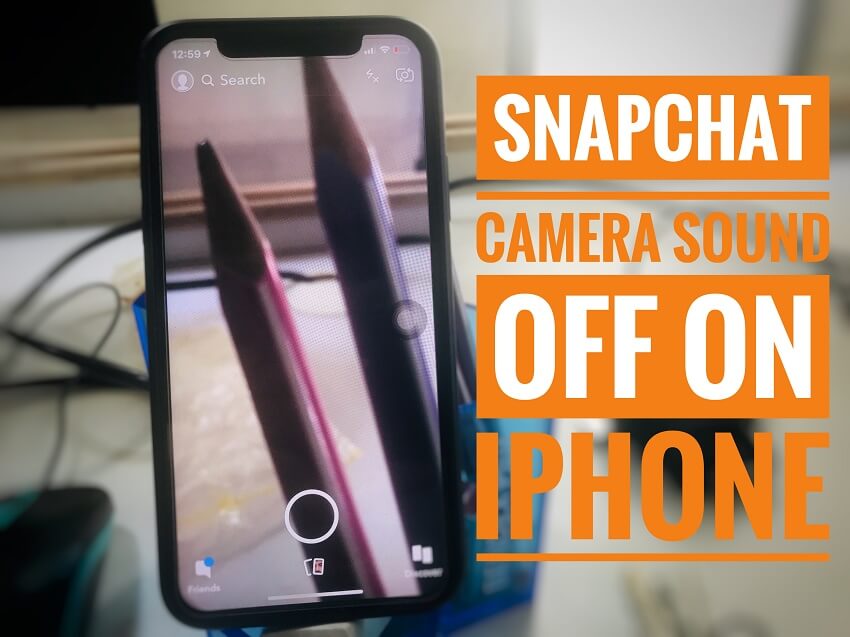 Last Updated on Aug 19, 2020
in this article, I will explain to you can I Turn Off Snapchat Camera Sound on iPhone? As you know the Snapchat is a Social app from there we can share our beautiful pictures with our Friends and Publicly for the Entertaining, Business, and Personal Memory. Sometimes we need to take a photo silently; According to the Developer preview, Snapchat for iPhone is Stunning compare to Other Operating Systems like Windows or Android.
we are happy to help you, submit this Form, if your solution is not covered in this article.
We can take a Crispy photo on Snapchat in a single attempt and share it directly on a Snapchat app using internet camera settings; This camera is built-in, Snapchat camera programmed very well to take a beautiful photo that smooth all the unwanted marks and appearance on body and locations automatically. So Some people are like to use a camera of Snapchat and ignoring iPhone's official camera app. And now Question is how we can take Snapchat camera sound off on iPhone/iPad?
Same ways you can also Mute or Turn off Snapchat Camera Shutter Sound on iPhone 11, 11 Pro Pro, 11 Pro max, and Earlier iPhones. Apart from this, Sometimes the Snapchat camera won't work as expected on my iPhone so if you have the same problem then click on this link to get a complete guide.
Before getting started following steps, read these Five lines carefully:
The Apple iPhone Camera shutter sound always being on depends on what regional model of phone it is, not where you are. The Japanese and the Korean iPhones always have the shutter sound on. If you bought it used or refurbished handset, it may be from either of those countries. It's because of specific laws in place. And I don't think that can be bypassed. if you are from Japan or Korea or your Phone bought from there then don't waste your time cause you can't turn off camera shutter sound. Source- Reddit.
Two Methods about How do you turn the shutter sound off on Snapchat? on iPhone/iPad
1: Quickly Turn off Using Side Button: Mute/Unmute a physical Switch
Check out Side button that we can quickly turn on which means the sound is off. Or Turn off which means the sound is off using a hardware button. According to my test, This button mute all kinds of system sound that might be a ringtone, Message and notification alert sound, and Camera shutter sounds in third-party applications such as Snapchat and Instagram as well.
Sometimes side button doesn't work in the case if you muted your iPhone using Virtual Sound button that Available in Assistive touch. Check the Second method.
A solution is: Turn off and Turn on Button two times, So it will reset Mute/Unmute sound.
---
2: Use the Assistive Touch button to Mute/Unmute or Change Sound Level
Assistive touch has too many options Like Volume up button, Volume Down button, Mute/Unmute button, Lock Screen, Rotate Screen, Take Screen Shot, Restart, Speak Screen, App Switcher, and more. You can also use customize Assistive touch on your iDevice.
---
in iOS 13, iOS 14 & Later Device users can access the touch screen home button using bottom steps:
Go to the Settings App
Tap Accessibility
Tap Touch
Hit on Assistive Touch
Now turn AssistiveTouch toggle on /Green and then follow the bottom instructions.
---
For iOS 12 and Earlier all users can receive Assistive touch option by the use of underneath actions: 
You will have to Enable Assistive Touch also called touch screen home button on your iPhone from the Settings app,
Go to the Settings App
Tap General
Click on Accessibility
Hit on Assistive Touch
Next, Turn on AssistiveTouch Toggle and you can also Customize assistive touch if you wish.
Now, Tap on Assistive Touch button > Device > Tap on Bell icon to mute Shutter sound or a Camera click

Check it. You are done.
How to Turn Off Snapchat Camera Sound on Android
Snapchat has been the most used social app aside from Facebook, Instagram, and WhatsApp. A platform where you can put stories, share videos, share pictures, applying varieties of funny filters, and effects.
Most of the phones use the same camera settings in Snapchat that are set by default. I've seen many users looking to get rid of annoying Snapchat shutter sound on Android, here's a quick solution on how to turn off Snapchat Camera Sound on OnePlus, Samsung, Google Pixel and other Android phones.
Solution 1: What you can do is, put the phone into Silent Mode, press and hold the Volume down button, and drag all the volume sliders to a minimum.
Solution 2: Next, open the Camera app on your Android phone, tap on Clog Wheel, and toggle Off Shutter Sound.
Solution 3: Enabling Do Not Disturb mode also helps to make the phone silent, you can try this too.
These are the three common ways to turn off Snapchat shutter sound on Android phones. However, there is no specific option available in the Snapchat app to disable shutter sound, therefore you have to go with the default Camera settings.
Bottom Line
I think you guys, you have a question that the why just turn it off for the camera app (Snapchat shutter sound won't turn off) because there isn't a special toggle to turn off disable Snapchat shutter sound. I know that it's soo annoying.
absolutely, Snapchat Instant Messaging App makes a really weird and unwanted clicky shutter sound whenever you take a snap.
according to my opinion, Snapchat doesn't allow camera shutter sound off because its a feature like the snap app to try and keep people from catching strangers without them identifying.
---
Like it and share to know more Snapchat tips and tricks and allow Snapchat camera access on iPhone features that we can use first and surprise your friends. Also, follow us to get notified first to you.
Do you have any problem with this post? then please share with us on email – admin at howtoisolve dot com.
Let's share a brief message describing your needs that will help me prepare for the next update in this article.
Premium Support is Free Now
We are happy to help you! Follow the next Step if Your Solution is not in this article, Submit this form without Sign Up, We will revert back to you via Personal Mail. In Form, Please Use the Description field to Mention our reference Webpage URL which you visited and Describe your problem in detail if possible. We covered your iPhone 11 Pro, iPhone 11 Pro Max, iPhone 11, iPhone 8(Plus), iPhone 7(Plus), iPhone 6S(Plus), iPhone 6(Plus), iPhone SE, SE 2(2020), iPhone 5S, iPhone 5, iPad All Generation, iPad Pro All Models, MacOS Catalina or Earlier MacOS for iMac, Mac Mini, MacBook Pro, WatchOS 6 & Earlier on Apple Watch 5/4/3/2/1, Apple TV. You can also mention iOS/iPadOS/MacOS. To be Continued...
You are my dear friend if you find any third-party app or advanced trick to mute Snapchat camera shutter sound on your iPhone, then please let me know in the comments so I will put your thought in this article in the next update. thanks for advance!!
Hint: you can also send the feedback to snapchat developer and ask them to add a separate setting in a future update to turn off the snapchat camera shutter sound on iOS and Android. [This is just an idea, we do not force you to do this.]
Please Vote this post helpful or not useful- Please drop your vote in below question Was this helpful: Answer Yes or No. Thanks for sharing your worth time with our blog.