🗓️
July 17, 2023
By ✍️
Jaysukh patel
In this article, I have covered all about Snapchat keeps crashing on the iPhone randomly. Also added, the snap app won't open/freeze or suddenly close in the meanwhile. Sometimes App is dramatically behaving due to installing the latest iOS 16 or iOS 17 Beta.
We suggest here helpful answers to fix Snapchat keep crashing. So let's be ready to follow up on the bottom guide.
How do I stop Snapchat From Crashing on My iPhone?
Key points to Check:-
Incompatible Version: Suddenly your Snapchat app is crashing on your iPhone, According to time you have to check multiple factors on your iPhone to Refix Snapchat App closing issues again and again or on the launch app time. Your app is updating automatically but your iOS version running on iPhone is not updated. Follow the below steps for the Outdated app or iOS installed on your iPhone.
Check on Google about Snapchat Server Down from Status.
The Internet is not working.
Remove VPN, the VPN connection interrupt the security, Try After Disable VPN or Uninstall VPN profile from iPhone.

Settings > General > Scroll to VPN > Tap on Profile (i) > Delete VPN

. Hard Reboot your iPhone and Check Snapcht Crashing fixed.
Fix 1. Verify your iPhone Software is Up to Date
Before fixing the Snapchat App Crashing problem, you should make sure that your iPhone or other Snapchat-running smartphones are updated with the latest software available. On my iPhone, the newest iOS is 16.4 or later.
To check for the update on your iPhone
Go to the Settings app
Tap General
Next, you need to tap Software Update. [make sure that your phone is connected to a wi-fi network]
Currently, the latest public OTA (Over-The-Air) firmware available is iOS 16.4 let's Download and Install over WiFi.
That's it.
Fix 2. Update Snapchat Firmware
why does my snapchat keep kicking me out? Check that you have the latest version of Snapchat installed on your iPhone. How do you fix your Snapchat when it keeps crashing? You can revise this issue sometimes by updating snap up from outdated to the latest version.
If you have no idea How do I update my Snapchat? Let's follow the bottom instructions;
the ideal solution is if your snapchat keeps closing every time I open it, or snapchat keeps crashing every time I take a picture.
1→ Open the App Store App
2→ Next Click on the Profile icon that appears right-upper side. [if not signed-up App Store then please enter the correct Apple ID and password to log-in App store]
3→ Now, scroll the screen and find the Snapchat app from the list of Update sections.
4→ Click on the Update button next to Snapchat. wait till the app is completely updated. you will get an open button,
5→ Click on the open button to launch the Snapchat app directly from the App store.
Note: Click here to read Snapchat App won't update on your iPhone.
I hope the latest Snapchat version app is packed with the newest snap features and bugs fixed like you facing snapchat that keeps crashing and not loading correctly.
Fix 3. Force Quit Snapchat and Re-Open Again
Let's Twice-click on the Home button, and you will get a multitasking screen, swipe the screen to the right, find Snapchat, and then tap and swipe up Snapchat to completely close.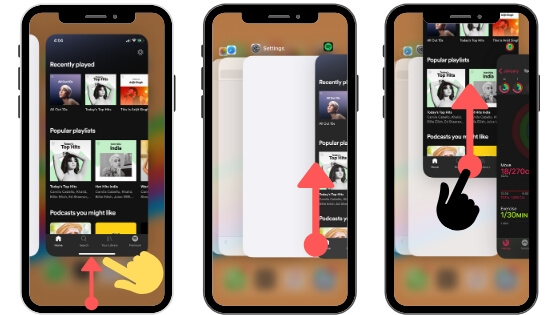 Most of Social App Required Internet connectivity on App Launch time. Also, Check Internet Connection is on, and Switch or Use Cellular/Mobile Data or WiFi connection.
Fix 4. Delete the Snapchat app and Re-install
Why does my Snapchat keep crashing 2023 running on iPhone firmware iOS 16.4 or later?
first, find the Snapchat app on the Home screen.
after that, tap and hold on the snapchat app so a pop-up appears let's tap on Delete
Next, a pop-up will come with a title – Delete "Snapchat"? Deleting this app will also delete its data. with two options- Cancel and Delete.
Let's tap Delete to confirm.
Now scroll the screen to get the tutorial on how to re-install Snapchat back on your iPhone.
---
Re-install Snapchat App on Apple iPhone
Open the App Store App
Next click on the Search bar and type Snapchat
you'll get a list of the Apps with Snapchat and related more apps.
Click on the Snapchat app
Next tap on the cloud with the down arrow icon instead Gets button.
Note: First time install app shows the Get button, but once installed, then delete and after re-install app gives option down arrow with cloud icon, not offers Get button. So wait till the re-install Snapchat App.
After all these procedures, Open the Snapchat App, then enter the correct Snapchat username and Snapchat password to use the bug-free instant text message Snapchat App.
Unfortunately, the problem persists; please keep continuous for the following troubleshooting to stop Snapchat from crashing on your iPhone.
Fix 5. Make Sure You Don't Have Any Third-Party Snapchat Apps installed
Many copied apps on the Apple app store seem the official version of the favorite apps.
Above all steps orders-wise, you could also apply for other Non-Apple apps if ever crashing apps such as Instagram, Facebook, Whatsapp, Twitter, YouTube, etc.
Fix 6: Know Snapchat Server Status
Some Downdetector Analysis you have to Read, From that website, you will get the Live and Past Day Report for Snapct Server is Not live in your Region or All World. So you can search on Google about Snapchat Server issues or Downdetctor.
You should also contact the Snapchat App developer; here's how to submit an app bug report.
Fix #7: Snapchat Keeps Crashing on open time in iOS 17 Beta
You should downgrade from the new iOS to the earlier iOS. But then, it would help if you waited for the next update.
Do you find any solution to fix Snapchat stopped working on iPhone?
Would you please drop your reply in the below comment box? For further assistance, you can also Like us on Facebook.