Unfortunately, are you getting error on downloading or installing app after logging with Own Apple ID,
"This app was purchased by a different Apple ID . To buy this item with this Apple ID you must first purchase the app." That's ridiculous. But might be that's not on eye, Here is the basic solution of this error problem, When you try to download apps in your iPhone, iPad, iPod touch (iOS 8, iOS 7, or older) and Mac (Yosemite or Mavericks). To solve this first you have to check, what's your recent logged in with Apple ID. And the second, by using which apple ID you have been downloaded in past though other iOS device or same device.
we are happy to help you, submit this Form, if your solution is not covered in this article.
Note: When you trying another Apple ID in the same iOS device or Mac device. And inside App-purchase trying downloading app with old or different Apple ID, definitely you will receive iTunes verification notification or message, that's not error.
Useful: Are you enabled iCloud Drive?, Upgraded by Apple on iCloud.
Here I am trying miss understating with your iOS device or Mac, Using the below two verification steps.
Resolve: App was purchased by a different Apple ID in iTunes: iPhone, iPad and touch
1st – Check the App was actually purchased through which apple ID
Step 1: Launch iTunes in your Mac/ PC
Step 2: Choose one of purchased App under the App section.
Step 3: Click on get info, Here is the sample how you will get
Purchased by, Account Name (Apple ID) and more…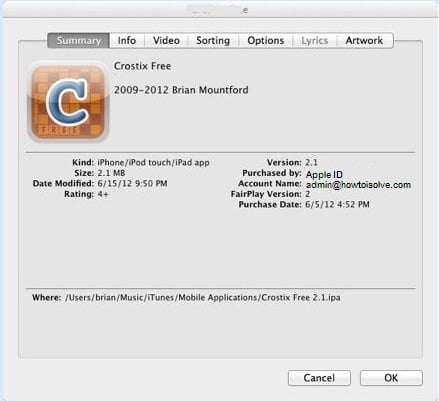 2nd – Which apple ID currently used in your Device for download app
All the apple users are well known how to check it in your devices (iPhone, iPad and iPod touch also Mac).
For iOS device (iOS 8, iOS 7)
Go to the Setting > iTunes & App Store > Apple ID
For Mac (Yosemite or Mavericks)
Go to the Apple Menu > system preference > iCloud > Check current Apple ID used in your Mac device.
Or
Find Apple ID on web from iforgot.apple.com
Might be useful: Tips to delete old iPhone backups from iCloud [How to].
Hope fully enjoyed trouble shooting guide on Solve "This app was purchased by a different Apple ID " through above steps. Have you any problem and suggestion to solve your problem then comment us.
Premium Support is Free Now
We are happy to help you! Follow the next Step if Your Solution is not in this article, Submit this form without Sign Up, We will revert back to you via Personal Mail. In Form, Please Use the Description field to Mention our reference Webpage URL which you visited and Describe your problem in detail if possible. We covered your iPhone 11 Pro, iPhone 11 Pro Max, iPhone 11, iPhone 8(Plus), iPhone 7(Plus), iPhone 6S(Plus), iPhone 6(Plus), iPhone SE, iPhone 5S, iPhone 5, iPad All Generation, iPad Pro All Models, MacOS Catalina or Earlier MacOS for iMac, Mac Mini, MacBook Pro, WatchOS 6 & Earlier on Apple Watch 5/4/3/2/1, Apple TV. You can also mention iOS/iPadOS/MacOS.
Jaysukh Patel is the founder of howtoisolve. Also self Professional Developer, Techno lover mainly for iPhone, iPad, iPod Touch and iOS, Jaysukh is one of responsible person in his family.
Contact On: [email protected] [OR] [email protected]