There are many way to mange iCloud data storage space, among all way I'm share here a way in front of you which is a how to clear iCloud backups in iPhone. If you don't manage your iCloud data regularly and you not pay for higher tire iCloud space then one time will come and happen that you can't store above 5GB data in your iCloud drive. Because, Apple has provide only 5GB data storage capacity in free of charge to the user in its iCloud drive. So that this given way will become most useful for you. Even you've any of the device iPhone/iPad/iPod then this tip is best tip for you. because you can manage your account across any device sign in with the same account. Let's have you no idea about how to delete old iPhone backups from iCloud scroll down bellow and get Steps of your problem, get enjoy.
Full up Limited iCloud storage causing many issues like all iCloud mail will stop and not come to your inbox, Can't backup Messages, Contacts, Health Data and other important data. Clean up iCloud storage is essential for all apple users.
we are happy to help you, submit this Form, if your solution is not covered in this article.
Steps on delete old iPhone backups from iCloud- iPhone/iPad/iPod touch
Step 1. Tap on Settings App from your iPhone Home screen
Step 2. Next, Tap on Profile name and Scroll iPhone screen and Tap on iCloud
Step 3. Now Tap on Manage Storage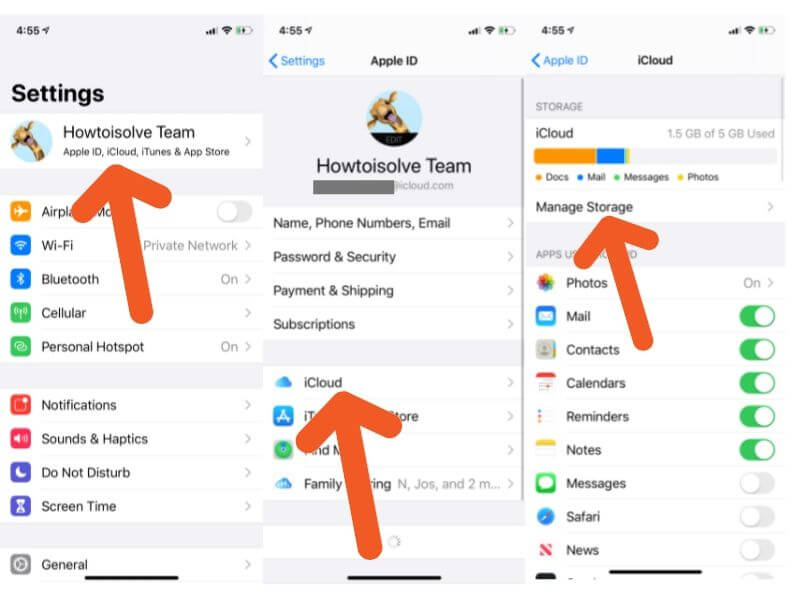 Step 4. Tap on Backups Tab
Step 5. Tap on Backups list, here you can appear iPhone user name list.
Step 6. Now Scroll down and Tap on Delete Backup button.
Tap on Turn Off & Delete Backup.
That's it. Now you get free space in your iPhone's iCloud drive check it. and then tell us that delete old iPhone backups successfully? If you want no backups require when your iPhone connect with Wi-Fi and other data exchange then in other way you can do disable whole backups close by Turn Off iCloud Backup, you can see this option in the Storage & Backup Screen of iPhone.
Settings >> Profile name >> iCloud >> Manage Storage >> Backup >> Turn Off/disable iCloud Backup
Let's know about you, which apps have been take more memory space to store it in your iCloud backups. You could get more space in iCloud by doing some apps as a disable/ togging off like, camera roll can be take more space in iCloud so I'm suggest you keep turn off toggle/disable of that app. we're happy by sharing  this tip on to delete old iPhone backups from iCloud to our lovely reader. Like it?
Jaysukh Patel is the founder of howtoisolve. Also self Professional Developer, Techno lover mainly for iPhone, iPad, iPod Touch and iOS, Jaysukh is one of responsible person in his family.
Contact On: [email protected] [OR] [email protected]
Premium Support is Free Now
We are happy to help you! Follow the next Step if Your Solution is not in this article, Submit this form without Sign Up, We will revert back to you via Personal Mail. In Form, Please Use the Description field to Mention our reference Webpage URL which you visited and Describe your problem in detail if possible. We covered your iPhone 11 Pro, iPhone 11 Pro Max, iPhone 11, iPhone 8(Plus), iPhone 7(Plus), iPhone 6S(Plus), iPhone 6(Plus), iPhone SE, SE 2(2020), iPhone 5S, iPhone 5, iPad All Generation, iPad Pro All Models, MacOS Catalina or Earlier MacOS for iMac, Mac Mini, MacBook Pro, WatchOS 6 & Earlier on Apple Watch 5/4/3/2/1, Apple TV. You can also mention iOS/iPadOS/MacOS. To be Continued...