Last Updated on Nov 10, 2020
Never miss these Best Personal Finance Apps for iPhone and iPad because these are all-time demand and Best iPhone Apps for Personal Finance, manage your money in the better way and save your (dollars bill) well. Now a day you can use your Smartphone (iOS, Android, Window Devices) to adjust your weekly or monthly income at the best place.
we are happy to help you, submit this Form, if your solution is not covered in this article.
Even if Stocks broker has used Popular Stock Exchange apps then why you can't utilize in your iPhone or iPad these Top 9 Best Personal Finance Apps. Do you know what you'll get from this old and longtime popular Best Personal Finance Apps for iPhone? No right, you can save your life from fraud attacks of your Bank Account and more use the Personal Finance software for iPhone. Best weekly budget application for iPhone and iPad look beneath.
These all personal finance apps are much helpful in keeping track of spending, saving, investing and retirement planning very easy. It might more useful so that you can do it anywhere at any time. Have you installed your Bank iPhone app or not? You'll download it from here, Top USA Bank iPhone apps At a Glance – Best Finance App.
Useful for You So Don't Miss – Mortgage loan Calculate app for iPhone
Popular 9 Best Personal Finance Apps for iPhone: Easily Money Management
1. Mint Personal Finance: Personal Finance Apps For iPhone

This Wonder app is developed by Mint. Using this app, you can see your different personal finance account at a single place. Moreover, you can track your credit card balance; Bill due date as well as Recent transaction, Fast approaching budget, High spending alerts, recently used account and more. The app is compatible with iPhone 7, 7 Plus, iPhone 8, iPhone 8 Plus and iOS 7 or later devices.
Download Now: Free
2. Acorns: Personal Finance Apps For iPhone
This Best Personal Finance Apps for iPhone and iPad, it can protect your information, prevents unauthorized account access and notifies you of unusual activity. This App can diversify across multiple asset classes. Good support with iPhone 6 and 6 Plus, 7, 7 Plus resolution.
Download Now: Free
3. BillGuard: Personal Finance Apps For iPhone
This is the Best Free Apps. Now ID Protection, beautiful spends analytics report, smart saving alerts, the app can help you to find lower bill coupons from a web search. This is the best finance app from given all Best Personal Finance Apps for iPhone.
Download Now: Free
4. Wally: Smart Personal Finance
Wally is a personal finance app to manage and controls physical wallet flow virtually. Anytime view your daily income and spent on your iPhone, iPad or another platform online. Archive financial goal, set the budget and stick it.
Get full finance app reviews.
#1 finance app people use in any corner of the world. Smart notification and reminder that help to never miss a thing.
User-friendly customer service via Mail or Feedback. This app is compatible with iOS 6 or later iOS versions.
Download Now – Free
5. PowerOne Finance Pro Calculator: Personal Finance Apps For iPhone
Finance Pro is a common calculator that use for doing a calculation for different types of financial terms like Business, Mortgage, real estate and loan (Auto, Home). Hundreds of calculator templates and library, We can also find saved search history within the app.
Not only for business but also use it for education, Tough calculations on different subjects (Medical, Health, Science, Construction). Perform calculation in Fraction, Decimal or another format.
Sometimes we need a graphical view of the number that you have calculated. Get the sample to exhale and learning tutorial.
Download Now – $4.99
6. EZ Financial Calculators Pro
EZ Financial is a perfect definition of the personal financial app, Because we need easy methods in the single app during the job or instant solution asked by customers or any person at all (Bank, Office or at home). Be smart and feed very easily by open this app on iPhone, iPad or iPod touch. Use Calculation Categories: Finance & Investment, Loan/ Mortgage, Retirement, Stock, Credit Card, and miscellaneous calculators.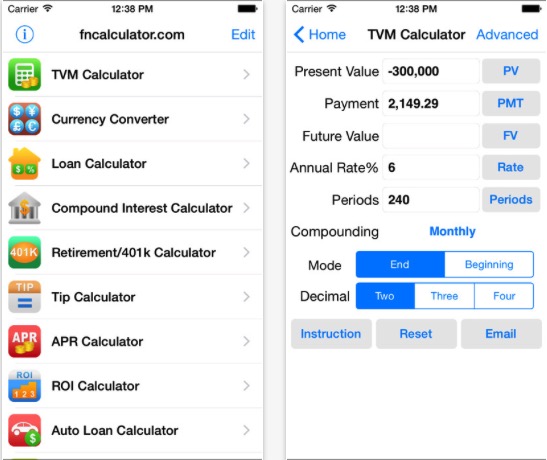 Download Now– $4.99
7. Level Money: Personal Finance Apps For iPhone

The Level Money app is the best Finance app for Couple. The husband-wife could see how much money both are spends each day. The role of the Pie chart is important in this app. So would you like to track your incomes, bills, and savings automatically?
Download Now: Free
8. BUDGET: Personal Finance Apps For iPhone

After the Mint app, this app has got sophisticated rank due to a good look, and even though this app, you can see that day to day spending affects your budget. So use this app and get control to save your finance.
Download Now: $1.99
9. LearnVest: Personal Finance Apps For iPhone
From this Best finance budget iPhone and iPad app, through the app, you can view your progress in your life. In addition, you can see that where you're spending money, beauty your Budget, as well add Transaction on the Go. The app is special for iPhone XS Max, XS, XR, X, iPhone 8/8 Plus, iPhone 7/7 Plus, 6, 6 Plus and iPad Air 2, iPad mini three users.
Download Now: Free
Share your experience with our team, which apps (Top 9 Best Personal Finance Apps for iPhone) would you like to use to control your finance and save money.