Before this time most of the folk worry for how to care health and fitness with the third-party wearable device and most of using nowadays, But after release, Apple's first wearable device officially, give a guarantee to the care your health 24 x 7. Fantastic technology apple developed through Apple watch. So Apple gives own official app for health and workout tracking but other third-party apps also helpful with apple watch. And Available in free of cost in your apple watch sport, Apple watch, and apple watch edition.
This app gives notification on your run, Cycling and workout day to day and from the result, you will get the idea of how more exercise needs to burn more calories and lose overweight fantastically. So entirely guide on your health you can get Apps free of cost.
Now, look at some beautiful featured best health fitness apps for apple watch.
Best Health Fitness Apps for Apple Watch: Track Your Daily Workout
#1. Workout
Workout official apple app for fitness control your body totally, by measuring the distance you run, walk, body moment and more: Outdoor Walk, Run, Cycle, indoor walk mainly. Set your goal and complete at the end of the day for the healthy body.
More from here by Apple
#2. Activity
Track all the activity not by a run, Walk and Jump. But upper body moment. Covers party dance, Hand moment. As a result, you can create your moment means exercise graph in bar charts. This app uses GPS, Heart rate sensor, and Accelerometer.
#3. RunKeeper: Health fitness apps
The best running app, it will track all activity on your body moment correctly, through Cycling, Workout, Walk and Running. This app will make the perfect line on Map that you visited during exercise.
Day wise tracking, Current time, current place, Covered distance, Easy to stop tracking through apple watch and get the notification on the whole exercise.
#4. 7 Minute Workout
The simple but technically correct way to fit your body without over exercise. Track Different types of activity on your iPhone but now you can do on Apple watch. Get text and video suggestion on new updates.
#5. CARROT FIT
Get the perfect guide from daily expert tips, excellent user interface made for apple watch also. Record all the things that will impact your body as positive or negative points. This app was relay amazing that will change your mind on how do exercise.
Make your knowledge powerful technically on exercises. Auto-sync data with Apple's official health app.
#6. Runtastic: fitness watch app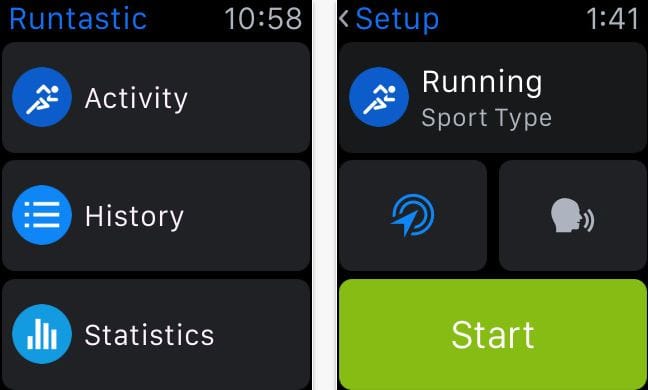 Now your favorite fitness app ready for Apple Watch, Control and see all data over wrist in just moment. Keep continue your exercise and manage all the activity, history and statistics from the small display device. Unique pro facility compares to other Best Health fitness apps for Apple watch.
Suggestion: keep Apple watch external battery in your pocket for without interrupted exercise.
With Hope that, Best Health fitness apps for Apple watch will be added in future, But now how you feel and about the personal experience with these apps going on.