🗓️
September 16, 2023
By ✍️
Jaysukh patel
Turn on/ Stop Dialing 911 or Emergency service from your mobile. The first time Apple added an Emergency SOS awesome feature for Apple Watch in latest WatchOS and So on, and now Apple has been debuted Emergency call function on iPhone in its next software update. Most importantly, the emergency call plays a beneficial role in human life while in a terrible situation. Therefore, as an iPhone user, you have to know everything about it, like how to use Emergency SOS on iPhone, Activate/ Turn off Emergency SOS on iPhone, etc. Hope, by this trick user, can quickly dial SOS call without taking iPhone out of his/her pocket because not needed to dial the 3-digits number on iPhone touchpad. Emergency SOS feature is now available built-in into iPhone, so that not require any third-party SOS emergency app for iPhone.
Apple's latest update has popped up the Emergency SOS feature. It helps iPhone users to make automatically call emergency services when you rapidly click the Sleep/wake button five times. Although, by default, it comes disabled. If you would like to turn on it, then read our ultimate guide.
Please Note: Emergency SOS feature is only available on all latest Generation iPhone. Hence, please before following the below steps, make sure you have the latest iOS on your iPhone.
How to Turn ON SOS on iPhone
Enable Emergency SOS On iPhone, Apple Watch
Open the Settings app on the iPhone.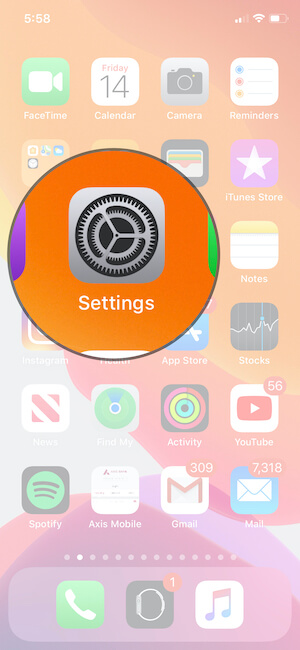 Scroll to Emergency SOS.
Next, Enable the Toggle "Call With Side Button".
That's it.
Call Emergency SOS when you rapidly press the side button 5 times. Pressing and holding the side button along with the volume buttons with continue to work when this is on.
Emergency SOS Meaning: Call to Emergency contacts using the side button only.
Turn off Emergency SOS On iPhone

iPhone Emergency SOS Sound: Disable the Toggle "Count Down Sound". Turn off Play a Warning sound while Emergency SOS is running down to call emergency services.
iPhone Emergency SOS Contact: Tap on Edit Emergency Contacts in Health, and Manage from your iPhone.
what happens if you accidentally call emergency SOS on iPhone
Also – For SOS call, Sleep/Wake Click time is customized. Hence, you can keep button press time either Five times or Three times as you wish.
From now, whenever you rapidly click Sleep/wake (power) button on the side of your iPhone five times then the Emergency call will dial automatically; and you will get countdown screen and have an option also to cancel call just tap on ''Stop (X)'',so popup up arrives and asks to Stop call or cancel if triggered press accidentally. By the way, this is a new trick to get urgent service.
There are several countries in the world such as the United States, Canada, and some of the South American countries. These all use a three-digit 9-1-1 number as an emergency telephone number for SOS services such as Police, Ambulance, and Fire. While remain countries in the world have other numeric numbers like Europe – 112, UK – 112/999, etc. but don't worry, while you press the power button five times then it allows your emergency call in your area.
How to Turn Off SOS on Apple Watch
We can manage Emergency SOS on Apple Watch from Watch App on Paired iPhone. Follow the below steps for Enable Emergency SoS on apple watch.
Open Watch App on iPhone.
Tap on My Watch Tab, and Enable Hold Side button.
That's it.
How to Does SOS Work on iPhone
When you activate your iPhone's SOS, it will sound an alarm and give you a three-second countdown. Hence, you have a chance to cancel the call if it was accidentally happened/ triggered. After the three seconds, countdown your phone will make the SOS call automatically.
For those users, who don't want to play a warning sound while Emergency SOS is counting down to call emergency services. Then below described steps help to Turn Countdown off for SOS call on iPhone
Go to Settings App → Tap General → Tap on Emergency SOS → Turn Slider Countdown Sound OFF/Gray.
How to Turn Off Emergency SOS on iPhone in iOS – iPhone 7/ 7 Plus & earlier models
Settings → Tap on General → Tap Emergency SOS → Turn Slider Click Sleep/ Wake to Auto Call On/OFF Switch OFF/Gray.
You're done.
Hope, you have got here everything about how's work Emergency SOS call on iPhone and turn On and turn off Emergency SOS on iPhone.
Having any query like about Use Emergency SOS on iPhone, SOS alarm not working or power button click five times but iPhone does not make SOS call? Then drop your issue in the below comment box. We will try to help you as soon as possible. Share on Facebook, Twitter and be helpful for others.