🗓️ November 10, 2020 By ✍️ Jaysukh patelApple tv voice over won't turn off? Get Complete information to shut off/ turn off VoiceOver on Apple TV 4. The VoiceOver is an accessibility feature as built-in techno including like in iOS, WatchOS, OS X and now it has a place in tvOS. Apple always thinks and makes the most useful features for all users and for those folks who are blind or have low vision, hearing problems, etc. so VoiceOver works as big tv screen reader built-in technology in Apple TV 4th Gen/ Apple TV 4K packed in tvOS 11. The feature helps you take full advantage of all the entertainment your TV has to offer.
In some cases, if voiceover gesture accidentally starts or began to help for low vision people or blind people, but now unasked you are looking for to turn off VoiceOver on Apple TV 4. Even though, you have no Apple TV 4 documentary or no correct information to shut off that. You will get here enough steps that you are exploring.
Easy steps to make disable/ turn off VoiceOver on Apple TV 4K/ ATV 4
If you want to shut off VoiceOver due to, high volume screen reader, then you can adjust that through the Speech rate setting of VoiceOver. There are different ways to turn off VoiceOver on the Apple TV screen. By using an accessibility shortcut, you can take the help of Siri, and the last way is manual that you are going to learn below.
Step 1. Launch Settings on your TV screen
Step 2. Choose the General tab
Step 3. Select Accessibility
Step 4.  Now go for VoiceOver under the Vision label.
Step 5. Tap to turn VoiceOver off.
You're done!
You can also shut off VoiceOver using Siri, for that Siri must enable on your Apple TV 4.
Turn off VoiceOver using Siri by Apple TV Siri Remote
Let's give a command to Siri remote ''Turn VoiceOver off''. Therefore, Siri will help you to make to disable that instantly. You also wake up Siri to turn VoiceOver on ever.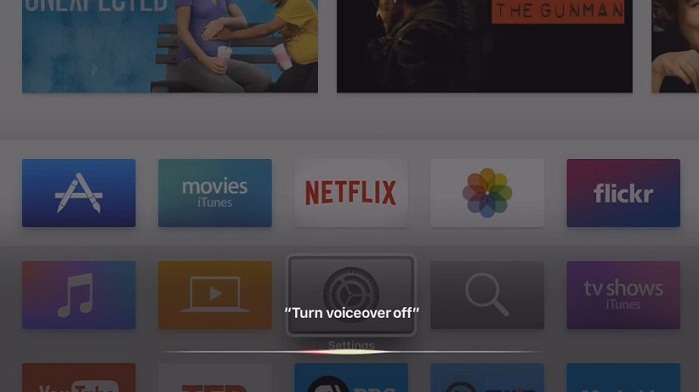 Helpful: fix Siri Remote not working Apple TV
Please share your expression on turn off VoiceOver on Apple TV 4K/ ATV 4. How's feeling after disabled VoiceOver gesture? Liked it? Share.