The Apple TV has another one outstanding feature, and it's a Closed caption and Subtitle under Accessibility settings. You can also customize caption subtitles fonts and style. I understand your sentiment that the Closed caption on ATV helpful either you watching Hulu, Netflix or YouTube app. You are playing videos and hard to hearing by default at that time you should toggle turn on closed caption on Apple TV 4. You want to activate, but you don't find a Settings right, Don't worry. Here you can get everything about closed caption and subtitle such as Turn Off Closed caption on Apple TV 4.
While you are watching a video with including captions and subtitles at that time, you can turn on/ turn off closed caption on AT4 by long press the center of Siri remote touchpad. Also, The Apple tv 4 comes with Siri remote (Case), so you can also use Siri to disable/enable Subtitle and Closed caption.
we are happy to help you, submit this Form, if your solution is not covered in this article.
Also Read: you can also Turn on/turn off subtitles of Netflix iPad, iPhone App
Everything about Turn on/ Turn off Closed Caption on Apple TV 4K/ ATV 4th Gen
Steps to Turn on Closed Caption on Apple TV tvOS 11
Step 1. Go to Settings App on your Apple TV.
Step 2. Select General.
Step 3. Navigate Accessibility.
Step 4. Make the turn on Closed Captions and SDH under Media label.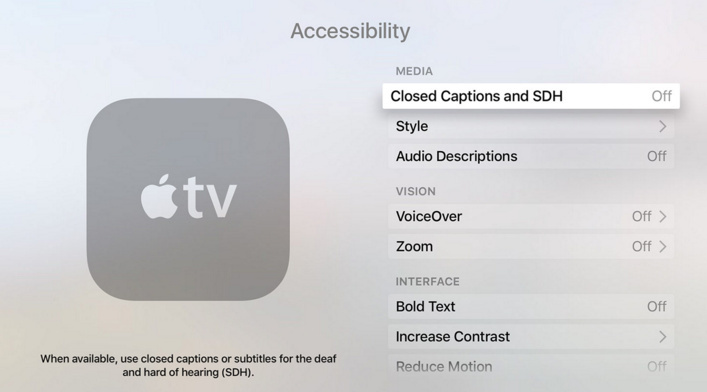 Like to know: Make Blue-ray DVD with subtitle in Mac OS X
Way to Turn Off Closed Caption on Apple TV 4K or Apple TV 4
Go to Settings >> General >> Accessibility and Turn Closed Caption and SDH ON.
If you don't like default Captions and subtitles font style and size, then you can make changes in it, as well as you can create your style. How to do it that I'm sharing at below.
Go to Settings >> General >> Accessibility >> Select Style >> Default, large Text, Classic.
You're done!
If further any assist you need about turn on closed caption on Apple TV 4K/ ATV 4th Gen, then don't hesitate and ask us as a comment. Ever closed caption won't turn on or turn off on Apple Tv. Then you should restart your Apple TV.
Premium Support is Free Now
We are happy to help you! Follow the next Step if Your Solution is not in this article, Submit this form without Sign Up, We will revert back to you via Personal Mail. In Form, Please Use the Description field to Mention our reference Webpage URL which you visited and Describe your problem in detail if possible. We covered your iPhone 11 Pro, iPhone 11 Pro Max, iPhone 11, iPhone 8(Plus), iPhone 7(Plus), iPhone 6S(Plus), iPhone 6(Plus), iPhone SE, iPhone 5S, iPhone 5, iPad All Generation, iPad Pro All Models, MacOS Catalina or Earlier MacOS for iMac, Mac Mini, MacBook Pro, WatchOS 6 & Earlier on Apple Watch 5/4/3/2/1, Apple TV. You can also mention iOS/iPadOS/MacOS. To be Continued...
Jaysukh Patel is the founder of howtoisolve. Also self Professional Developer, Techno lover mainly for iPhone, iPad, iPod Touch and iOS, Jaysukh is one of responsible person in his family.
Contact On: [email protected] [OR] [email protected]