🗓️ November 10, 2020 By ✍️ Jaysukh patelThe Apple TV has another one outstanding feature, and it's a Closed caption and Subtitle under Accessibility settings. You can also customize caption subtitles fonts and styles. I understand your sentiment that the Closed caption on ATV helpful either you watching Hulu, Netflix or YouTube app. You are playing videos and hard to hearing by default at that time you should toggle turn on closed caption on Apple TV 4/Apple TV 5. You want to activate, but you don't find a Settings right, Don't worry. Here you can get everything about closed caption and subtitle such as Turn Off Closed caption on Apple TV 4.
While you are watching a video with including captions and subtitles at that time, you can turn on/ turn off closed caption on AT4 by long press the center of Siri remote touchpad. Also, The Apple tv 4 comes with Siri remote (Case), so you can also use Siri to disable/enable Subtitle and Closed caption.
Also Read: you can also Turn on/turn off Subtitles of Netflix iPad, iPhone App
Everything about Turn on/ Turn off Closed Caption on Apple TV 4K/ ATV 4th Gen/5Th
Steps to Turn on Closed Caption on Apple TV tvOS
Step 1.  Go to the Settings App on your Apple TV.
Step 2. Select General.
Step 3. Navigate Accessibility.
Step 4. Make the turn on Closed Captions and SDH under Media label.

More, We can change Caption Style, and Size.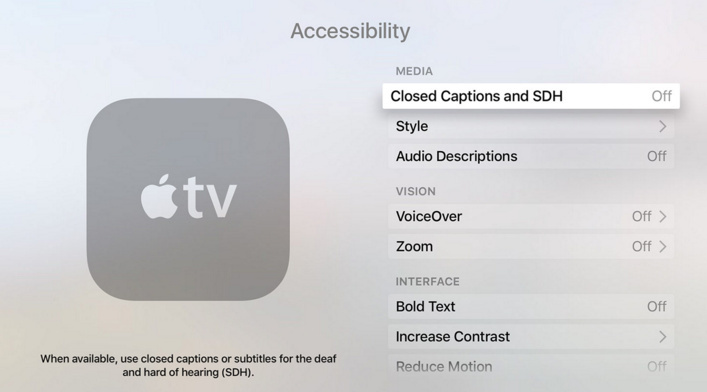 Manage Subtitle on Apple TV screen Using Apple TV Remote
Step 1: When you are watching video on your Apple TV screen, YOu can access Audio and Subtitle settings Using Remote. Swipe Down finger On Remote's Touch Surface.
Step 2: Switch Between Menu with Swipe left or Right, See Subtitles menu.
Step 3: Select your Prefer Language, Caption style and Output Speaker.
That's it.
How to Enable/Turn off Subtitles, Language on Apple TV Netflix
We can customize or Change Subtitles and Language for the Netflix app on Apple TV.
Step 1: Open Netflix app on Apple TV > Now Play TV Shows or Movie on your Apple TV.
Step 2: When Video is playing on TV, Swipe down the finger on a touch screen remote to Show Netflix Menu.
Step 3: Choose your Prefer Options [Swipe left or Right] to Enable Subtitle and Audio.
Step 4: That's it.
For Apple TV 2 and Apple TV 4: Open Netflix App > Select & Play TV or Movie > Hold Down center button for setting options like Audio & Subtitles. That's it.
Like to know: Make Blue-ray DVD with subtitle in Mac OS X
Way to Turn Off Closed Caption on Apple TV 4K or Apple TV 4
Go to Settings >> General >> Accessibility and Turn Closed Caption and SDH ON.
If you don't like default Captions and subtitles font style and size, then you can make changes in it, as well as you can create your style. How to do it that I'm sharing below.
Go to Settings >> General >> Accessibility >> Select Style >> Default, Large Text, Classic.
You're done!
If further any assist you need about-turn on Closed Caption on Apple TV 4K/ ATV 4th Gen, then don't hesitate and ask us as a comment. Ever closed caption won't turn on or turn off on Apple Tv. Then you should Restart Your Apple TV.