Last Updated on Nov 10, 2020
Don't Miss This, Becuase All-Time apple will release new WatchOS feature for the compatible device. So we should check it periodically and improve the watch performance after successfully update your Apple Watch or Latest WatchOS.  Former Apple user is confused who want to update apple watch, You must know That Apple watch will be updated without iTune, This process will be completed only from Apple Watch Paired iPhone. Now Apple is releasing a big update in next Seeds after release new primary version. Walkie-Talkie is a big example of that. here I discussed on how to download the update and install apple watch OS in step by step and which are prevention steps before going for the update.
Some users are failed to update Apple Watch because they don't know the pre-requisites conditions and troubleshooting tips that apple support recommended at the apple store. here are the free learning tips that you find at the end of the article.
Improvement features in Apple watch OS updates are,
floating icon on the home screen, Zoom in with digital crown, Accessibility Features, Third party apps support, Siri improvements, More language support, Stand Activity, Track distance you covered.
New emoji support, and Added languages are: Dutch, Thai, Brazilian, Danish, Swedish, Russian, Turkish 
You must know about how Apple watch backup works, Apple gave the auto back your watch in iPhone but you can take apple watch Backup manually before update your Apple watch OS and Restore it on New Apple watch or rewrite on Watch OS. 
Note: Your apple watch should be charged up to 50% minimum, So connect your Apple watch with power. Now your iPhone must be connected with WiFi network, Keep your Apple watch and iPhone in a range (minimum distance as possible)
Steps for Update and install apple watch OS 1.0.1: Using iPhone
Before the installation starts Your Apple Watch charger more than 50% or keep Apple Watch on Charing connector.
Also, Keep your iPhone connected to the WiFi network.
Don't disconnect Bluetooth on iPhone.
if you don't know the Apple Watch Latest Update, Follow the below steps on your iPhone Watch app.
Step 1: Go to the Watch App in iPhone and Tap on My Watch Tab at the bottom of the app.
Step 2: Next, Tap on General and Software update (Number showing how many updates are present).
Step 3: Enter verification passcode for iPhone or Apple watch, Carefully.
Step 4: Take sit Back and Wait for complete all download in your iPhone progress bar, After that,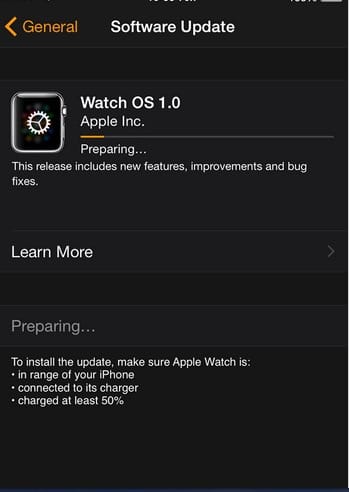 the installation will be starting automatically, and finally, your apple watch will be restart.
Don't interrupt the installation process by hard press any side button on Apple Watch. During the installation time, your Apple Watch will be reboot several times.
verify, You apple watch updated with latest Watch OS under My Watch > General > About.
Now you are done, You have successfully updated and install apple watch OS manually. having any trouble for install software updates share with us on the comment box. Because some folks worked about Slow watch OS update download, Not installing Watch OS in Apple watch.