🗓️ November 10, 2020 By ✍️ Jaysukh patelAlong with a brand-new breathe app, Apple has bringing more attention for Apple Watch. Apple WatchOS 3 is very stuff features Software and so that it indeed more beneficial for Apple Watch Series 1 and Apple Watch Series 2 users. In WatchOS 3, a new App has been included for tracking breathing and relaxation called Breathe App. Therefore, you should know everything about; how to use Breathe App on Apple Watch? You might very familiar that the Apple iPhone is a vital gadget of the Apple Watch. So let's see here about WatchOS 3 breadth App and how to get better deal with everyday's stress and keep body relax. Breathe App is a one new Health App for Apple users.
Most useful for Yoga practitioners they using for deep breathing exercise. Put your iWatch in this Apple Watch charging case and keep your smartwatch always charged and don't miss even any single notification.
All About to Use breathe app on Apple Watch: Calming Reminders For Mindful Breathing
How to start new Session for tracking deep breaths on Apple Watch
Open the Breathe App from your Apple Watch Home screen, if you're not at Home screen then Press the Digital crown and go first.
Now you will have to set your session length so to do that, turn the Digital crown.
Just Tap on Start when you're perfect ready. Please keep remember stay still while you deep breathe.
After get started Breaths session, you can see beautiful visual animation grows on Apple Watch when you inhale, when you exhale at that time animation shrinks I mean decrease in size. Addition, When the session is over you'll get a summary and also get your heart rate of the last seconds of you just did.
A caveat: During the using of breathe App, your Apple Watch mute some notifications, you can focus without any interrupt. Even though, if you answer a call or move your body too much during breathe session, then your session ends automatically and you won't get result mean credit screen.
Don't Miss: How to measure breathe on iPhone
How to Set Breathe App session App on iPhone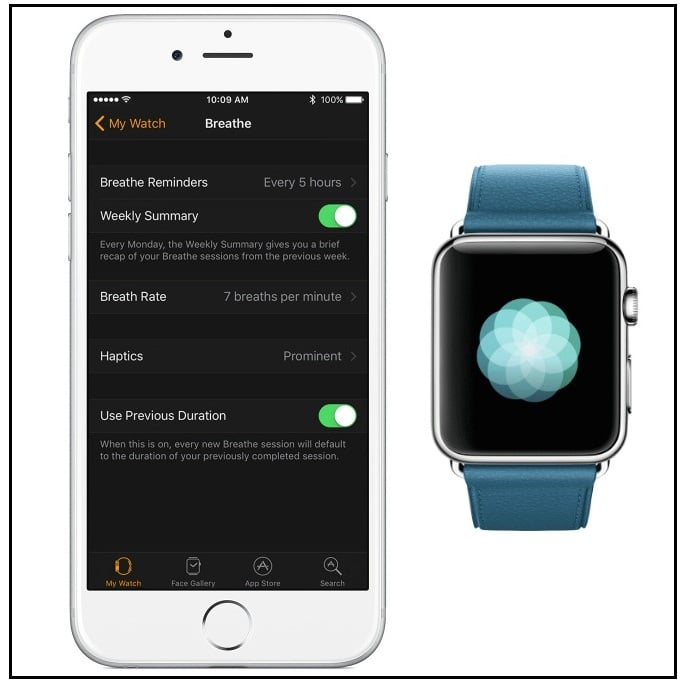 1.Launch Apple Watch App on your iPhone.
2.Tap on My Watch tab and Hit on breathe,
3.In end, do enable Use Previous duration.
In addition, you can also change each breathe length by following steps;
Open up Apple Watch App on iPhone > Tap My Watch tab > Tap Breathe and tap Breath rate> at the end, you can change the amount of the breaths per minute.
You can track your breathe session on your iPhone health App. Go on health App – tap on Mindfulness, then tap the graph to see more details.
How to Disable/ turn off breathe Reminders on the Apple Watch
This little bit Breathe app will give you little reminder tell you to stop what are you doing right now and breathe for a little bit. Sending you calming breathing reminders and whether you're working on. If you want to Adjust /turn off breathe Reminders on the Apple Watch then go with below steps.
Step 1. Open Apple Watch App on iPhone
Step 2. Tap My Watch tab then Tap on Breathe.
Step 3. Breathe Reminders and here you can chose how often you get session Reminders or Off.
That's it.
Read More: Bedtime reminder in iOS 10
Let's share your experience about using breathe app on Apple Watch Series 2 and WatchOS 3 compatible Apple Watch series 1. You can keep in touch with us by Facebook, Twitter.