Last Updated on May 1, 2023
The need for VPN is increasing day by day as it lets you access content unavailable in your region. And that's without badgering about privacy and data protection. Besides this, the paid VPN won't degrade the internet speed and are reliable in various terms. However, there are instances where VPN on Mac won't load the web pages, internet speed becomes poorer, and it keeps disconnecting. Are you stuck with the same issue? Here are the best workarounds when VPN is not working on Mac.
Why Is Not Connecting On Mac?
Reasons for VPN not connecting to Wi-Fi vary from device. For instance, below are some of the most common culprits.
Unstable internet speed
Slow VPN Protocol
Corrupted VPN App and macOS
VPN data limit
Misconfiguration in VPN profile.
1. Check Internet Connection
It sounds silly, but often VPN malfunctions when connected to the internet. Therefore, we suggest you verify that Wi-Fi on your Mac computer has an active internet connection.
Access Safari or its alternative browser, and try searching for something. If you get the search result, it means you have an active internet connection. 
If not, you will need to figure out whether the fault is with Wi-Fi or Mac. To figure out, do the same practice with an alternate Smartphone or Computer when connected to the same Wi-Fi network.
If you get the search result, read our guide on how to fix Wi-Fi not working on Mac and figure out the cause behind the problem. 
Tip: Check the issue by connecting the Mac to a personal hotspot.
2. Check Router Settings
VPN passthrough is an aspect of the router that allows the connected device to pass the VPN traffic. So Mac won't load web pages when connected to the VPN, which can cause router incompatibility with VPN Passthrough. In this case, ensure the router supports it. If yes, you must enter router settings as administrator and try hindering some settings. Conversely, you contact the ISP for assistance. 
3. Restart Wi-Fi
We often recommend this solution when there is a slow internet connection, or you are having trouble with Wi-Fi on Mac. Because software issues can occur anywhere, and it's likely your device won't be able to connect to the internet due to the firmware bug. This further leads to VPN won't connect on Mac.
4. Turn OFF and ON VPN 
As I said earlier, Software bugs can be anywhere; thus, turning the VPN Off and back On can fix the issue. For that, access the VPN App, and click on the disconnect button. Then, wait for a while and re-establish the connection back.
5. Force Quit VPN App
Another solution you must try is force quitting the VPN app. For that, first of all, disconnect the VPN. Next, click on the Apple Logo > Force Quit. Now select the VPN App from the list. Lastly, click on Force Quit Button. Hopefully, your issue will be resolved. If not so, move to the following workaround.
6. Ignore Using the Multiple VPN At A Time
There are instances where other internet-based applications on Mac can actively interfere with the VPN connection to Mac. Based on my experience, it is predominantly found when using Multiple VPNs at a time.
7. Update VPN App
In my experience, Software bugs can be at both the firmware level and app. No matter how minor the bug is, it can cause unavoidable damage. And the only and best way to fix it is to update the VPN App from the App Store on Mac. For that, head to the App Store. Select Updates from the sidebar. Next, click on Update next to the Installed VPN app. 
Tip: Click on Update All from the top right corner to update all apps at once on Mac.
8. Update macOS
To prevent all kinds of bugs and malware at a software level, you will need to keep your Mac updated to the latest version. If not, there are chances of persistent bugs that can cause unpredictable problems. So do prefer our guide on how to update Mac.
9. Try Changing Server Of VPN
VPN servers sometimes get overcrowded. On the other hand, there is a possibility the VPN server to which your device is connected isn't offering the desired result.
Thus switching the server within the VPN can be a cunning and practical move. First, access or select the VPN App from the Mac Menubar. Change your server's location. 
Tip: Try connecting to the server having a lesser server load. In addition, try connecting to Static IP and MultiHop, which can also help with a VPN connection.
10. Check VPN Data Limit
Are you using the freemium VPN or just taking a free trial? If yes, then these services are limited in terms of data limit. You might have exhausted the data limit, which further leads to confusion; VPN not working on Mac.
If you want to continue with your work with VPN, the only solution is to subscribe to the Premium VPN plan.
11. Try Changing VPN Protocols
Yes, change the VPN protocols right from the VPN app – this is because some VPN protocols aim to offer reliable speed, and others might work on privacy and protection of the users. 
And in case the fruit remains unripped even after changing the protocol, move to the following troubleshooting steps.
Tip: If you are experiencing a slow VPN connection on Mac, try changing it to IPSec, IKEv2, or SoftEthernet, as they are faster than the other protocols.
13. Disable Unwanted VPN Settings
Depending on the network to which you are connected, some VPN aspects, for instance, Kill Switch, can interfere with the connection. So ensure those settings under VPN are turned off.
14. Remove VPN Profile From Mac
When you first install the VPN on your Mac computer, it prompts you to create its profile. Right now, you need to delete the profile and re-add it.
This is because misconfiguration in the VPN profile is why VPN is not working on Mac. And doing so will bring the profile back to default settings.
macOS Ventura And Later
Navigate to Apple Logo. Click System Settings…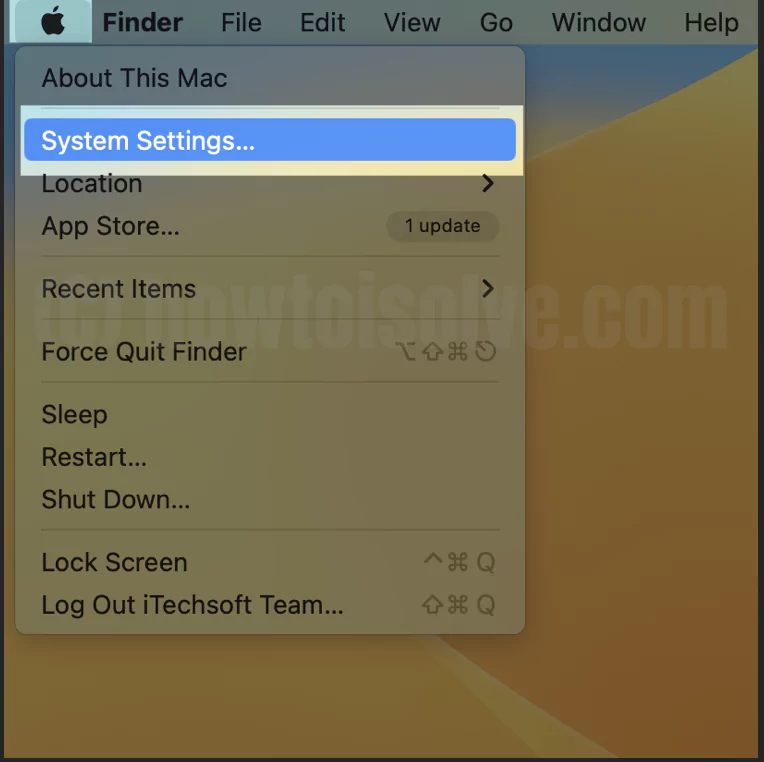 Select VPN or (Network > VPN) from the left sidebar.
Choose Info Button next to the VPN.
Lastly, click on Remove Configuration. > Again, Click on Remove on the Confirmation popup.
macOS Monterey And Earlier
Navigate to the Apple Menu.
Select Apple Logo.
Choose System Preferences…
Click Network > VPN.
Select problematic VPN Profile left sidebar.
Lastly, click on – Minus to remove.
Now restart the Mac computer and then recreate the VPN profile from scratch.
15. Change DNS Settings
If the VPN connection issue persists, try changing the DNS settings addresses. That's because doing so on your Mac will enhance your internet speed.
For this, I prefer reading our comprehensive guide on how to change DNS settings on Mac.
16. Disable IPv6
Most of the VPN services aren't compatible with the IPv6 network. Therefore, turning it ON can lead to incompatibility and cause various issues, including VPN not working on Mac. To turn it off, follow the steps below.
macOS Ventura And Later
Navigate to Apple Logo.
Click on System Settings…
Choose Wi-Fi.
Click on Details…Button next to the connected Wi-Fi.
Go to the TCP/IP Menu > IPv6 drop-down.
Set it to Off.
macOS Monterey And Earlier
Go to the Apple Logo.
Select System Preferences…
Choose a Network.
Click on Wi-Fi to which you are connected.
Select TCP/IP Menu.
Click on Configure IPv6 Drop-down and choose Off.
That's It!
17. Reset VPN
Even after trying the aforementioned, your Mac connection with VPN is still unstable; you need to Reset VPN to factory settings. To do so, open the VPN app > Settings Gear Icon. On the next screen, search and select Reset VPN.
18. Delete And Reinstall VPN
If none of the troubleshooting is working on your side. The only pill left is reinstalling the VPN App. Usually, we won't recommend such a solution, but the VPN, a fresh start, can sometimes work wonders. So first of all first, delete the VPN App and then reinstall it from their dedicated website or Apple App Store.
19. Contact VPN Support
The best thing you can do now is to submit your diagnosis to the VPN support team. For this, open the VPN app. Then, choose Settings Gear Icon > Get Help > Report A Bug. or If you downloaded VPN apps from app store, Then we can report to a developer from Mac App Store.
And then, enter the problem you are facing, and accordingly, the team will suggest a solution. 
Why VPN is missing from System Settings?
The settings of VPN are under Network on Mac. Do verify whether or not the macOS Ventura L2TP VPN, IPSec, and other VPN settings are there by following the steps below.
Move to Apple Logo.
Choose System Settings…
Select Networks from the left sidebar.
Click on Three Dots drop-down at the bottom.
Lastly, choose Add VPN Configuration.
Final Thought!
That's how you can efficiently resolve VPN not working on connecting to Wi-Fi on Mac. Did this article help you out? Let us know in the comment box below.
Also, read our article on Proxy Vs. VPN, which one is better for Mac.