Last Updated on Nov 10, 2020
in this article, I covered all solution about How To Fix iPhone SE Wi-Fi Issues. No Wi-Fi or poor Wi-Fi connectivity on your new iPhone SE, We neither ignore this problem or use carrier cellular data plan. So what can we do in this situation, Official here we have right reasons behind Wi-Fi not working on iPhone SE, Let's see and follow the ongoing instruction carefully.
we are happy to help you, submit this Form, if your solution is not covered in this article.
Mostly after iOS update/ Upgrade raise Wi-Fi problem, Wi-Fi keeps disconnecting, Wi-Fi Signal Dropped, Can't find Wi-Fi, Wi-Fi Stopped working for the same reasons below step help correctly.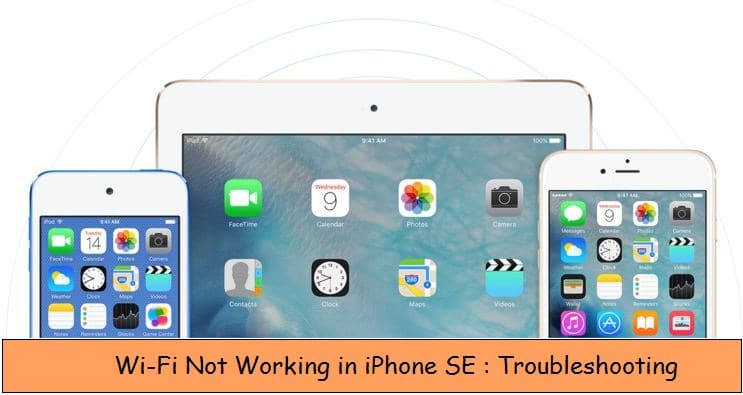 Fix Apple iPhone SE Wi-Fi Connectivity Issues
1 Check your Router or Signal strength if you iPhone SE won't connect to wifi
First check router which you are accessing, Might be your router far away or not in within range. If the reason is a weak signal, just try Wi-Fi signal Extender or other Long-range Wi-Fi router.
2 Wi-Fi is Turn on iPhone Setting
Your iPhone connected to the right network, Check through setting. Go to the Setting > Wi-Fi. See the below screen, Blue mark in front of the name is the indication about you are going right.
3 Enter Wi-Fi password
Recently, you have made a new setup in the Wi-Fi router, Enter the default password from the router backside label. In case, you updated the default Wi-Fi password, reset it from many ways that depend on the Router company.
4 Restart your iPhone SE and internet Router
Data packet loss from the router will reset after reboot router manually or Turn off, or Also restart iPhone SE (Press and Hold Sleep/ Wake button until you see apple icon on-screen otherwise force restart by Press Sleep/ Wake button + Home button at once until you see the black screen).
5 Why does my iPhone SE keep dropping WiFi? Try Reset Network Settings
if you facing an issue of your Apple iPhone SE keep dropping WiFi? Let's perform Reset network setting is the trusted reliable, mature solution for Wi-Fi not working on iPhone SE running on the latest iOS version.
Go to the Settings App
Tap General
Tap Reset
Click on Reset Network Settings.
Final Suggestions,
If you are using a public network, please, contact a regional employee for assistance
Check on another device; Make sure about only not working in your iPhone SE
Still not working Contact Apple or go to the nearest apple store
Also, you can fix by update Wi-Fi router
Watch a video that suggests practical solutions: My iPhone SE Won't Connect To Wi-Fi
To Resolve Other Problems like
Above are the genuine reasons for iPhone SE Wi-Fi not working, Understand your situations and Best of luck!