Now Emoji officially available for iMessage app, Pages, Numbers and All other Emoji supported app (Social and Chat messenger). Separate emoji pane can open manually from top menu option. Also last update on macOS Sierra apple added new big emoji in message app. Old Mac OS X EI Capitan and Yosemite also allow using it but you need to go with third-party emoji application on Mac. New features in this are Customize Emoji window and symbols in pane.
Just like iOS device you can clear most frequently used emojis or Add/ Remove your Favourite Emojis for quick use. No searching and scrolling emoji window.
Steps on Customize Emoji window on macOS Sierra: Refresh Emoji
Here I open Emoji window for pages and Messages app and customize emotions window as well.
1: From top menu option Go to Edit > Emoji & Symbols.
Note: Shortcut for use emoji in macOS Sierra, EI Capitan or Yosemite with text is Control + Command + Spacebar.
2: See emoji Windows you will show on screen,
3: Next click on Square icon at top right corner. Your emoji pane will extend more with new customization options. To see all options click on gear icon at top left corner.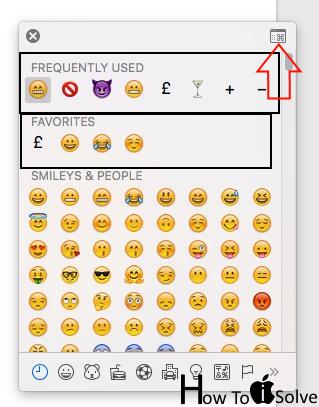 4: option for clear most frequently used emoji remove option is there. Choose it for clear all history.
That's it, You removed all recently used emojis.
Add/ Remove Favourite emojis from list or Customize list
From the first pane, select Favorites.
Select Emoji that you want to remove, from the third pane click "Remove from Favorites" button.
Add new one emoji, Under Emoji > Choose Emoji that you want add > Third pane click on Add in Favorites button.
Use customization features in Mac emoji and Share good-looking message, Text in Mail, Notes and Documents. Done miss to share and help to others in Customize Emoji window on macOS Sierra running on iMac, MacBook or Mac Mini.