Last Updated on Mar 3, 2020
New Media Format (HEIC, HEIF, and HEVC) photo will save 50% off storage without losing image quality. Even though some of the iPhone 8/8 Plus, iPhone X Photos won't open on other devices and OS. So this setting is selected by default so you can keep enabled this format that you won't share with others or won't see on other devices like Windows PC, Lower Version macOS, Android mobile (Checkout in below). Follow these tips and make iPhone photo HEIC, HEIF, HEVC in a viewable format on Windows, Mac, Android mobile.
we are happy to help you, submit this Form, if your solution is not covered in this article.
Here' you will learn how to turn off or Disable HEIC, HEIF, HEVC formate in your iOS 11 or later iOS version. Once you disable it, your iPhone saves HD photos in JPG format just like before.
Note: you will lose Portrait mode effect after converting HEIC, HEIF or HEVC format into JPG or PNG. Keep portrait mode effects on other devices use social sharing options like share on WhatsApp, Facebook or Other.
View and Open HEIC, HEIF, HEVC format photos and videos on PC or Mac, Android
HEIC photos Supported Device and OS
Supported: iOS 11 & later, macOS High Sierra (10.13) and later
Can not View or Not Open on All Windows Version, Android, macOS High Sierra or earlier, iOS 10 or lower.
HEVC (.mov Video) Compatible Devices and OS
Supported: Windows 10, iOS 11, Android 5.0 or higher, macOS High Sierra
Can not play on Android 4.4.4 or lower, macOS High Sierra or lower, iOS 10 or lower, Windows 8.1 or lower.
Change the Settings for HEIC, HEIF, HEVC Media Format to JPG
Go to the Settings app on the iPhone.
Next, Scroll down the screen and Tap on the Camera.
Now, Open Formats
Here, you need to select Most Compatible. This option will save all camera photos and video files into (.JPG) Photo and (.MOV) Video file.
Convert Existing Photo and Video format into JPG or PNG
Use third-party online tools or software on Mac or PC.
SynciOS is an amazing tool to Export Original (HEIC, HEIF, HEVC) formate and Converted into JPG format as well.
Download SynciOS (Our Ratings: 5 out of 5), Open SynciOS on PC or Mac.
Here, you will see the import option. Just click on it.
Select Photo that you want a copy of PC or Mac from the iPhone. You can select in bulk (Today, last 7 Days or Select Manually photo).
Now, click on Export. Your photo will download in the original format and new (JPG) formate as well. (Confirm popup and Start to download)
Make Photos and Video into a compatible format
Let's automatically transfer photos and videos to compatible formate for Windows PC or Laptop and MacOS on Mac. So go with Automatic.
Go to the Settings app on iPhone
Tap Photos
Choose Automatic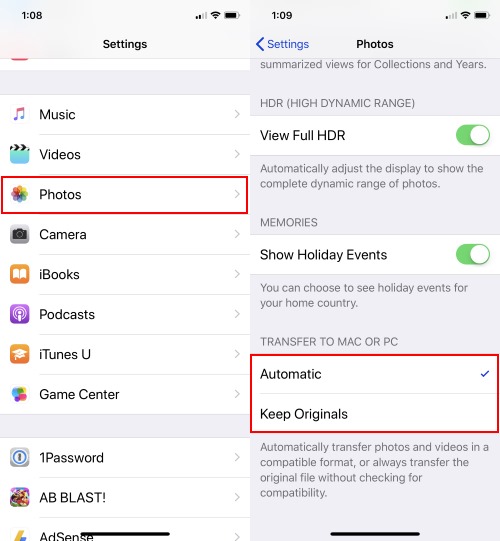 Open Photos app on Windows 10.
Connect your iPhone to PC or Mac, open the photos app on windows 10. Photos app automatically search new photo and Video for Import on a windows system.
If you are unable to import photos from iPhone to PC or Mac, then try third-party software like sync iOS that we have seen the above method.
Premium Support is Free Now
We are happy to help you! Follow the next Step if Your Solution is not in this article, Submit this form without Sign Up, We will revert back to you via Personal Mail. In Form, Please Use the Description field to Mention our reference Webpage URL which you visited and Describe your problem in detail if possible. We covered your iPhone 12, iPhone 12 Pro, iPhone 12 Mini, iPhone 12 Pro Max, iPhone 11 Pro, iPhone 11 Pro Max, iPhone 11, iPhone 8(Plus), iPhone 7(Plus), iPhone 6S(Plus), iPhone 6(Plus), iPhone SE, SE 2(2020), iPhone 5S, iPhone 5, iPad All Generation, iPad Pro All Models, MacOS Catalina or Earlier MacOS for iMac, Mac Mini, MacBook Pro, WatchOS 6 & Earlier on Apple Watch 6/5/4/3/2/1, Apple TV. You can also mention iOS/iPadOS/MacOS. To be Continued...
Select Photos and Videos that you want to import on PC or Laptop.
Otherwise, keep original formate not auto convert into a compatible format. That saves space.
Go to the Settings App on iPhone
Click on Photos
Choose Keep Originals
Hope you guys; you will learn how to behave with new media format (HEIC, HEIF, HEVC) on iPhone. Like us and share iPhone X Photo Won't Open on other iPhone, iPad, Mac, and Windows version.