Last Updated on Oct 17, 2022
The iOS devices are pretty much better gadgets in the technology world than any other Smartphone and tablet. Especially I would like its iOS ecosystem, Operating System that delivers the ultimate User experience, a wonderful feeling to switch from App to App, and much more. You can restart iPhone without the power button and Without Home button (Home button iPhone). Here I'm going to explain to you with pictures.
This is a boon way for those users who have a broken power on button, and have need to restart iPhone when the screen is unresponsive, comes glitch after the update.
facing trouble turning off/ reboot your iPad without a power-off button? I guide you inside you on how to Reboot the iPhone without the Power button.
2 Ways to Turn off Restart iPhone Without Power Button Using Assistive Touch or Settings
I hope, you are probably aware of the Assistive touch on iPhone, iPad, and iPod touch. So far, the touch Screen home button lets you access iDevice buttons featured role on the screen without touching physical switches like volume up/down, screenshot, power off button, Home button and most useful for temporary purposes whenever device button was broken. We were unable to reboot using the spot. But from now on iOS, Assistive touch functionally has been expanded and we are able to do Restart/ Reboot iPhone without Power button.
For that, you must have turned Assistive touch, on your Latest iOS/iPad running iPhone and iPad. The following steps explain to you how to enable it that I'm sharing with you below. After that, learn about
Turn AssistiveTouch On in iOS
→ Head to the Settings App from your iPhone home screen.
→ Navigate Accessibility.
→ Next Touch.
→ Scroll down the Screen to AssistiveTouch under the Interaction section.
→ Turn toggle of AssistiveTouch ON. Now on your iPhone screen, you will see the Virtual button.
iOS 12 & Earlier: Settings > General > Accessibility > AssistiveTouch > Enable the AssistiveTouch.
Now, you can appear a spot on the screen, whenever you tap on it. It will spread and show you different icons with individual labels. Okay, thanks, now beneath given instructions will guide you to Restart iPhone without the Power button.
Step #1. Hit on the AssistiveTouch button from your iPhone home and/or lock screen.
Step #2. Tap on Device to continue.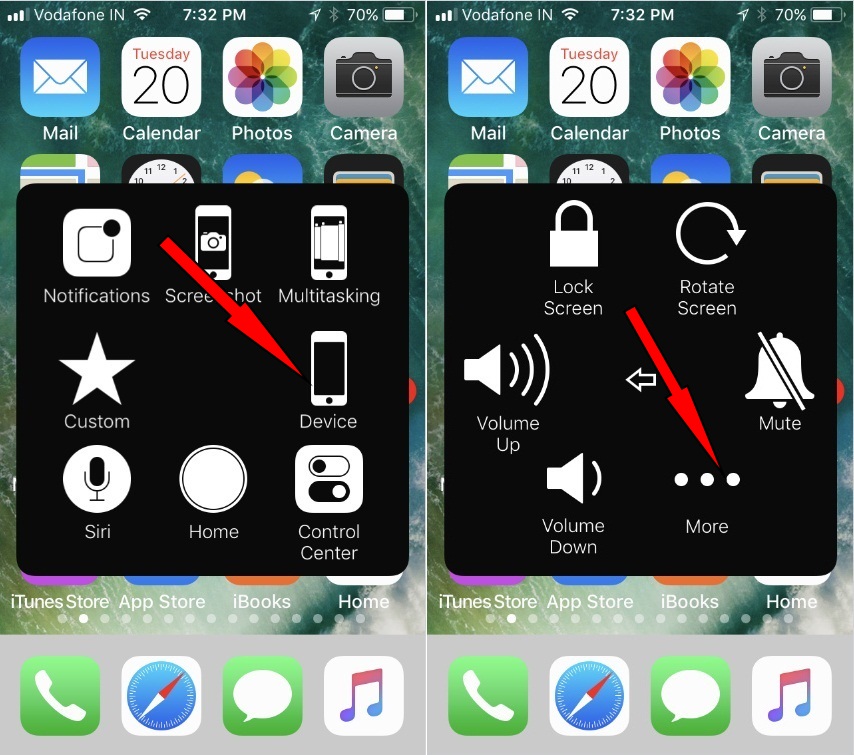 Step #3. Next, you have to tap on (…) More to reach on the Restart icon.
Step #4. Now you can see Restart, tap on it.
Step #5. You'll be asked ''Are you Sure you want to Restart your iPhone?'' Just touch on Restart.
Note: if ever you have seems that the above-given path is much longer, then you can bring the Restart icon on the first pane using Customize Assistive Touch iOS feature.
That's it.
After successfully reboot or restart the iPhone without the Power button, it will look like a black screen for a while and it turns into a white screen with the Apple logo. Don't worry. Your iPhone will automatically start with a brand new screen number pad be asked you Enter the passcode Touch ID requires your passcode when iPhone restarts.
Method 2: Shut Down iPhone From Settings
iOS 11 or later iOS version installed iDevice we can Shut Down from iPhone. Go to the Settings > General > Shut Down.
Note: This trick you can applied on iPhone 13 (Pro max) mini, iPhone 12 Series, XR, iPhone 11 Pro, 11 Pro Max, Xs Max, iPhone X, iPhone 8/8 Plus, iPhone 7/7 Plus/ iPhone 6S/ iPhone 6S Plus/ iPhone 5S/SE. And yeah, Feel free. New feature Can't delete anything.
So what you thinking more, Let's enter your security passcode and enjoy your flawless iOS/iPadOS on iPhone better than ever before.