Apple report says Apple Touch ID is the leading technology in the world that is used on smartphones. And now it's more secure and trustworthy for use on payment or lock or unlocks Files, Notes; Touch ID supported apps. So we Don't leave it unused. On Setup Touch ID, some iOS users are facing issues with Unable to complete touch id setup, Failed on new iDevice, or After screen replacement/ Home Button replace.
iOS 15 software has not a significant change in setup or add new Touch ID fingerprints. But here are the tips that are helpful for all Touch ID problems.
Fix Problems: Unable to complete Touch ID Setup, iPhone & iPad [Basic Core tips]
For the error message "Unable to complete Touch ID setup try again." while we set up or add new Touch ID to iPhone or iPad.
10 Fixes Unable to activate Touch ID on this iPhone Error after iOS Update, after Screen replacement, battery and or home button replacement
Most Common Problems and Suggestions on Touch ID issues:
Beneath the solutions will help in Software issues that are unable to set up your Face ID.
On hardware issues: But most of the People are frustrating, They affected by the Touch ID sensor not working so Touch is setup is not completed. There are possibilities of Damage Touch ID sensor that scan your finger while setup, Without any Damage Liquid or hard press, No Drop, and more. Still Having issues with touch ID Damaged. In this case, I recommend Diagnose to apple support [Appointment at Apple Ginious bar] and then if you are eligible to spend some money on replacement of Touch ID then do, Otherwise Try with Third-Party Apple Device services or Buy From Amazon [iPhone 5S/SE Touch ID, iPhone 6/6 Plus iPhone 7/7 Plus, iPhone 8/8 Plus, ] and Replace it yourself from Basic Learning Repair video on Youtube.
1. Reboot or Restart the iPhone, iPad, Or iPod touch
To restart the iPhone: Before iPhone 6/ 6 Plus,
Press Sleep/ Wake until you see "Slide to Power off."
Force Restart: iPhone 7/ 7 Plus,
Press Sleep/ Wake + Volume down button for 10 seconds.
To Force Restart iPhone 8/ iPhone 8 Plus/ iPhone SE 2:
1: Press and Quickly Release Volume Up button, then
2: Press and Quickly Release Volume Down Button, then
3: Press and Hold the Side Button until you see the Apple logo on Screen.
To Start the iPhone, Again press the Side button until the startup apple logo is on the screen.
2. Reset All Settings
Note: Before start resetting, Please keep a full iOS backup on iCloud or iTunes.
Steps to Reset All Settings in iOS 15 and later Version
Go to the "Settings" app > Tap "General" > Find and open tap "Transfer or Reset iPhone" > Tap "Reset" > Lastly tap on "Reset All Settings"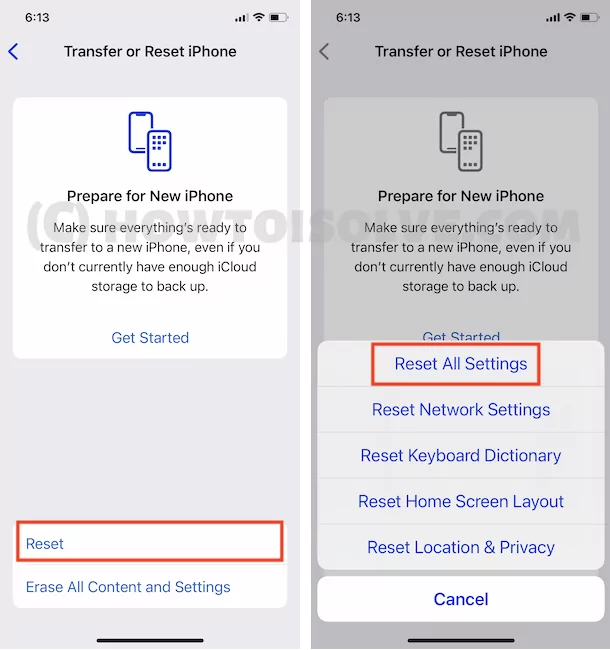 > For security reasons, you will be asked to enter the iPhone Passcode. >Tap Confirm Reset All Settings. > After that iPhone will reboot.
Steps to Reset All Settings in iOS 14 and Earlier Version
#1. Go to the Settings app on iPhone, iPad
#2. Next, Tap on General
#3. In General, Scroll down the screen and Find the option for Reset at last.
#4. Select Erase all Settings. Enter the passcode and Finally confirm, Go for erasing all settings. (Saved Touch ID will reset automatically)
#5. Repeats steps for add new fingerprints, Go to the Settings > Touch ID & Passcode > Add a fingerprint.
3. Backup and Restore iPhone, iPad
Remove junk and corrupted iOS installation from the device. Yes, we need a clean installation. Back up iOS device first and go for a Clean install (Download the latest ipsw file). After that restore all data back to the new setup.
4. Install latest version iOS and Update
Check if any updates are available for the new iOS version from Settings. Go to the Settings > General > Software Update > Checking for Update.
5. Check Home button is Dry and Clean [General Tips]
Touch ID scanner scans your fingerprints and saves them in the device locally. For that it must be necessary, clear off all moisture and chemical. If possible use fabric cotton cloth.
At the scanning, time rest your finger by covering a metal ring. Or move your finger all around inside the circle.
Also, check the Screen protector or cover that overlaid the Home button or not. Remove this area if overlaid.
Try to enroll a different finger, Make sure the finger is not repeating.
Still, any problem Contact App Store or Get help from Apple Genius Bar.
Sometimes hardware problems need repairing or replacement, Check Apple warranty status. If under coverage or protection, get advanced facilities of the free alternative.
I hope you get a fixed troubleshooting guide on Unable to complete touch id setup or Won't set up correctly or recognize.
Suggest and share your related problems in the comment box below or Follow our social page.