Are you interrupting on watch live streaming from (Netflix, Hulu Plus, Amazon instant video, YouTube, Sling TV, Vudu) or video mirroring from your iOS devices (iPhone, iPad or iPod Touch)? The sound has been gone suddenly, or external soundbar/ built-in TV speaker stop between voice or music. Terrible sound or unwanted noise coming with a pure voice, but you don't have an idea about what you need to do or how to short out in step by step. Here you have a guide on Apple 4K/ Apple TV 4 sound not working, or any other Apple TV version.
Don't be panic on can't hear the sound or noisy sound coming from smart TV's speaker or external wireless Apple TV soundbar.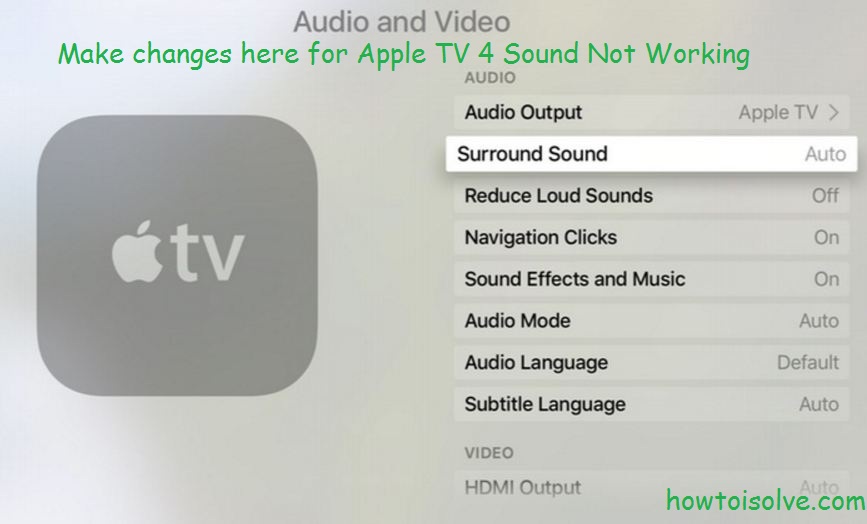 Fixed Steps for Apple TV 4K/ Apple TV 4 sound not working or stopped on Soundbar: ATV 4, ATV 3, ATV 2 recommended
Fix #1.
Remove/ Unplug HDMI cable from the both end, then plug in back at on Apple TV and the second on your TV Screen.
Fix 2.
Completely shutdown/ Turn off your Apple TV and TV or External Speaker if you are using. Also, set plug Switched on a back receiver and Apple TV.
Fix 3.
Make the straight connection between speaker/ TV screen and Apple TV if you added Extension/ Switch/ Receiver for boost up sound quality. Remove all the devices and rejoin, and then test sound.
Fix 4.
Check settings configuration in Audio & Video option. Navigate to the Settings > Audio & Video on your Apple TV 4.
Also, check Audio out is set to Apple TV, and
Audio mode should be changed from auto to 16 bit.
Next, Sound Effect and Music should be on.
Fix 5.
Please Adjust the surround sound as of which types of connection you set like HDMI, LPCM or Stereo. Go to the Settings > Audio and Video > Surround Sound > Auto/ Digital Dolby Surround/ Stereo. Get the full idea about new Surround Sound for Apple TV 4 is here.
Fix 6,
Reset Apple TV is a formal solution at last if you have double check above steps on the Apple TV sound problem. Settings > System > Reset.
Above steps are on high priority for any case if your Apple TV 4 sound is not working or stopped from wrong configurations and settings changes.