Learn how to Backup iPhone Using alternate options on Take a large backup in few seconds without iTunes or using iTunes/ iCloud, or Using Third-Party iTunes Softwares.
Most of the people are avoiding backup before Update or Upgrade iOS & device. Not for the particular reasons but might be one of them: iTunes backup taking too much time, Backup process stuck, Won't able to use the iCloud sign-in – Not enough space in iCloud. But good habits on taking backup iPhone regularly on time interval proved very helpful for the later date.
Let's see the options available for taking backup iPhone, iPad after that use for restoring or Extract data on Mac or PC.
Backup iPhone, Different methods for use iTunes or iCloud
When you connect your iPhone to iTunes on PC or Mac, from default settings (iCloud or This Computer) you device first backup on iTunes automatically based on preset options (iCloud or This Computer), then we can do further use of iTunes for sync Songs, Photos, Apps and more. (See the below Device Summary screen)
We can bypass auto backup start every time on connect iPhone to iTunes by using iPhone sync iTunes over WiFi.
Use iTunes for iPhone Backup
1. Connect your iPhone/ iPad or iPod with iTunes via lightning cable.
2. The device will appear in iTunes, Click on it, Go to the Summary page.
3. Click on Backup Now options. Anytime we can Manually find old backups.
Wait for few minutes, it's swift and secure [No risk for use later]. Gigabytes of backup data saved in 5 to 10 minutes.
Have you set the auto backup option is iCloud? All the necessary data only save to iCloud whenever we connect iPhone to iTunes.
Use iCloud for OTA Backup
1. Go to the Settings app on iPhone, iPad or iPod.
2. Tap on the Profile (See on iOS 10.3 or later), Next Tap on iCloud.
iOS 10.2.1 and Older: Go to the Settings > iCloud > iCloud Backup > Enable, Backup Now
3. Scroll down on screen, Find iCloud Backup option.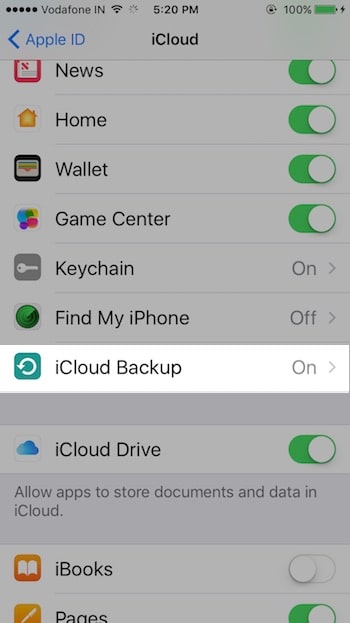 Tap on it, Enable iCloud Backup toggle and Start backup by a single tap on "Back Up Now."
Use Software for Mac or PC
Backup procedure equal from first device apple launched. So above steps are compatible with iPhone 4/4S, iPhone 5/5S, iPhone 6/6S, iPhone SE, iPhone 7/ 7 Plus, iPhone 7/ 7 Plus red, iPhone 8/8 Plus, iPhone X and iPad, iPod Touch.
In the present circumstances, we have enough options to find the best iTunes alternatives from third-party sellers. Some of our favorite we analyst in past time and shared in an article: Free and Pro iTunes alternatives.
Are you tired from Different iOS issues, Stuck or Freeze screen, App crashing, Go with Backup full iPhone, Clean install then Restore backup. Enjoy refreshed iPhone like new in just three steps.
Above backup methods are very useful on restore iPhone from old backup or recent.
Jaysukh Patel is the founder of howtoisolve. Also self Professional Developer, Techno lover mainly for iPhone, iPad, iPod Touch and iOS, Jaysukh is one of responsible person in his family.
Contact On: [email protected] [OR] [email protected]