You can get here nightstand, safe, good review best Apple Watch and iPhone charging dock stand. Complete a half year ago; Apple has launched 1st generation Apple Watch in sapphire crystal retina display. It's a chargeable iWatch. While if taking about design concept then maybe it will be staying as it is. Let now go back to the dual charging station for Apple Watch and iPhone. Here we'll reveal an elegant collection of the best Apple Watch and iPhone charging dock stands.
Know: Which Apple device is compatible with these docks?
All stands are nicely compatible with 8-pin connector iPhones. They have included iPhone 11 Pro Max, Xr, XS Max, iPhone X, iPhone 8/ 8 Plus, iPhone 7/ 7 Plus, iPhone 6S, iPhone 6S Plus, iPhone 6, iPhone 6 Plus, iPhone 5S, iPhone 5C, and iPhone 5, along with Apple Watch Series 3, Apple Watch Series 2, Apple Watch 1.
Get More: Best in Best Apple Watch Charging Stands
Best Apple Watch and iPhone charging dock stand: Good review
#1. Apple Watch- Apple iPhone charging stand holder
Buy this 2 in 1 charging stand to keep free space on your desk. This unique dock can save space on your desk so it will look clean and tidy. Its build from premium aluminum, so it holds your iWatch (38mm or 42mm) and iPhone steadily with fashionable style and durability too.
Review: high recommend because of the beautiful look, meets your expectations, charge both at a time, affordable in price.
#2. Three in1 iWatch and Apple iPhone charging stand holder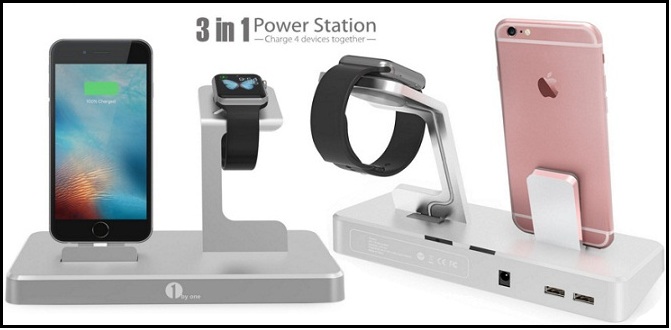 The Humanized designed multiple devices charging stand holder. Henceforth, charge four devices together; it includes an included 114-inch AC/DC cable, allowing placing the product anywhere in the room. Undoubtedly, it's an expensive product, but you will get perfect satisfaction as you pay more.
Review: beautiful design, 3 in 1 style keeps your Apple Watch, iPhone, and other devices charged in one convenient location, best for iOS and Android devices, built-in USB port to charge from the laptop, MacBook, etc.
#3. Basecamp iOS charging dock nightstand mode
It's a good Apple watch and iPhone nightstand charger. Made from Zinc alloy classic design and not need to remove case even Otterbox and defender fit mean it works with Case and without Case. It comes with its power plug, so very independent of your computer or USB wall plug.
Review: Compact in size, clutter-free, 100% money-back guarantee, unseen cable management, elegant device, charging stand holder with LED nightlight
Do you have any best Apple Watch and iPhone charging dock stands? Apart from mentioned here. Would you please share it in the comment box?