🗓️
April 14, 2023
By ✍️
Jaysukh patel
It's crucial to be aware of what's going on outside the world. Life is unexpected, and we never know what happens next. Police scanner apps are the best way to stay updated with emergency and local news; whether you are heading up somewhere, you must have a police scanner app on your iPhone to hear about weather conditions and public safety warnings to prevent unplanned troubles.
Listening to public news is safer and increases your knowledge and awareness of social life. In this blog, you will read about the best police scanner IOS apps for this year. 
Related: Best Radio Apps for iPhone
1. 5-0 Radio Police Scanner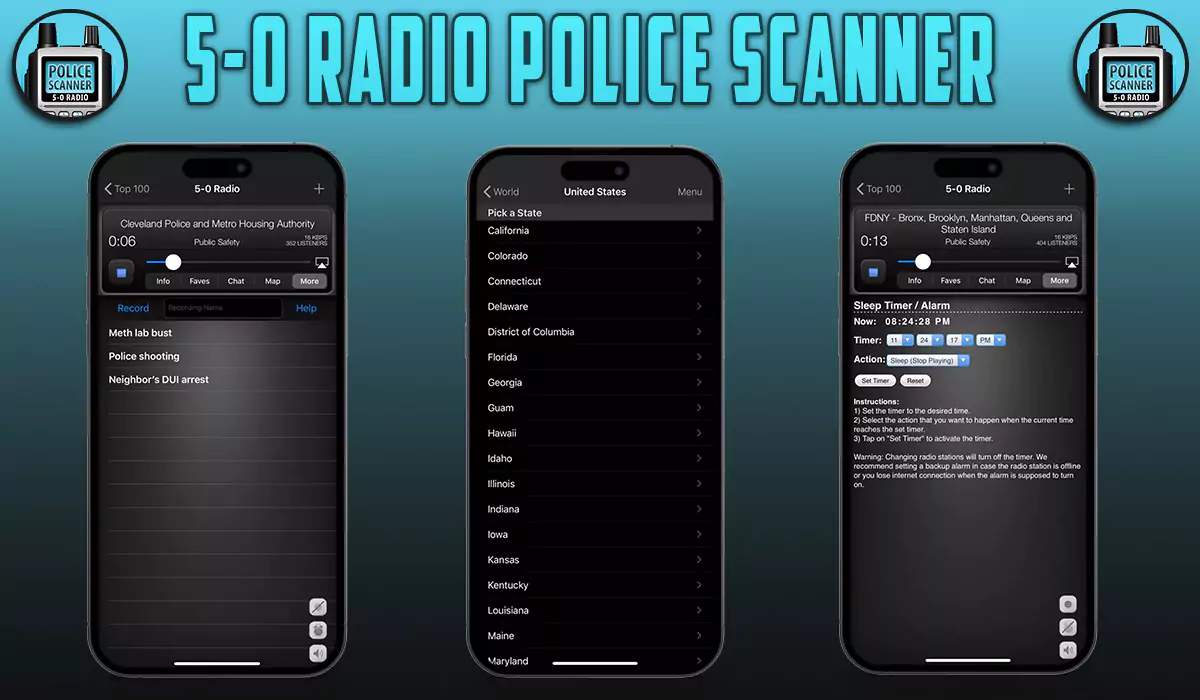 Get access to a wide range of emergency news with a 5-0 Radio police scanner. This is the best free police scanner app for iPhone, with about 10 million active users. The app has a feed with an active alerts feature that keeps you updated with breaking news and the latest ongoing activity. You can hear a wide range of live emergency news regarding natural calamities, crime news, firefighter, railroad, aircraft, and much more. The app has worldwide coverage, so it doesn't limit just to a specific state or city; you can hear news from various countries such as the US, australis, and many more. You can add your custom feeds and share them with your friends. The app has an inbuilt integrated map to provide the latest news nearby your location.
Pros of using 5-0 Radio Police Scanner:
Worldwide coverage
The app runs in the background
Integrated map to fetch current location
2. Police Scanner Radio & Fire
Police Scanner Radio & Fire is the best emergency scanner app for iPhone that has a decent interface and is easy to navigate. You can get breaking news alerts to stay tuned for live emergency news. The app also allows you to view the most popular and other scanners near you. You can manually browse thousands of scanners worldwide by location and genre. The app can also be integrated with the carplay. You can simply turn on notifications to receive real-time alerts.
Pros of using Police Scanner Radio & Fire:
View the nearest scanners located
Breaking news alerts
Browse scanners based on genre and location
3. Police Scanner +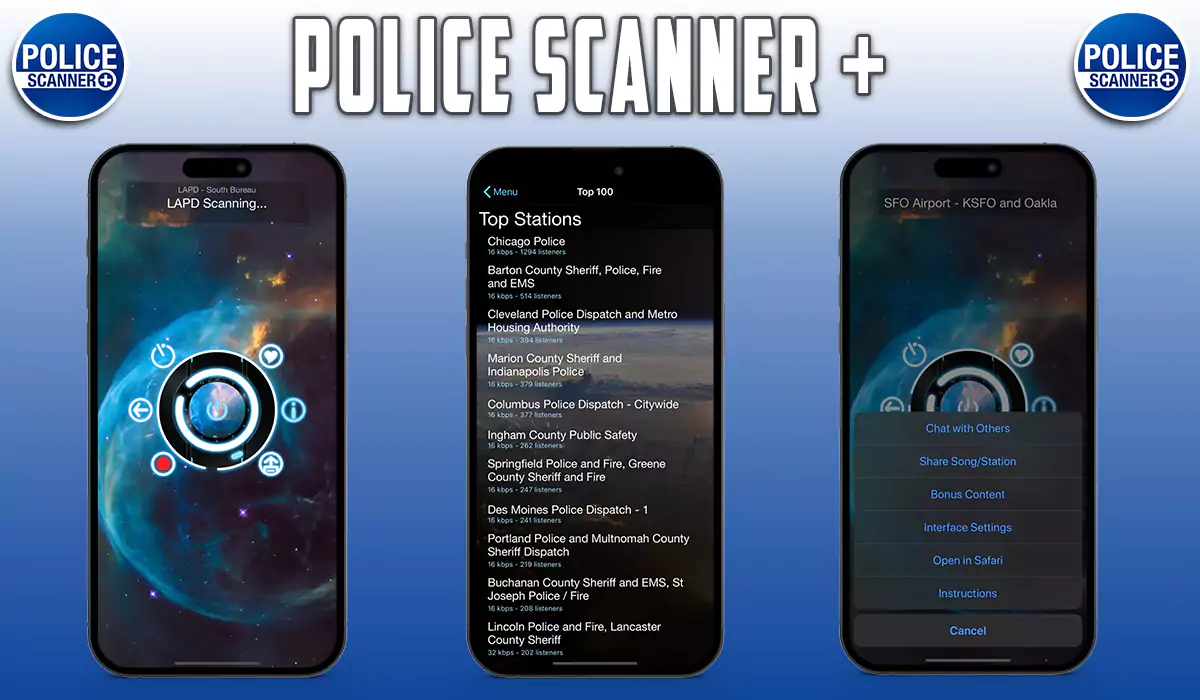 Police Scanner + is one of the best police scanner app for iPad. You must have to listen to breaking news of what's going on over the world and nearby you. You can also set the alarm to notify you regarding your favorite station updates. Moreover, you can also record your favorite station for future playback, or you can email it to yourself. The app allows you to change your desired background from your phone library. The app allows you to add custom stations and find the stations nearby using your GPS.
Pros of using Police Scanner +:
Choose desired radio frequencies
compatible with almost all iPods and iPhones
Record station for future
4. Police Scanner, Fire Radio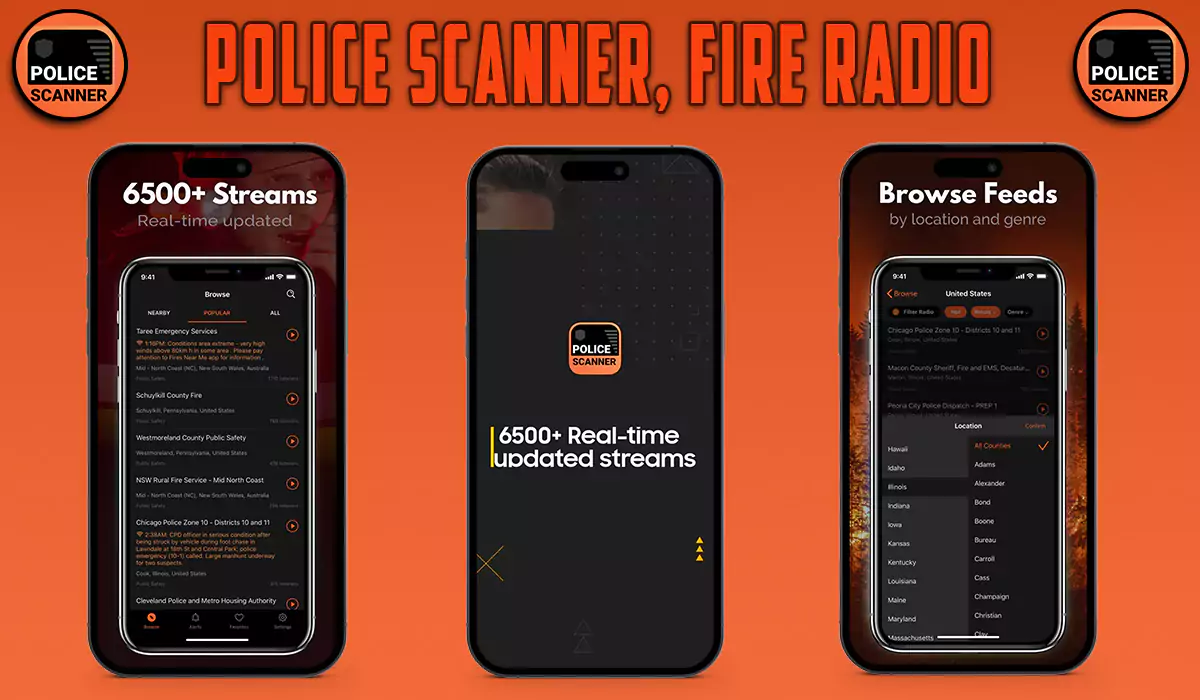 Are you curious about listening to breaking news, fire, and crime news? Police Scanner is the live scanner radio app for iPhone you must try. You can listen to the top feeds related to live police actions, public safety, local emergency news, and many more. You can also get real-time statistics through broadcasting. You can listen from a wide range of popular feeds and save it as a favorite with just a click. You can also check out the newest alert widget to listen to live feeds.
Pros of using Police Scanner, Fire Radio:
Allows to Filter scanners by location
receive alerts anytime
Search feeds via keywords
5. Scanner Radio+
Scanner Radio + is the best iPhone police scanner application that is highly convenient to use. You can access to top 100 live feeds. You can also use other applications while running the feeds in the background. You can explore maps to see nearby location feeds. The app offers a free trial; you can buy a subscription to enjoy advanced features. Moreover, you can also search and save your favorite feeds.
Pros of using Scanner Radio +:
The app can be run in the background
Get access to top live feeds
Browse feeds all over the world
6. Police Scanner App, live radio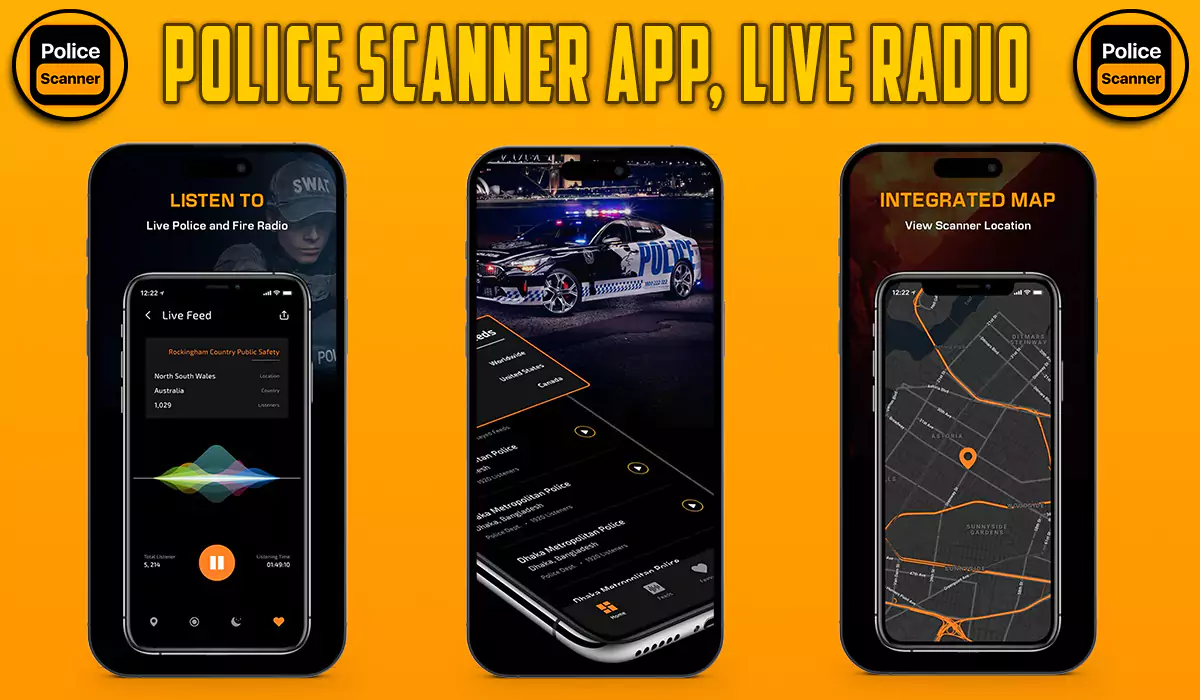 Police Scanner App, live radio is the world's largest online streaming scanner. The app helps you to stay up to date with all the latest news, such as terrorism, crime, local news, public safety, and all major events that are going around you. The app has separate local, top 100, and custom feeds sections. Don't worry if you have lost connection; the app will automatically reconnect to your ongoing station. You can check the popularity meter to check the popular feeds. You can easily enjoy free live audio streaming.
Pros of using the Police Scanner App, live radio:
Get updated on all major real-time events
Background audio streaming option
Automatic reconnections if disconnected
7. Police+Fire Scanner Radio USA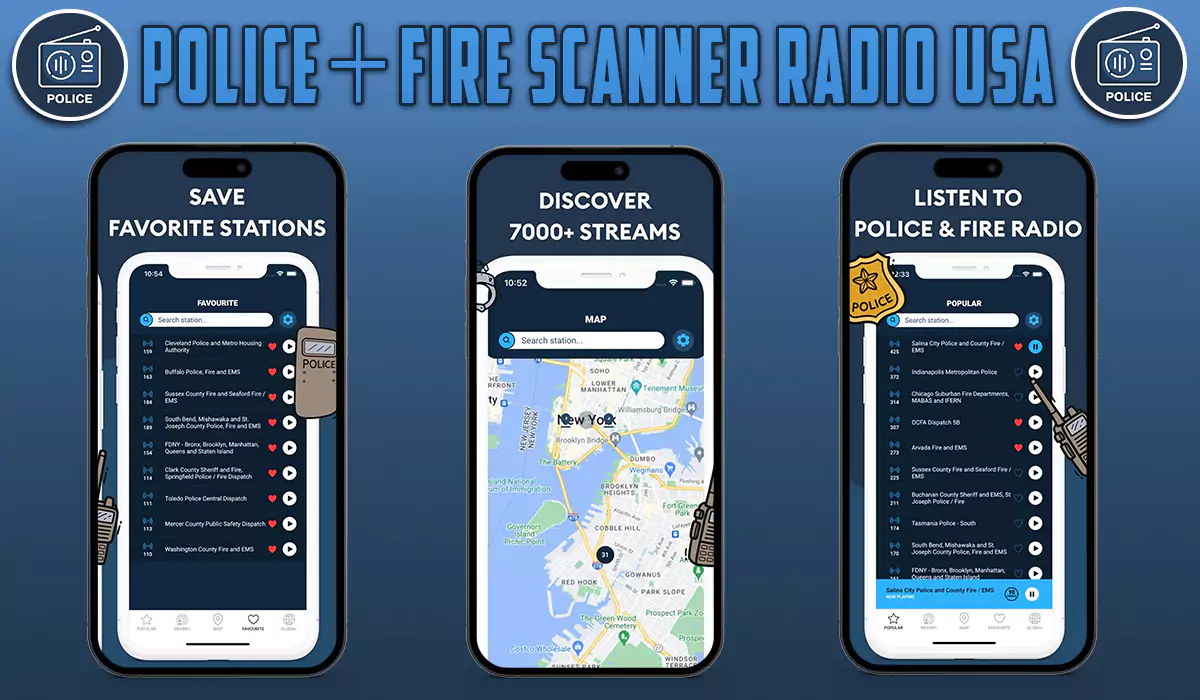 Police+Fire Scanner Radio USA allows you to discover local live police radio, fire alarm, railroad, air traffic, and other emergency updates. With this app, you can never miss any breaking news. You can also locate scanners in your area. You can also see the top 50 popular and most listened-to scanners. You can search feeds by keywords and find recently added scanners.
Pros of using Police+Fire Scanner Radio USA:
Locate scanners nearby
Search feeds using keywords
Find feeds based on popularity
8. Action Scanner Radio PRO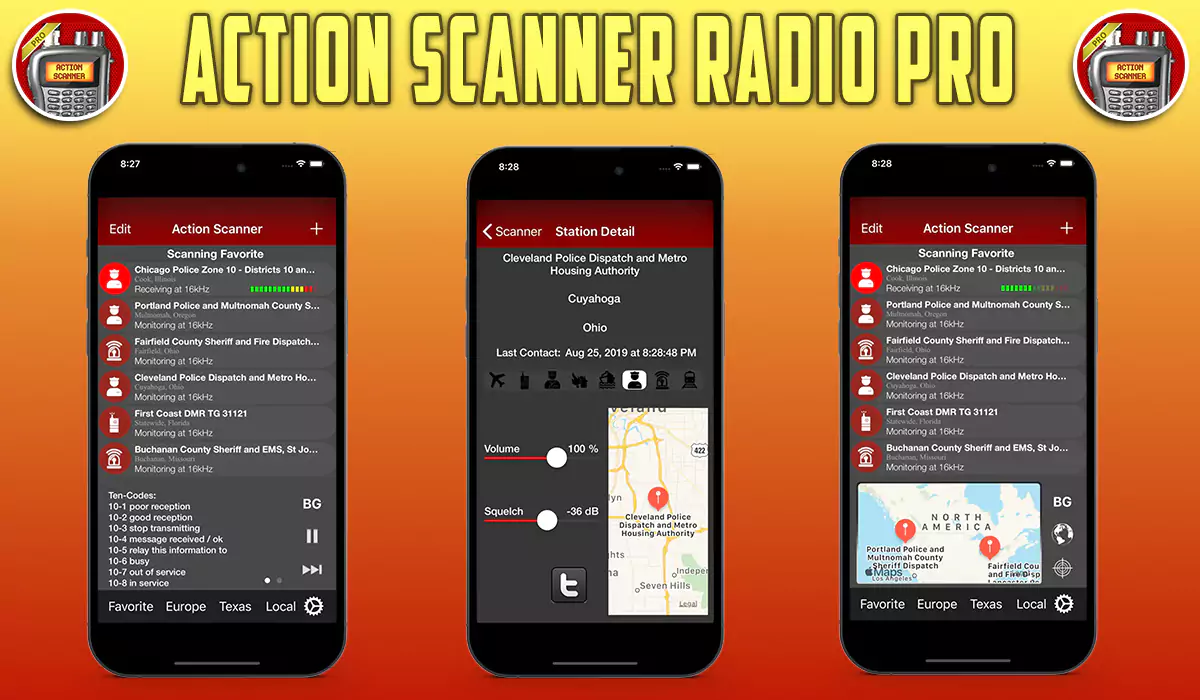 Action Scanner Radio PRO is the one-stop destination to stay updated with the police, fire, rescue, and all emergency information. You can stay tuned with 6,600 feeds worldwide. With this app, you can scan multiple stations at once. The scanner can easily run in the background while performing other operations. The app allows one to find the top popular scanner by state, country, and globally. You can even organize your feeds and make your favorite collection switch easily. You will love using the app because it has a sleek user interface and high-quality retina display.
Pros of using Action Scanner Radio PRO:
Scan up to six stations at the same time
Organize feeds
sleep timer
Winding Up,
I hope you liked the above blog and found it useful to pick the right emergency scanner app for your iPhone. Police Scanner can be the best way to stay tuned with ongoing emergency news and connect globally with the outer world. There are plenty of police scanner apps for iPhones that are free of charge and offers the best feed globally. You must go for a 5-0 Radio Police Scanner if you are looking for an all-in-one app to listen to feeds from all over the world.

Do share this article with your friends if you found it useful. Also, comment down your favorite Police radio scanner app that you like using most.