Here you get, built in Screen protector best 42mm Apple Watch cases in affordable price. Spigan Apple iWatch Cases is a popular one than other. Because here is our experience also including, Spigen bumper cases is more durable, sleek and better than other third party 42mm Apple Watch cases 2015. Apart from 42mm Apple Watch cases you can also get amazing and unique 42mm Apple watch leather band.
Selected 42mm Apple Watch cases that could be give you full satisfaction for all time. In other word it will stay as most Secure bodyguard around your worth Apple iWatch 2015. In addition, these cases are durable in quality since, it'll save your Apple watch glass even dropped from your hand or desk.
we are happy to help you, submit this Form, if your solution is not covered in this article.
Never miss this essential Accessory for your Apple iWatch. Ultimate, we suggest spend some dollars and make your Apple Watch Waterproof.
Best 42mm Apple Watch Cases: Announced So far
All time high in demands and best review products list we are revel here, those 42mm Apple iWatch cases 2015, have got maximum customer ratings and extra good satisfaction.
Best Protective Case for 42mm Apple Watch: Spigen [Rugged Armor]
The black Spigen case for 42mm Apple Watch is more protective. Get 2 screen protectors with this Apple watch Spigen Case. So buy now this made by flexible TPU durable case and keep your Apple watch away from shock and drop time damage issue. This case is excellent bumper case for Apple Watch 2015.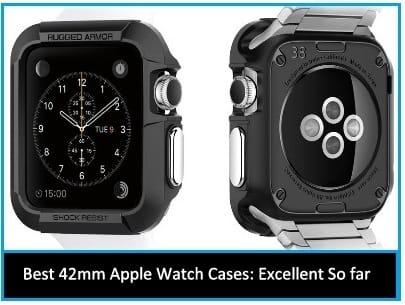 Metalize buttons delivers solid feedback while staying in step. Single TPU case is flexible for scratch and scuff protection. really, this is a Best 42mm Apple Watch Cases.
Buy Now: Price- $14.99 – with free shipping in the USA on orders over $35.
Unique 42mm Apple Watch Cristal Case
This is also good case for 42mm Apple Watch, its fit well so no problem of looseness. Lightweight and made by durable polycarbonate case it gives secure protection against shock and scratch.
Full body apple watch cover and case cover for Apple watch 2015 with 42mm iWatch Screen protectors.
Buy Now: Price- $14.99 – with free shipping in the USA on orders over $35.
Which one case is you would like most to buy for your Apple iWatch? Ultimate these best 42mm Apple Watch Cases are compatible for all apple watch models Apple Watch Sport, Apple Watch Edition and Apple iWatch.
Jaysukh Patel is the founder of howtoisolve. Also self Professional Developer, Techno lover mainly for iPhone, iPad, iPod Touch and iOS, Jaysukh is one of responsible person in his family.
Contact On: [email protected] [OR] [email protected]
Premium Support is Free Now
We are happy to help you! Follow the next Step if Your Solution is not in this article, Submit this form without Sign Up, We will revert back to you via Personal Mail. In Form, Please Use the Description field to Mention our reference Webpage URL which you visited and Describe your problem in detail if possible. We covered your iPhone 11 Pro, iPhone 11 Pro Max, iPhone 11, iPhone 8(Plus), iPhone 7(Plus), iPhone 6S(Plus), iPhone 6(Plus), iPhone SE, iPhone 5S, iPhone 5, iPad All Generation, iPad Pro All Models, MacOS Catalina or Earlier MacOS for iMac, Mac Mini, MacBook Pro, WatchOS 6 & Earlier on Apple Watch 5/4/3/2/1, Apple TV. You can also mention iOS/iPadOS/MacOS.