Last Updated on Sep 14, 2023
Siri is a virtual voice assistant that helps you to perform various tasks, including creating a to-do list, adding items to your shopping list, finding neighbouring restaurants, sending an email, streaming music, making a call, etc. You can enjoy the outstanding Siri functionalities with wireless convenience on your headphones. This is possible by using a pair of Siri-compatible Bluetooth headphones. These devices simplify music listening without using your Apple Watch, iPad, iPhone, or Mac. Moreover, they serve as the best alternatives to your Apple AirPods.
You must obtain an in-depth understanding of various Siri-compatible Bluetooth headphones available. The following product selection simplifies purchasing and lets you pick the best Siri-compatible Bluetooth headphones.
1. Apple AirPods Pro (2nd Generation)
Obtain up to twice more active noise cancellation than the previous AirPods Pro with these Bluetooth headphones. They significantly decrease the external noise and keep you focused on your work. They are equipped with four pairs of silicon tips, i.e. XS, S, M, and L. Hence, they perfectly fit a broad range of ears and ensure supreme comfort throughout the day.
Moreover, you also benefit from up to 6 hours of listening time, eliminating frequent charging hassles. Make an Amazon order for these headphones and enjoy their outstanding audio output without noise.
2. Beat Studio 3
If you are looking for efficient wireless noise-cancelling headphones, consider Beat Studio 3. They are seamlessly compatible with Android and iOS devices. Pure adaptive noise cancelling technology is implemented to block external noise actively. Moreover, real-time audio calibration always guarantees a high-quality listening experience.
One of its greatest features is its battery life of up to 22 hours. Apple's W1 chip and cutting-edge Bluetooth technology ensure a long-range connection with reduced drop-outs. With these headphones, you can receive calls, control music, and enable Siri. Placing a quick Amazon order benefits you with all these exceptional features.
3. Beats Solo3 Wireless bluetooth headphone
Blending technologies from top brands like Apple and Beats and then designing the wireless headphone; think how excellent the sound quality will be. The Beats Solo3 Wireless uses Apple W1 technology to deliver incredible, seamless music.
To get the most out of this, you will need iOS 13 or later, macOS Sierra or later, watchOS 3 or later, and an iCloud account. This headphone for iPhone is truly the best one when it comes to crystal clear sound with noise cancellation, and most importantly, it supports fast fuel charging technology.
4. Jabra Elite 85h Wireless Noise Cancelling Headphones
Jabra Elite 85h is built with a SmartSound feature that automatically detects the sound environment nearby you and customizes the sound settings for the best output. The Jabra Sound+ app is the ultimate app to manage and personalize this headphone, like customizing the buttons to pick calls or make Siri active and more.
It's unbelievable that Jabra Elite 85h has 8 microphones for better call quality and of course, you would get 5 hours of battery life by just charging it for 15 minutes and around 36 hours of battery when ANC is on. No matter where you are going with these headphones, it is certified water & rain-resistant headphones for your iPhone or any Apple device.
5. Sony WH-1000XM5
These Sony headphones provide crystal clear calling and hands-free convenience. They are equipped with four beamforming microphones that provide accurate voice pickup. Moreover, the latest audio signal processing guarantees efficient audio performance.
Quickly charging and up to 30 hours of battery life remove the need for frequent charging. The multipoint connection lets you rapidly switch among the devices. They boast an ultra-comfortable, lightweight design with plush-fit leather. So, you can effortlessly carry them in the attractive case. Place an instant Amazon order for these Sony headphones and relish the exceptional listening experience anytime, anywhere.
6. Alta
If you are looking for cheap wireless Bluetooth headphone for iPhone or iPad, then Alta Wireless Bluetooth headphone is worth considering. This headphone can be used in any situation, whether you are Skiing, or on the Snowboard with the helmet on the head. With the latest 40mm drivers and Bluetooth 5.0, Alta delivers dynamic music at the desired volume.
Manage tracks or easily control iPhone assistants without the need to remove the helmet or headphone or your glove. However, if you are purchasing this headphone for outdoor activities and in the future are going to use it over the helmet, then make sure to check the helmet models that are compatible with this Siri Compatible headphone for iPhone.
7. Jabra Motion
Jabra Motion Bluetooth Mono Headset is the only product of Jabra that comes with voice commands compatible with iOS Siri, Android OK Google, and Cortana Instrumental HD voice and advanced noise cancellation Bluetooth headset for Premium business users. The wearing style of the Jabra Bluetooth headset is behind-ear, delivers 7 hours talk time, a standby time – of 15 days and a weight has 0.61oz. With this high-profile Bluetooth headset, you can easily prescribe glasses and not have any problems. You can connect 2 Bluetooth devices at a time easily. In addition, using the earpiece, you can listen to music on a tablet that has Bluetooth.
Review: perfect Siri compatible Bluetooth headset that gives clear sound quality, height adjustable, ratable speaker up to 180°, Power nap power-saving mode for long battery life, etc.
In the shipping box: you will get 1 Jabra motion headset, 1 car charger, 2 extra ear gels (S, L), 1 USB cable, 1 warranty leaflet, and 1 register paper.
8. Plantronics by Poly Voyager 5200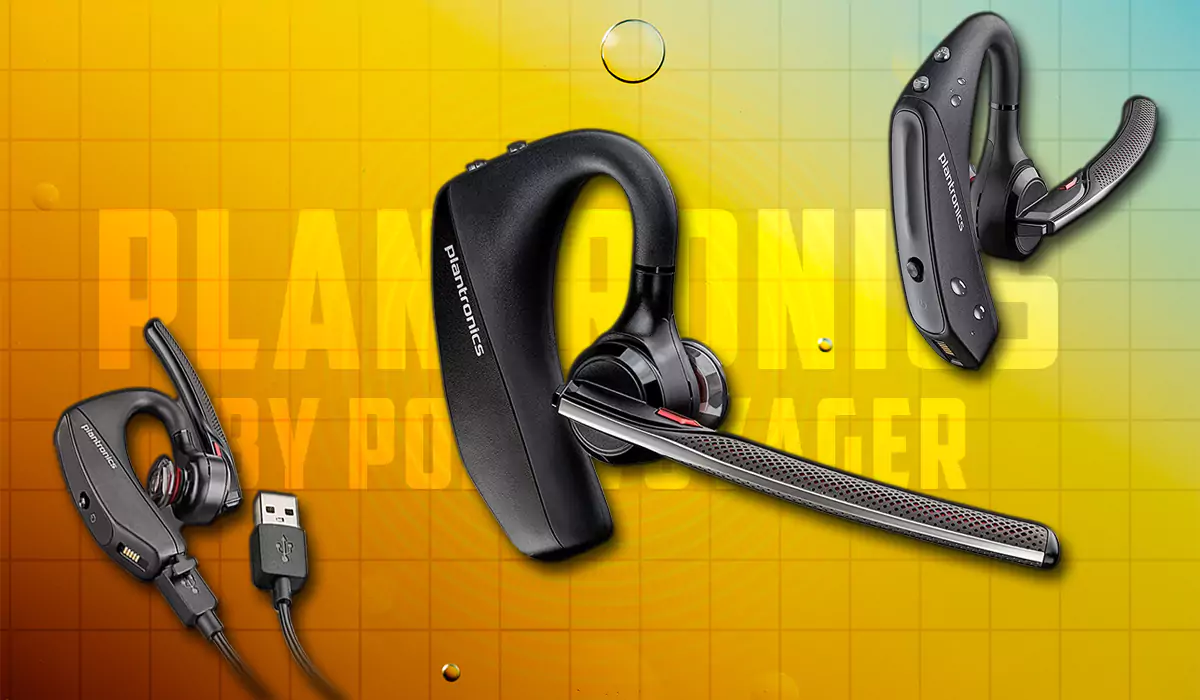 These Plantronics headphones are implemented with the latest Bluetooth 5.0 connectivity. So, they provide up to 30 meters of wireless range to connect your tablets or mobile devices. They provide a talk time of up to 7 hours. The ergonomic design offers excellent comfort during calls, music listening, etc.
The features like talk-time alerts, caller ID, and voice controls (like Ignore or Answer) reduce distractions from surroundings. The design shows a separate Google Assistant, Siri, or Cortana button. You can use these headphones with Android, iPhone, and other latest smartphones. Remember to place a quick Amazon order for these Bluetooth headphones to experience their strong wireless connectivity.
9. TREBLAB Z2
TREBLAB Z2 is a top-notch wireless sports headphones pair implemented with Bluetooth 5.0 technology. The audio performance is further enhanced with neodymium-based 40 mm speakers and aptX. Hence, you always obtain high-quality audio output.
They are employed with T-Quiet active noise cancelling technology to eliminate distractions. The built-in PlayXTend battery provides 35 hours of playtime. Hence, you will continue hearing your preferred music during workouts, walking, etc. Furthermore, they are prepared from high-quality, ultra-soft materials that fit the natural shape of your ears. Hence, you obtain a custom fit. Remember to place a rapid Amazon order for these headphones and get a crystal-clear listening experience.
10. BlueParrott
BlueParrott offers long-lasting up to 24 hours of talk time, it could entertain you for the whole day with crystal clear sound. It's a pretty comfortable headset that lets you control the music using Siri, show directions, and hands-free music, and the best part is you can activate the Bluetooth headset using your voice. The inbuilt Parrott button can be customized to bring back your favorite features in a single click. An authentic sound system blocks the surrounding sound with the noise cancellation function.
11. Paww WaveSound 3
If you are looking for a mid-range headset that works with Apple's and Google's Voice Assistant, Paww has an excellent deal. You'll get to use the latest noise-cancellation technology for crisp sound. Alongside, it does have aptX Low Latency to produce HD sound over wireless connection like Bluetooth, and their earpads are so comfortable they won't be a pain in the ear even though using it for a long time.
Using its ShareMe function, you can easily share the audio with two headphones to watch the same movies, and listen to music over the headphone from the same source.
12. KVIDIO Bluetooth Headphones Over Ear
If you are looking for Siri-enabled Bluetooth headphones that provide excellent comfort, you can use these KVIDIO devices. They are designed with earmuff that is prepared from the softest memory-protein foam. Hence, you enjoy lasting comfort. The flexible earmuffs and adaptable headphones perfectly fit any head shape. Your ears will not experience pressure.
They are also famous for being compatible with all devices with 3.5 mm plug cables or Bluetooth. The built-in microphone lets you easily send hands-free calls or conduct facetime meetings. You can place a quick Amazon order for these over-ear headphones and perceive the exceptional comfort in your ears.
These top-notch Siri-enabled Bluetooth headphones help you to easily access Siri with a single or double push or tap on the device's panel. No errors or fumbling were involved. They are well-known for offering direct access to Siri and delivering crystal-clear sound quality. The recurrent use of these headphones benefits you with outstanding audio quality and improves your work productivity. They also enhance your multitasking efficiency. The Siri-compatible Bluetooth headphones discussed in the above article help you to filter your search and pick the most appropriate one matching your budget and anticipations.
Best Waterproof Headphones for Swimming
Do you have any top Bluetooth headsets or found them, please share them with us in the comment box. If you're the supplier and want to write a product review on our site, then don't hesitate to get in touch with reviews at howtoisolve.com