Are you frustrated due to an incomplete answer of delete or uninstall Apple watch app from iPhone? Get everything about on it here. The tech-giant Apple allows installation of third-party apps for Apple watch. So you can install compatibles Watch OS apps and if you wish to remove it then you can delete it, too.
The Apple Watch has comes with several essential built-in apps like Messages, Mail, Phone, calendar, Activity, workout, Siri, Remote, Music, Alarm, photos, Settings, timer, Stocks, Weather and other apps. So as like iPhone, you can hide app, but can't delete built-in Apple Watch app. in addition, you can do remove third-party Apple watch apps. Therefore, If you are annoying from unwanted and less use Apple watch apps on Apple watch home screen. Then follow below way to deleting or uninstall Apple watch app steps wise.
we are happy to help you, submit this Form, if your solution is not covered in this article.
You May also like: Luxurious Travel Time kit for Apple Watch
Straightforward Steps to delete or uninstall Apple Watch app from iPhone
Step 1. Launch Apple Watch App on your iPhone
Step 2. Tap on My Watch tab
Step 3.  Now scroll the screen and tap on app that you want to remove.
Step 4. Now flip a switch and make Turn off Show App on Apple watch.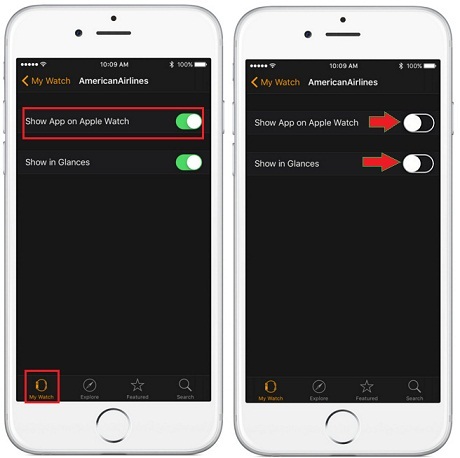 That's it.
You can also delete by Tap and hold on App on Apple watch and tap on X mark. That will be asked you- Are you sure want to delete (App name)? Tap on Delete App. That's very easy.
So virtually, hope you get here guide that you are really looking for. Keep remember, you can apply this trick anytime if you want to see app on your iPhone and don't want see on Apple watch. Then without searching anywhere, just continues above steps order wise. Therefore, now you can remove any possible application from apple watch.
Don't Miss: Mange Notifications on Apple watch
Please share your thought or have any special trick to delete or uninstall Apple Watch app from iPhone. We would love your speech. Furthermore, Stay connected with us to get daily new how-tos trick and tips iPhone 6S/6, iPhone 6S/6 Plus, iPhone 5s/5.
Jaysukh Patel is the founder of howtoisolve. Also self Professional Developer, Techno lover mainly for iPhone, iPad, iPod Touch and iOS, Jaysukh is one of responsible person in his family.
Contact On: [email protected] [OR] [email protected]