Safari is a great browser for apple device especially for iPhone, iPad. But most of the users not happy with safari due to not user friendly, not fast like chrome, Easy option for bookmark page, save page, desktop view, Private mode and more. On that case we have quality best iPad browser that you use and make safe by removing browsing history and more. So you need to learn about each browser on how to delete history on iPad.
we are happy to help you, submit this Form, if your solution is not covered in this article.
Browser has no parental control or passcode for access/ change settings and more. In that case we have to be prepared or alert about no one case see our past activity or important URLs cheat from your iOS device. Also I discussed in this article on how to delete history on iPad and iPhone as well running on iOS 8, iOS 9.
Steps on How to delete history on iPad, iPhone: iOS 9/ 8 – Google chrome, Safari, Dolphin, Mercury, Puffin
Google Chrome iPad – iPhone app
Go to the Google chrome app on iPad or iPhone, Tap on Top right three dot icon > History from menu option > Clear Browsing Data > Clear All > Done. See below image on remove all history for Google chrome app in iPad or iPhone.
Remove history from safari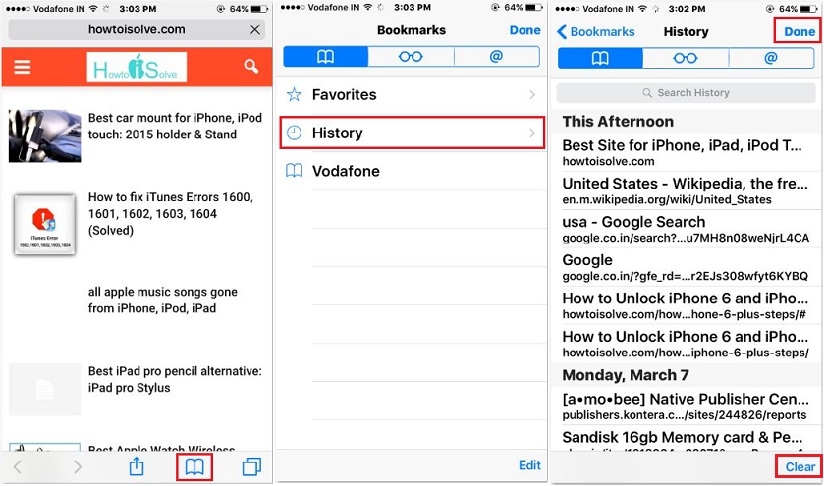 Tap on bookmark icon on your safari browser page, this page will be shown all URLs under the history tab. Next, Tap on clear for removes all saved data or URLs page to browser.
Remove history from Dolphin app
Launch dolphin browser on iPad, tap on three line option icon. Site pane will be shown on screen with half pane. Tap on History > Clear. For remove all history saved on browser.
Clear browsing history on Mercury iPad
From bottom tab on your iPhone and at top on iPad careen, Tap on Book icon. Next Tap on History > Clear.
Puffin
From browser webpage tap on option dot icon, option panel icons will be shown list of settings icons including history option. Tap on it > Next Tap on Clear from top right.
Above steps are common for iPhone, iPad. Also covered most of the popular iOS browsers guide on How to delete history on iPad, iPhone step by step.
Jaysukh Patel is the founder of howtoisolve. Also self Professional Developer, Techno lover mainly for iPhone, iPad, iPod Touch and iOS, Jaysukh is one of responsible person in his family.
Contact On: [email protected] [OR] [email protected]